Lindt's Swiss Classic 300g Gold Bar will be part of the Foods of Europe promotion at London Drugs from October 10-22, 2014, so we thought it would be nice to include recipes that use this delectable chocolate.
All these recipes have been created in the Lindt kitchen and introduce a new spin on an old favourite.
Peanut Butter Chocolate Chunk Cookies
For everyone who loves chocolate in their peanut butter and vice versa.
Ingredients:
1/2 cup (114g) butter, softened
1/2 cup (130g) chunky peanut butter
1/2 cup (100g) sugar
1/2 cup (90g) light brown sugar, firmly packed
1 egg, slightly beaten
1 tsp vanilla extract
1 1/4 cup (150g) flour
1/2 tsp baking powder
1/2 tsp baking soda
1/4 tsp salt
200g Lindt Swiss Classic Surfin, chopped into chunks
Method:
Preheat oven to 350°F (180°C).
Line cookie sheets with parchment paper.
Combine the butter, peanut butter, sugars and cream together.
Add the egg and vanilla extract.
Combine the dry ingredients and add to the butter mixture.
Stir in the chopped chocolate.
Drop cookies by the teaspoonful onto the prepared cookie sheets.
Bake 10–12 minutes. Cool on a wire rack and store in an airtight container.
Yield:Approx. 3 dozen cookies
Recipe by Master Chocolatier Ann Czaja
---
Milk Chocolate Maple Macadamia Cookies
The subtle taste of macadamia nuts and a touch of maple syrup complement each other in these tasty cookies.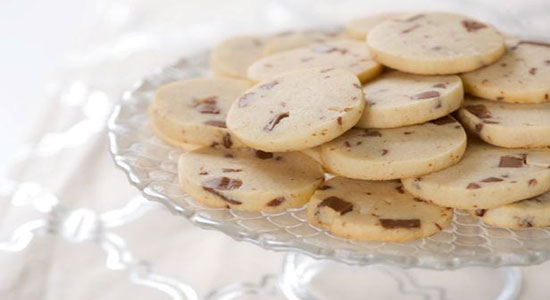 Ingredients:
2/3 cup (150 grams) sugar
2 tablespoons maple syrup
3/4 cup (170 grams) butter
1 egg, beaten
2 1/2 cups (180 grams) flour
1/4 cup (40 grams) macadamia nuts, coarsely chopped
2 ounces (60 grams) Lindt Swiss Classic Milk Chocolate, chopped
Method:
Combine the sugar, maple syrup, and butter and beat until creamy.
Add the egg.
Add the flour.
Add the nuts and chocolate.
Separate the dough into two portions and roll into 2 'logs'. Use a little flour if necessary
Wrap in parchment paper or plastic wrap and let rest in the refrigerator for a minimum of 6 hours or overnight.
Preheat oven to 350°F (180°C)
Cut dough into approximately 1/4-inch (6-millimeter) slices, and place on cookie sheets lined with parchment paper.
Bake 10-12 minutes or until the cookies just begin to turn golden brown.
Tips:
This dough freezes well. Make a double batch and freeze one or two logs for emergencies!
Store in an airtight container to preserve freshness
Yield: Approximately 30 cookies
Maître Chocolatier: Urs Liechti
---
Lindt Milk Chocolate Truffles
Luxurious small confections created from a combination of chocolate and cream, so called ganache. With their super creaminess and mild flavour, milk chocolate truffles are extremely popular with kids of all ages. Try rolling them in a finish of finely-chopped almonds, peanuts, or crushed toffee. Create your own signature truffle and surprise your friends!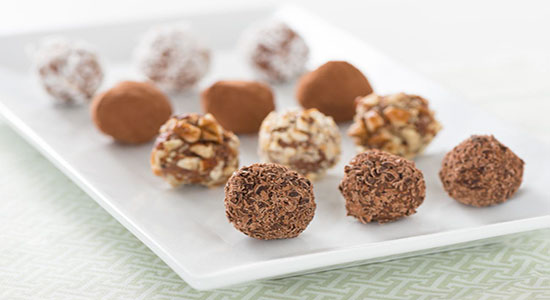 Ingredients:
Ganache for the milk chocolate truffles
Method:
Heat the cream until it just comes to a boil, add the chopped chocolate and remove pan from heat.
Stir or whisk until the chocolate is completely melted.
Only for milk or dark truffles: Stir in the butter until the ganache is smooth.
Put in a bowl and cover with plastic wrap ensuring that the plastic makes contact with the entire surface of the ganache.
Refrigerate overnight or until the ganache is set.
Forming the truffles:
Use a melon baller, small ice cream scoop or teaspoon.
Roll the ganache in a ball and place on parchment paper.
Roll finished truffles in unsweetened cocoa powder (see "Finishing the truffles" for decorating tips).
Finishing The Truffles
Easy:
Finishing the truffles can be as simple as rolling them in cocoa powder or powdered sugar.
You can also roll them in the following:

Chocolate shavings, chopped chocolate
Chopped toasted nuts: walnuts, pistachios, almonds, hazelnuts
Coconut

After hand-rolling the truffles, place them on a shallow tray filled with the desired coating.
Roll the truffle in the coating with either a pair of spoons or your hands.
Intermediate:
The second option is to roll the truffles in tempered chocolate.
Temper a few ounces of the desired type of chocolate. Wash your hands, rinse them in cold water and dry them. Cold hands keep the truffle from softening as well as the tempered chocolate from getting too warm.
Place a tablespoon of tempered chocolate in the palm of your hand and roll the truffles to coat. Place the finished truffle on a tray lined with parchment paper.
Replenish the chocolate in your hands as needed. You can also roll the chocolate coated truffles in cocoa powder or powdered sugar to finish.
When tempering chocolate or working with tempered chocolate, the temperature of your work space is important. The temperature should not be above 70°F (21°C) or the chocolate might not set.
Store truffles in a cool place.
You can put them in the fridge, but they will sweat and potentially bloom when removed from the cold environment.
Tips:
Because of their high fat content, truffles will melt in your hands when you are rolling them. Make sure you work quickly and don't over roll. Use your finger tips and when washing your hands rinse them with cold water. You may also roll the truffles using cocoa powder to coat your hands. This will, however, only allow you to use one finish on the truffle (i.e. cocoa powder rather than chopped nuts or enrobing them in melted chocolate).
Truffles are best enjoyed at room temperature.
Makes approximately 20 milk chocolate truffles.
Maître Chocolatier: Ann Czaja & Hans Mazenauer.