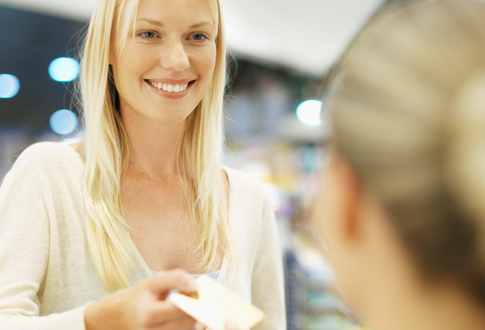 If you're a loyal London Drugs shopper, you've probably already heard of LDExtras, but you might be saying to yourself, "What is this program? Is it a rewards program? Do I need a card? What's in it for me?" These are all great questions, and we're here to help you get started. By the end of this post, you'll be using the LDExtras program like an expert.
What the heck are Extras?
Simply put, Extras are personalized rewards and offers you unlock by simply shopping at London Drugs.
How do I get these fancy Extras?
Every time you shop at London Drugs, you can get Visits. The more Visits you earn, the more Extras you'll unlock. There are three easy ways to earn Visits:
Spend $10 or more (before taxes) on eligible products at London Drugs.
Take advantage of our Bonus Visits events.
Get a Bonus Visit each time you fill an eligible prescription (see restrictions here).
What's in it for me?
A lot! As soon as you sign up, you'll get:
An entry to win a $2,500 monthly shopping spree
A $5 birthday gift voucher redeemable on or after your birthday
Extended 30-day returns – You'll have more time to make sure your purchase is right for you.
$3 off your next PhotoLab purchase for every $50 spent at London Drugs PhotoLab
Instant access to special offers
Access to our exclusive contests. Right now, you could enter to win a brand new Toyota Prius C!
And check out what you'll get after multiple Visits:
Every Visit = Entry into a $2,500 monthly shopping spree.
Every 5 Visits = 2 free computer virus checks, plus 2 free firmware upgrades for your camera.
Every 10 Visits = $5 off gift voucher for your next purchase.
First 10 Visits = Three $20 off coupons for any Purchase Protection Plan.
Do I need to add another membership card to my already overflowing wallet to earn Visits?
No! All you need to do is provide your Member Identifier (usually your phone number) at the time of purchase to earn your rewards, or show your member ID barcode on your web account or through the app.
How do I redeem my Extras?
It's easy – simply show your Extra on your mobile device in-store (download your LDExtras app for Mac here or from Google Play here), print it out, and present it at checkout in store, or enter the promo code while shopping at Londondrugs.com.
There! Now you're a qualified LDExtras Expert. If you have any other questions, head over to our FAQ page here.
You can also learn more about our privacy policy here.