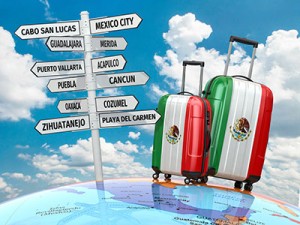 Inspired by a recent trip to Mexico, this blog post discusses fabulous fare from that southern hot spot! Mexican cuisine uses many delicious foods and spices but five that really stand out to me are:
Read on for a brief overview of these tempting ingredients and try a recipe or two at the end of this article.
Taking a trip this Spring Break?
Why not bring home regional flavours as well as memories? On your next holiday, find out how to make at least one dish and cook it upon your return. And remember, great holidays begin with planning. See if your destination requires any immunizations or other health supplies. Book your appointment with a London Drugs Travel Medicine Pharmacist during a Travel & Immunization Clinic. Find what you need at ldtravelclinics.ca.
Avocado is sometimes called the "alligator pear" for its bumpy, leathery skin but the word avocado is based on the original Aztec "ahuacatl." Avocadoes are special as they are a fruit, not a vegetable, and a unique one at that. Unlike most fruits, they are high in fat and low in sugar. They are also higher in fibre than other fruits, with 6-8 grams each. Their high fat content may concern you but this is heart-healthy monounsaturated fat which is a source of antioxidants. The fat is also filling, keeping you satisfied while helping you absorb fat-soluble vitamins from the meal. We all know avocadoes form the creamy basis for guacamole but they are wonderful sliced into a salad, on a sandwich, diced into a salsa and they are classic with shrimp.
Tomatoes are another example of Mexico's versatile fruits. They are high in vitamin C and beta carotene (a form of vitamin A), and lend themselves to just about every preparation method including slicing, dicing, stewing and roasting. They are an essential ingredient in salsa and salsa is so easy to make fresh you will find yourself doing so often. You will also find tomatoes in Mexican rice, enchiladas, taco salad and chilli con carne. Tomatillos, a distant relative of tomatoes, have a light brown husk that peels off to reveal a cheerful light green colour. They are tart and bright and add interest to sauces. You can make a salsa verde (green salsa) with tomatillos.
Beans are high in protein and very high in fibre. There are hundreds of types of beans (also known as legumes) in just about every colour of the rainbow. Westerners probably think of refried beans (made from pinto beans) when considering Mexican food, but why miss out on the many other varieties available. Start by inviting black and white beans into your kitchen for a change of flavour and texture. Black beans are wonderful in salsa, salad, soup and quesadillas as they have a bold colour. White beans can be used in stews, dips, spreads and beyond. Try a recipe website and search for Mexican bean recipes. You will be surprised by the versatility of the little bean!
So important was corn that in ancient times this grain was considered a gift from the Gods. Early people developed a process of adding "lime" (a calcium compound) to corn, which made it soft enough to grind and shape into breads. The well-known tortilla is one example. Taco shells and tamales are also made from corn. Remarkably, corn can be ground then mixed with water and flavourings to create a variety of delicious beverages, called aquas frescas. Corn can also be eaten in ways familiar to Westerners (in soup, stew, and on-the-cob) but with Mexican flair.
There is an abundance of pepper for seasoning Mexican foods. Jalapenos are well-known but consider also chipotle, chilaca, serrano and ancho. These will vary in intensity depending upon whether they are fresh or dried. When preparing fresh peppers be extremely careful not to touch your mouth or eyes as pepper juice will sting and burn. When deciding how much pepper to use, start with a little and add more as needed. Be aware also that much of the heat is in the white pithy part and the seeds. On the other hand, large bell peppers can be a significant ingredient in fajitas, salads, stuffed peppers and rice dishes. Bell peppers, especially red, orange, yellow and purple, have a sweet and mild taste that livens up the flavour while adding sparkling colour.
Even though I have discussed five famous foods of Mexican cooking it would be unfair to forget limes. Limes are plentiful in sunny Mexico and are squeezed over fish, seafood, chicken, salads, and of course are essential in Margaritas and the following two dips.
Simple Salsa (Pico de Gallo)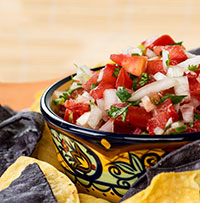 There is no one way to make salsa. Start with 1 – 2 cups of seeded, diced tomatoes then follow your taste buds with these add ins:
chopped fresh cilantro
minced white onion
lime juice
diced jalapenos
salt and pepper
Guacamole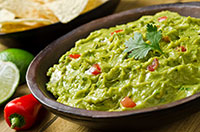 This creamy spread is also very versatile. Start with this combination then make changes next time if you wish.
2 ripe avocadoes, peeled then mashed (keep one pit)
add 1 teaspoon salt,
2 tablespoons freshly squeezed lime juice and
1 clove finely minced garlic
Combine well then place the pit in the guacamole. This will keep it fresh. Cover securely then refrigerate for a couple hours before eating.
Barbara Allan RD
Registered Dietitian
Certified Diabetes Educator