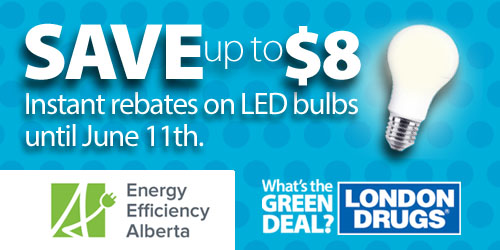 Save on LED bulbs now. Save on electricity for decades. Upgrade today with instant rebates from Energy Efficiency Alberta at London Drugs!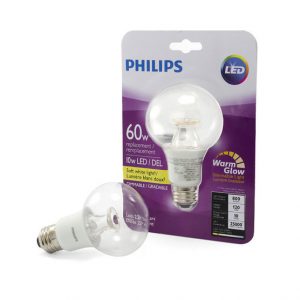 There's no question that LED bulbs use less energy, last longer and save you more on electricity. Now, thanks to Energy Efficiency Alberta's Instant Savings campaign— April 28 until June 11—Albertans can save instantly on these energy-efficient bulbs at London Drugs. Choose from a wide range of LED bulb sizes and formats and save between $3 and $8 on each. Residential customers receive these rebates on up to 25 LED bulbs of each type, so you can upgrade your whole house.
Energy STAR* LEDs and fixtures have an extended lifetime of 25,000 hours or more. They're also instant-on, don't contain any mercury, and many are compatible with dimmer switch technology. Click here to see the wide range of bulb sizes and savings available.
And don't forget, you can bring back old light bulbs right to your local London Drugs for responsible recycling – incandescent, CFL and even fluorescent tubes up to 4 feet long.
Visit greendeal.ca, or just stop by your local London Drugs to find out more.
Shop Now for savings on LED bulbs.