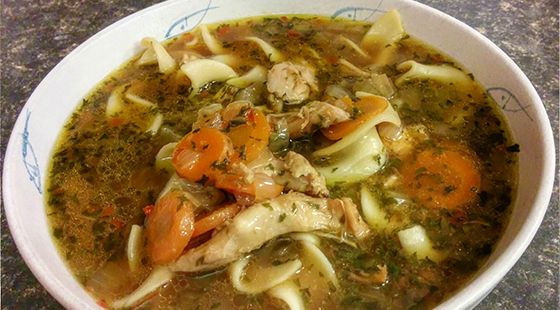 Earlier this week a fellow staff member and I were discussing our favourite "Fall" things. (Well, in the interest of being transparent, we were complaining about how Summer was soon coming to an end.) We bounced around from one favourite thing to the next. They loved the Fall colours and I mentioned my love of Fall flavours. The conversation slowed and we both went back to work but it stuck with me. When I left work that evening I was in the mood to cook. Below is a classic recipe that I added a slight twist to!
Classic Chicken Noodle Soup
1 Medium Yellow Onion
½ cup Celery – diced or chopped
½ cup Carrots – cut into rounds
4 Garlic cloves minced
6 Bone in Chicken Thighs
3 Bay Leaves
2 sprigs of fresh Thyme – dried Thyme will work as well
2 litres of Chicken Stock – For a twist I used 1 litre chicken and 1 litre beef. The beef stock added a very deep flavor that was quite good.
1 Chicken bouillon cube
1 tsp of red chili flake
Salt and Pepper to taste
1 tbsp fresh Parsley – dried parsley will work as well
1 tbsp Extra Virgin Olive Oil
1-2 cups of the noodle of your choice. I use a broad egg noodle. The amount of noodle varies as well. It is entirely up to the type of soup you want. More broth with less noodle or more noodle with less broth.
Using a large soup pot, turn the heat onto medium high. Remove the skin from the chicken thighs and season both sides with salt and pepper. Put olive oil into pot. Place chicken thighs into pot, browning both sides. This should be roughly 3 minutes a side. Take chicken out of the pot. Reduce heat to medium. Place vegetables, garlic, and red chili flakes into the pot and cook down until the onions are translucent. This should take 5-7 minutes. Ensure you are stirring the vegetables constantly. When vegetables are translucent, place the chicken back into the pot and add your stock. Reduce heat to medium low and let the soup simmer for 20 minutes allowing the flavours to build and the chicken to cook through. Remove chicken and shred. Once shredded add the chicken back into the soup. Add the noodles and allow them to cook. This should take no more than 15 minutes. Adjust your seasonings and add your parsley.
That's it. A simple, flavourful chicken noodle soup that is hearty and will warm you through on a chilly night. If you make this soup I hope you enjoy it as much as I do!
I would like to add that used several products that are available at your local London Drugs! The Chicken and Beef stock, Salt, Pepper, and Olive oil were all items I picked up just before I left work for the day. Many a food inspiration comes from a walk down one of our food aisles.
Josh Halliday
Assistant Store Manager – St. Vital