If you're looking to go vegan, or just explore vegan meal options to incorporate into your diet for Veganuary, we've rounded up a few ideas for you, ranging from breakfast, lunch, dinner and even dessert!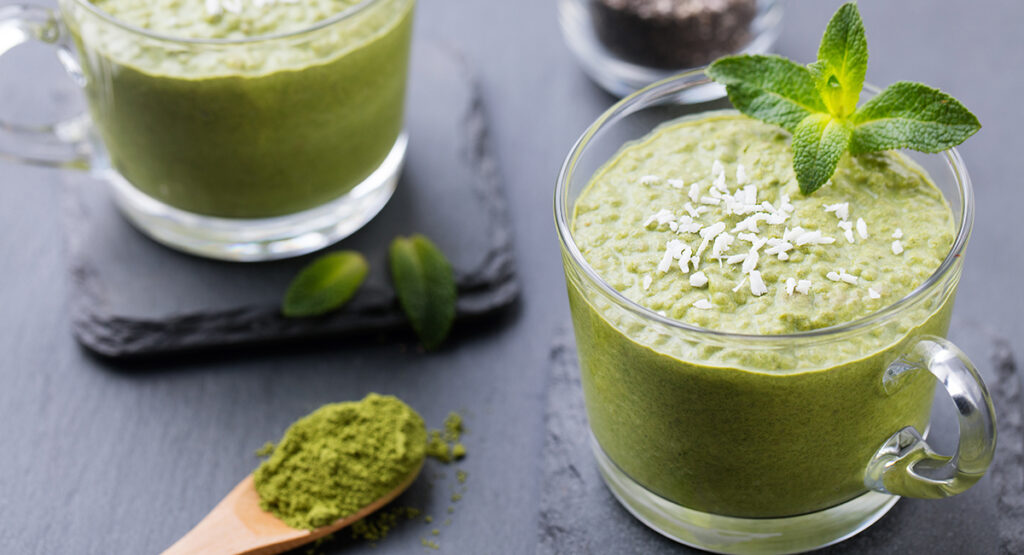 This green smoothie is an easy, delicious breakfast you can quickly whip up in the mornings.
Ingredients
2 bananas, frozen
1 cup nut milk
1 cup spinach, frozen
1/2 cup zucchini, chopped and frozen
1/2 cup unsweetened non-dairy yogurt
1 heaping tablespoon matcha green tea powder
1–2 pitted dates
2 teaspoons vanilla extract
Instructions
Blend together all the ingredients in a blender or food processor.
Blend until smooth. Add in more nut milk or water if needed, to reach your desired consistency.
Divide into two glasses and enjoy!
This simple breakfast is great, as you can prepare the night before. Plus you can change up the flavour combinations to whatever you like!
Ingredients
1/4 cup cacao powder or unsweetened cocoa powder
3-5 Tbsp maple syrup
1/2 tsp ground cinnamon (optional)
1 pinch sea salt
1/2 tsp vanilla extract
1 1/2 cups unsweetened almond milk (or light coconut milk for creamier texture!)
1/2 cup chia seeds
Instructions
In a small mixing bowl, whisk together the cacao powder (sift first to reduce clumps), maple syrup, ground cinnamon, salt, and vanilla. Add a little almond milk at a time and whisk until a paste forms. Add the rest of the almond milk and whisk until smooth.
Add chia seeds and whisk once more to combine. Cover and refrigerate overnight, or at least 3-5 hours, or until it has a pudding-like consistency.
Leftovers keep covered in the fridge for 4-5 days, though best when fresh. Serve chilled with whatever toppings you like, such as fruit, nuts or granola.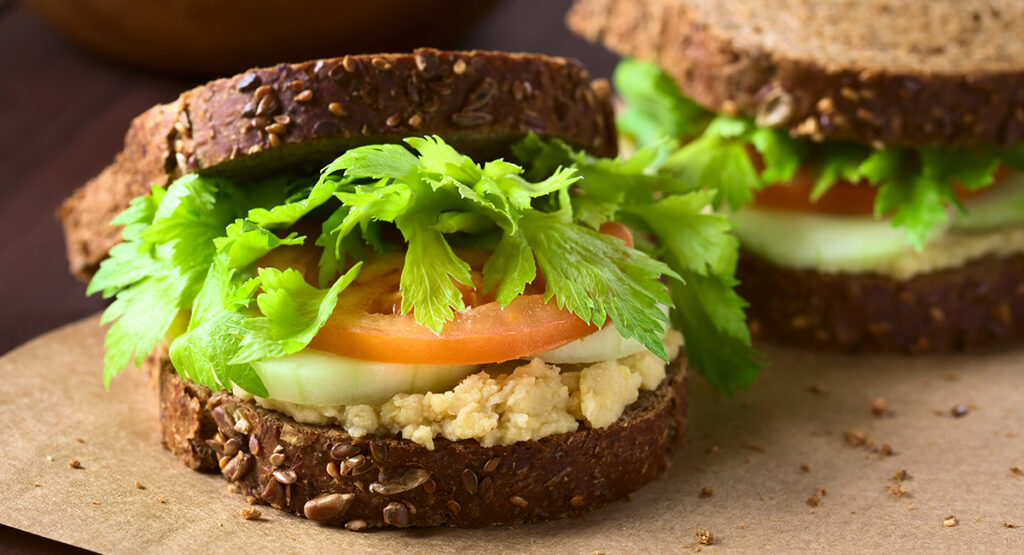 If you love sandwiches, you'll love this vegan take on the classic chik'n salad sandwich.
Ingredients
15 ounce can chickpeas or 1 1/2 cups cooked chickpeas*
1 rib celery
3 green onions
1 to 2 tablespoons vegan mayonnaise
1 tablespoon lemon juice
1 teaspoon celery seed
Kosher salt & fresh ground pepper
4 slices bread
Lettuce, spring green mix, or sprouts
Hummus, optional
Instructions
Thinly slice the celery and the green onions.
Drain and rinse the chickpeas. In a medium bowl, smash the chickpeas with a fork.
Combine the chickpeas with the chopped celery and green onions, mayonnaise, lemon juice, and celery seed. Add about 1/4 to 1/2 teaspoon kosher salt, depending on your chickpea brand and taste preferences, and fresh ground pepper to taste. If the salad is dry, add more mayonnaise.
Assemble the chickpea salad sandwich: If desired, spread the bread with hummus (this amps it up a bit but not required). Top the sandwich with lettuce or greens and chickpea spread.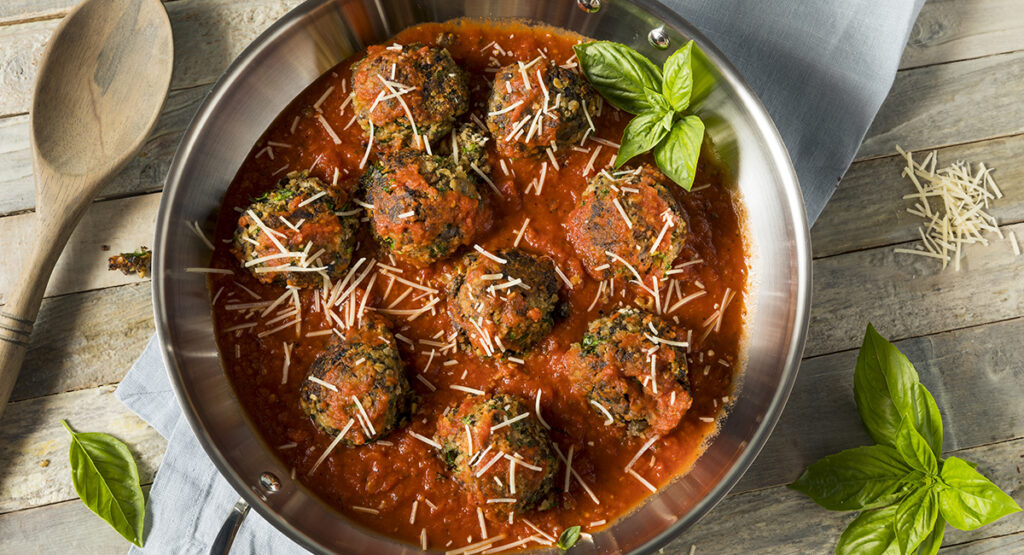 A delicious savoury dish that makes a great meal option for lunch or dinner.
Ingredients – Meatballs

30g dried porcini mushrooms
3 tbsp olive oil
1 onion, very finely chopped
2 garlic cloves, crushed
1 tsp sweet smoked paprika
50g rolled oats
2 tbsp brown rice miso
50g fresh breadcrumbs
spaghetti or soft polenta, to serve
Ingredients – Tomato Sauce

2 tbsp olive oil
1 onion, very finely chopped
1 large garlic clove, crushed
Small pinch of chilli flakes
2 x 400g cans chopped tomatoes
1 tbsp soft brown sugar
½ small bunch of basil, finely chopped
Instructions

Add the dried porcini into a bowl and cover with boiling water. Leave to soak for 20 mins.
Meanwhile heat 1 tbsp of olive oil a frying pan. Add the onion and fry over a low heat for 10 mins or until softened and translucent. Add the garlic and paprika and cook for 1 min.
Add the black beans and oats into a food processor and blend until you have a chunky, textured mixture. Scoop out the beans into a mixing bowl and stir through the miso, breadcrumbs and cooked onion mix. Strain and finely chop the porcini mushrooms and add those (keep the liquid for soup or risottos). Season and roll into 12 balls and chill in the fridge while you make the sauce.
Heat 2 tbsp oil in a saucepan. Add the onion and fry over a low heat for 10 mins or until softened and translucent. Add the garlic and chilli and cook for 1 min. Stir through the tomatoes and sugar and season to taste. Simmer uncovered for 20 mins.
Heat the oven to 180C/160C fan/gas 4. Heat the remaining 2 tbsp oil for the meatballs in a non-stick frying pan over a medium heat. Add the balls and fry for 5 mins until evenly brown. Transfer to a baking tray and put in the oven to cook through for 12 mins.
Add the cooked meatballs to the pan of sauce and toss everything to coat, then scatter with the basil. Serve with spaghetti or soft polenta.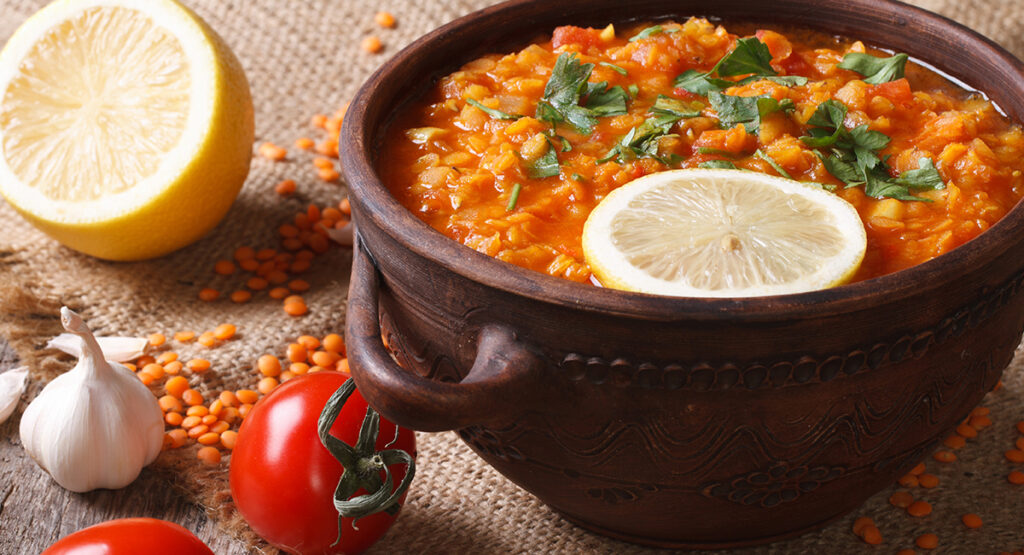 A slightly spicy, hearty soup that will warm you up on even the coldest nights!
Ingredients
¼ cup extra virgin olive oil
1 medium yellow or white onion, chopped
2 carrots, peeled and chopped
4 garlic cloves, pressed or minced
2 teaspoons ground cumin
1 teaspoon curry powder
½ teaspoon dried thyme
1 cup brown or green lentils, picked over and rinsed
4 cups vegetable broth
2 cups water
1 teaspoon salt, more to taste
Pinch of red pepper flakes
Freshly ground black pepper, to taste
1 cup chopped fresh collard greens or kale, tough ribs removed
1 to 2 tablespoons lemon juice (½ to 1 medium lemon), to taste
Instructions
Warm the olive oil in a large Dutch oven or pot over medium heat. One-fourth cup olive oil may seem like a lot, but it adds a lovely richness and heartiness to this nutritious soup.
Once the oil is shimmering, add the chopped onion and carrot and cook, stirring often, until the onion has softened and is turning translucent, about 5 minutes.
Add the garlic, cumin, curry powder and thyme. Cook until fragrant while stirring constantly, about 30 seconds. Pour in the drained diced tomatoes and cook for a few more minutes, stirring often, in order to enhance their flavor.
Pour in the lentils, broth and the water. Add 1 teaspoon salt and a pinch of red pepper flakes. Season generously with freshly ground black pepper. Raise heat and bring the mixture to a boil, then partially cover the pot and reduce the heat to maintain a gentle simmer. Cook for 25 to 30 minutes, or until the lentils are tender but still hold their shape.
Transfer 2 cups of the soup to a blender. Securely fasten the lid, protect your hand from steam with a tea towel placed over the lid, and purée the soup until smooth. Pour the puréed soup back into the pot. (Or, use an immersion blender to blend a portion of the soup.)
Add the chopped greens and cook for 5 more minutes, or until the greens have softened to your liking. Remove the pot from the heat and stir in 1 tablespoon of lemon juice. Taste and season with more salt, pepper and/or lemon juice until the flavors really sing. For spicier soup, add another pinch or two of red pepper flakes.
Serve while hot. Leftovers will keep well for about 4 days in the refrigerator, or can be frozen for several months (just defrost before serving).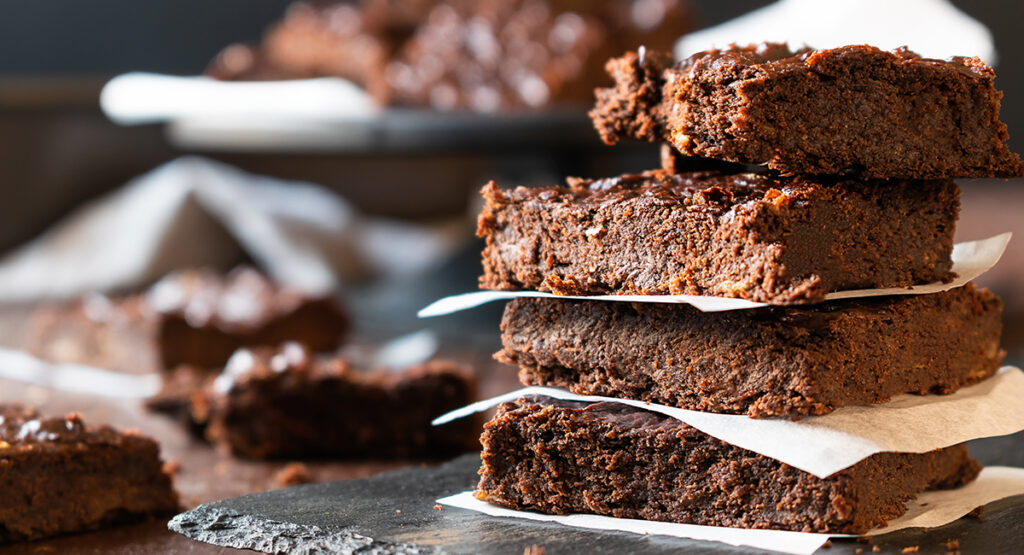 A super-simple and satisfying take on brownies – Chocolate lovers rejoice!
Ingredients
Instructions
Heat oven to 350-degrees
In a large mixing bowl, mash bananas until lump-free.
 Mix in the nut butter, and cocoa powder.
Grease a baking sheet, and evenly distribute the batter into the pan.
Bake 17-20 minutes. Use the toothpick method to determine if they're done.
Let the brownies chill in the refrigerator for 45-minutes.
Store in the refrigerator for best results.
Explore of full selection of vegan products for Veganuary here.