Although the days are shorter, the cooler temperature of crisp Fall weather makes it much more comfortable to get your sweat on in the outdoors. Staying active is an important part of any lifestyle. While you can choose to exercise inside, here are some items and tips that can help you make the most out of your outdoor workout.
1. Be Seen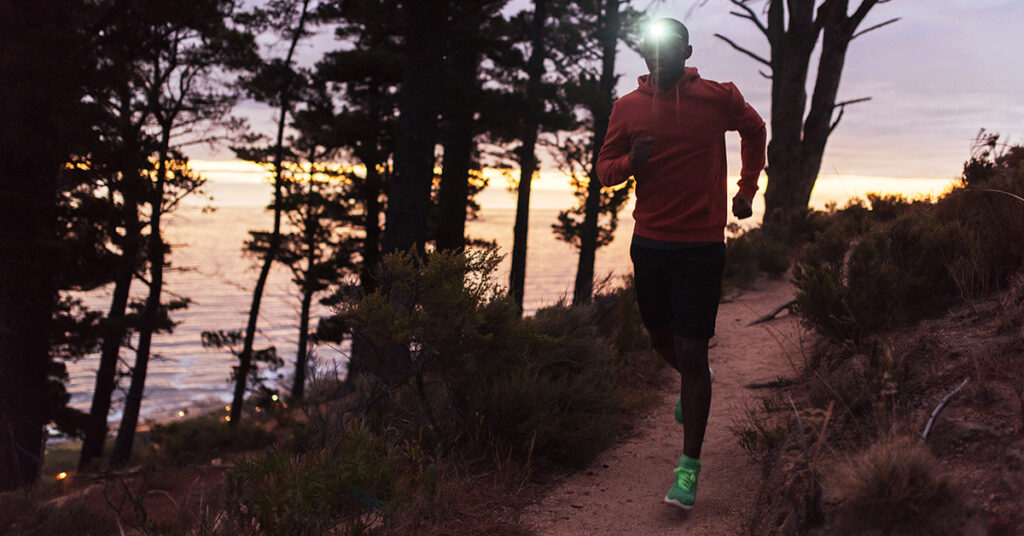 With the limited daylight, by the time you finish work and want to get out for an evening walk or run, it may already be getting dark out. Make sure you are seen by wearing bright or reflective clothing. If all your clothes are dark, you can even get yourself some reflective wrist straps to wear for visibility. You can also consider getting yourself a small flashlight or even a headlamp. Most headlamps have a comfortable, stretchy band that you can adjust to fit over your head, and different light settings to adjust the brightness of the light. A great option is the Dorcy Pro Series Headlamp, which can last up to 6 hours.
If you enjoy cycling, you'll love the Nite Ize Radiant 125 Rechargeable Front Bike Light. The simple design and stretchy attachment bands support tool-free installation, while the USB-rechargeable lithium-ion battery delivers extended run times to keep your path illuminated. A 125-lumen LED offers bright illumination for dusk, dawn and nighttime bike rides. It also features spot, flood and day-safe flash modes to help you stay visible on roads, trails and bike paths.
If you're a pet owner and stay active by walking your dog, or like bringing them along for company, the Nite Ize SpotLit Collar Light can help both you and your pet stay safe. The bright LED features glow and flash modes to help your precious pooch stay visible on streets, paths and sidewalks. It's also water-resistant to withstands exposure to the elements.
2. Stay Hydrated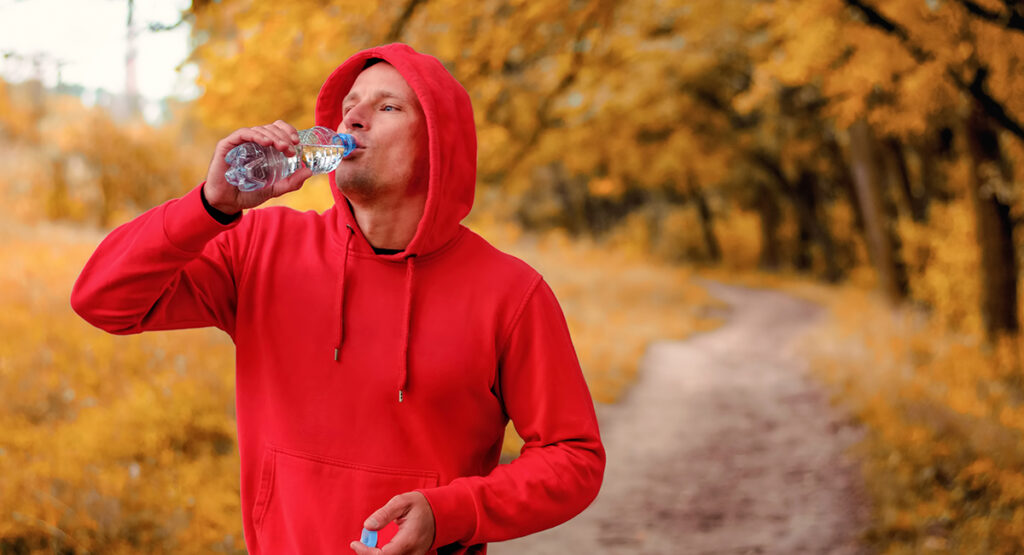 Ensuring you are well hydrated is key, especially when you are being active. Aside from drinking water, other ways you can stay hydrated is by eating hydrating foods. Cooler weather usually marks the start of soup-season. Soups are great as they also provide warmth to your body while increasing you liquid intake. Eating lots of fruits and vegetables is also another way of adding more water to your diet.
If you like drinking water, make sure to consume enough before and after your workout. You can also carry a water bottle with you and take small sips during your walks. The Brita Premium Water Filter Bottle is a great one to have, since the replaceable filter helps reduce chlorine and leaves water tasting great. As well, the handy carrying loop and slim design make this bottle easy to carry, and an enclosed easy-strip straw provides access to water without having to remove the lid.
TIP: Fill your water bottle or even a thermos with warm or hot water when walking on chillier nights. You will stay hydrated, and it will also help warm you up! If drinking warm water doesn't sound palatable to you, try adding some lemon slices, mint leaves, or even a caffeine-free tea to make it a bit tastier. You can browse all of our water bottle and thermos options here.
3. Challenge Yourself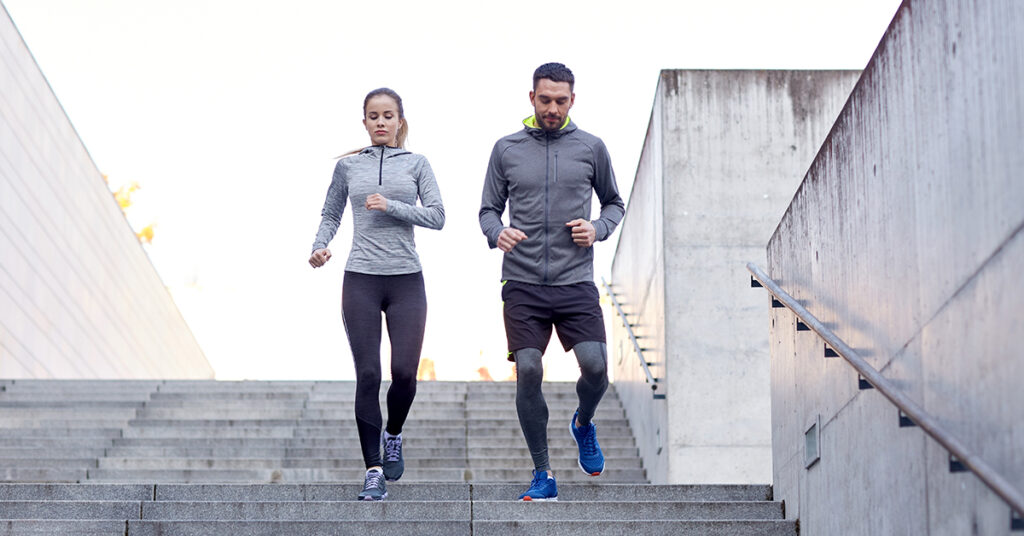 Running is great, but even walking outside is an excellent way to stay active. If you regularly walk as part of your fitness routine, and don't like running, you can still challenge yourself by mixing it up a bit. One way is to pick up the pace and walk faster, to ensure you get your heart rate up. If you are not used to walking fast, you can always do intervals, walking fast for 3 minutes, then walking at a slower pace for 2 minutes. Choose whatever interval times that work for you! Another great way to make your walking more of a workout is to add hills to your route. Walking on an incline burns more calories and uses your leg muscles differently. Plus it makes your walk a bit more interesting, so you won't get bored as easily. No hills? No problem! Even finding a set of stairs to walk up on your route can also help make your walk a little tougher. Lastly, try using hand weights. This will not only be more of a challenge, but it can also help you to burn more calories and tone up your arms!
4. Staying Motivated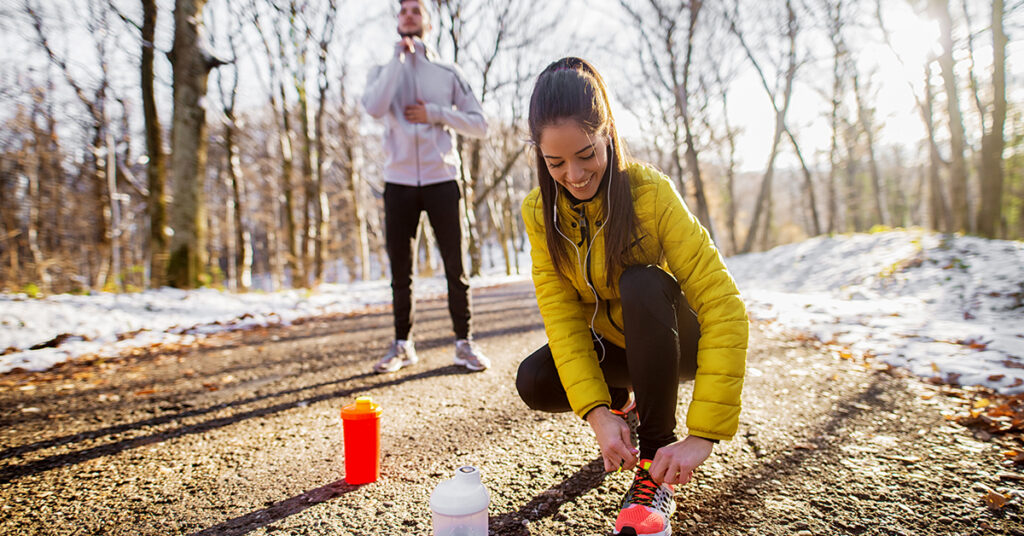 Sometimes, staying motivated to workout is hard, especially when it is colder and darker outside and all you want to do is curl up on the couch. Calling a few friends to join you on your walk or run can help you stay on track, as it makes your workout session more of a social session. As well, planning your walk or run with friends in advance holds you accountable to not cancel, especially if you had planned to go alone.
A fitness tracker can also help you stay consistent on your fitness journey, as you can see the progress you make. Seeing progress not only gives you a feeling of accomplishment, but can also help you set new fitness goals for yourself. These goals can include walking an extra km, or walking your 5km route a little bit faster than the last time! The Fitbit Inspire 2 is an excellent choice, as it tracks all-day steps, distance and calories burned, and even guided breathing sessions for those longer walks!
Finally, never underestimate a good pair of headphones to help you stay motivated! There are plenty of options, including wireless headphones and earbuds that you can connect to your phone to listen to your favourite tunes or podcasts, and make your workout more enjoyable. Always remember that if you are walking or running alone, keep only one earbud in, or set the volume lower so that you can be alert and hear the sounds around you.
Just because the weather becomes cooler and the days become darker, doesn't mean you can't continue to stay active outside! We hope you found these items and tips helpful for your outdoor workouts and walks. Enjoy the Fall, stay healthy and stay safe!