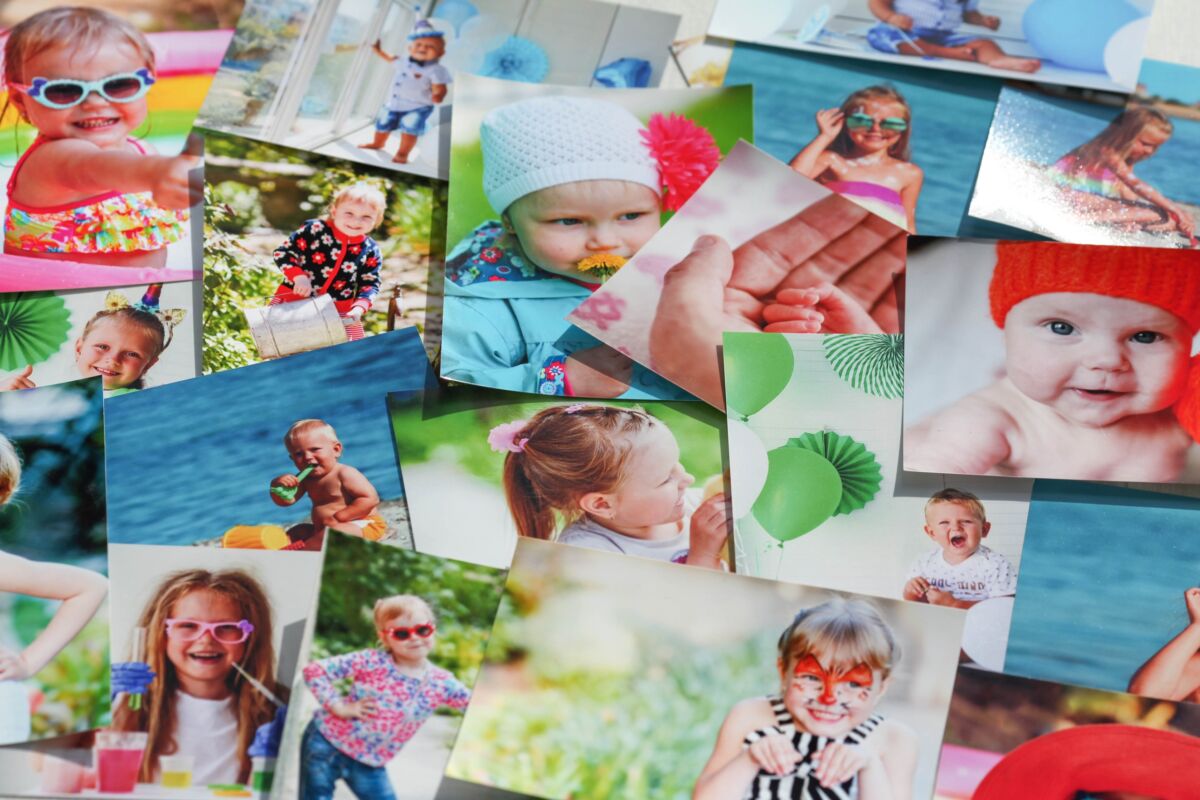 After a year of isolation and reliance on digital technology to stay connected, many of us are feeling digital burnout. According to a recent study commissioned by Fujifilm Instax, this has made physical items like photos all the more desirable, especially as so many of us are feeling sentimental, missing our loved ones and our regular routines and activities.
Photos are a great way to remind us of the 'good times,' but did you know they can actually boost your mood? The Fujifilm study found that 60% of adults reported looking back on old photos when they were feeling unhappy, stressed or looking for a way to cheer themselves up. In fact, 43% felt by simply looking at a physical photo, their mood was boosted, compared to just 12% who said the same about digital images!
Check out these 3 ways that photos can help boost your happiness, and keep scrolling to the bottom for some photos shared by local photographers that represent happiness the most to them (they might just make you smile, too!).
1. Photos can remind you of those you care about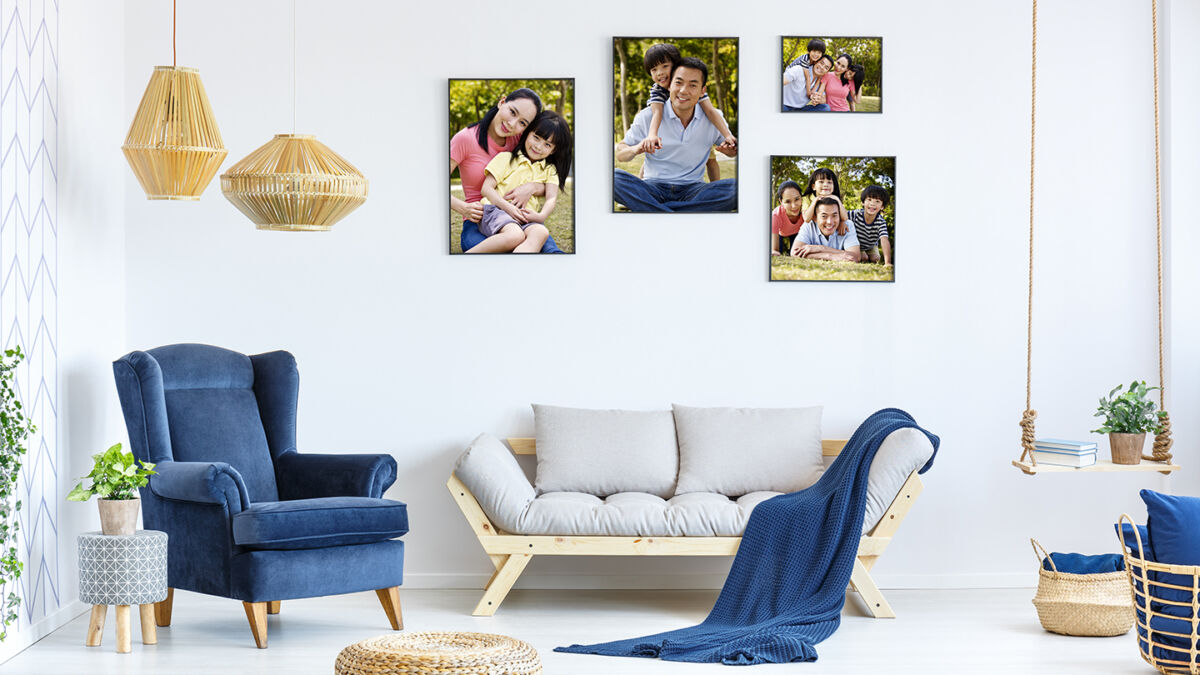 Fujifilm's study found that 2020 has meant people want more reminders of their loved ones around them (48%). Filling your space with photos of those you love – a significant other, kids, extended family, friends, pets – can help you feel more connected to them.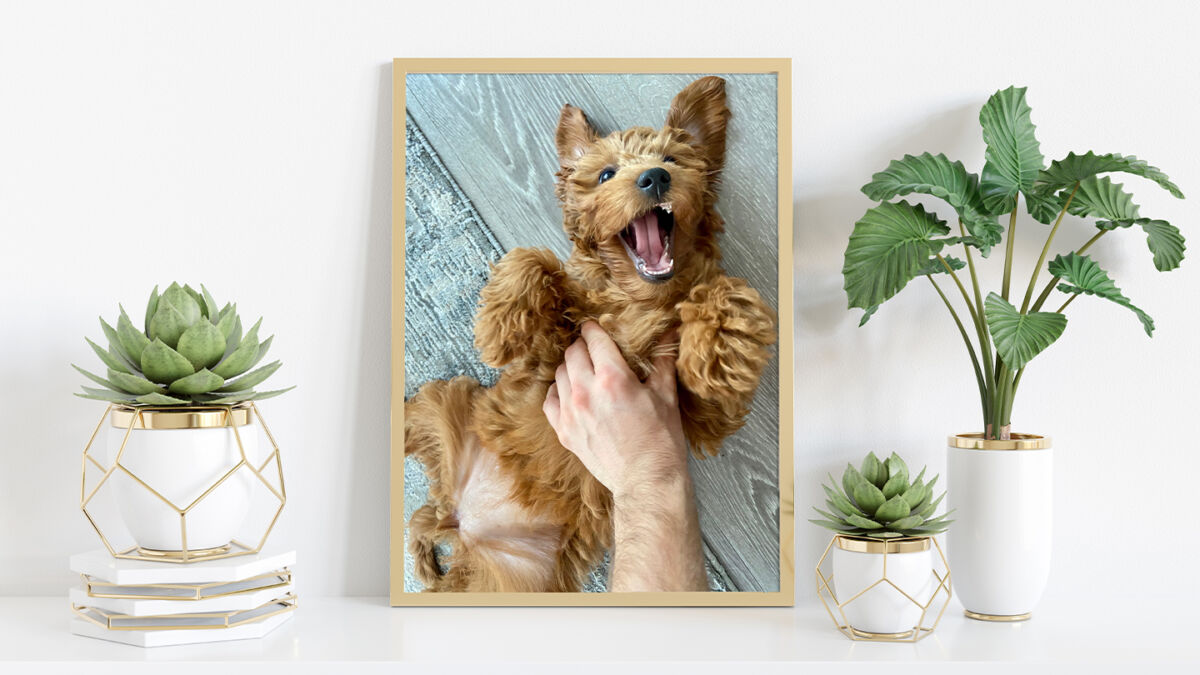 Take note of places in your home that you frequent the most (your main hallway or home office?) and display your photos in those areas, so those special faces are always in sight. Our Photolab offers a wide variety of prints and enlargements to fit all kinds of standard frames, so you can easily print and display photos of all your loved ones. For high traffic areas like your main hallway, we also recommend aluminum metal panels, which have a lightweight and highly durable surface that is resistant to fading. We also have aluminum panel collages that can display photos of all your loved ones together in one place.
2. Photos freeze your happiest moments in time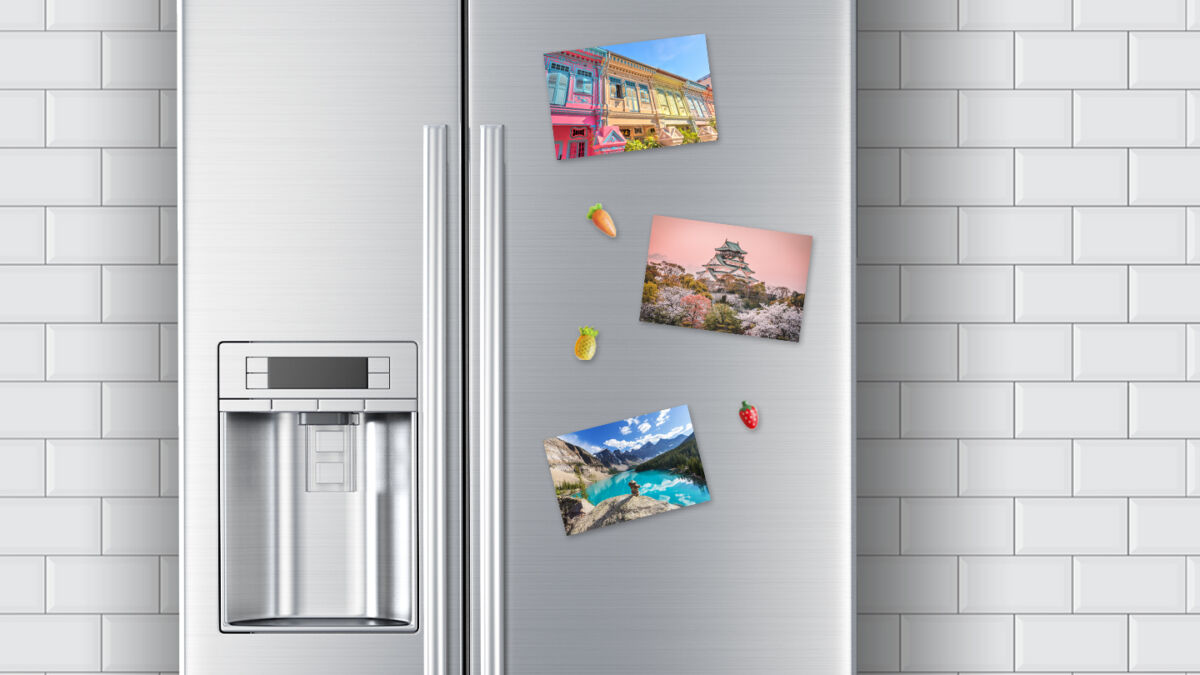 Looking back at photos helps us relive happy moments over and over again. According to Psychologist Dr. Emma Hepburn, "Research suggests that recalling positive personal memories can help elicit positive emotion and engage reward-related neural circuitry, which can be beneficial for wellbeing. Having these memories in physical form, for example, photographs around the house, can help create positive feelings on a daily basis when we see them."
If you find yourself in need of a mood boost, try surrounding yourself with images of your happiest memories – photos of a trip you took abroad or a special day like your wedding day or a birthday. You don't have to limit yourself to frames on your walls or shelves either. Our Photolab offers magnetic prints, as an example, so you can easily stick those happy moments to the fridge, a file cabinet in your office, or a locker! Other creative ways to display those photos include pillow cases, blankets, door mats, mousepads and more.
"Because of their physical nature, each photograph also has its own history," says Dr. Hepburn. "So, we remember not only the event itself, but create memories and meaning around the physical object. We can feel attached to a photograph so the physical act of holding and looking at a photo creates emotions."
3. Taking photos gives us greater enjoyment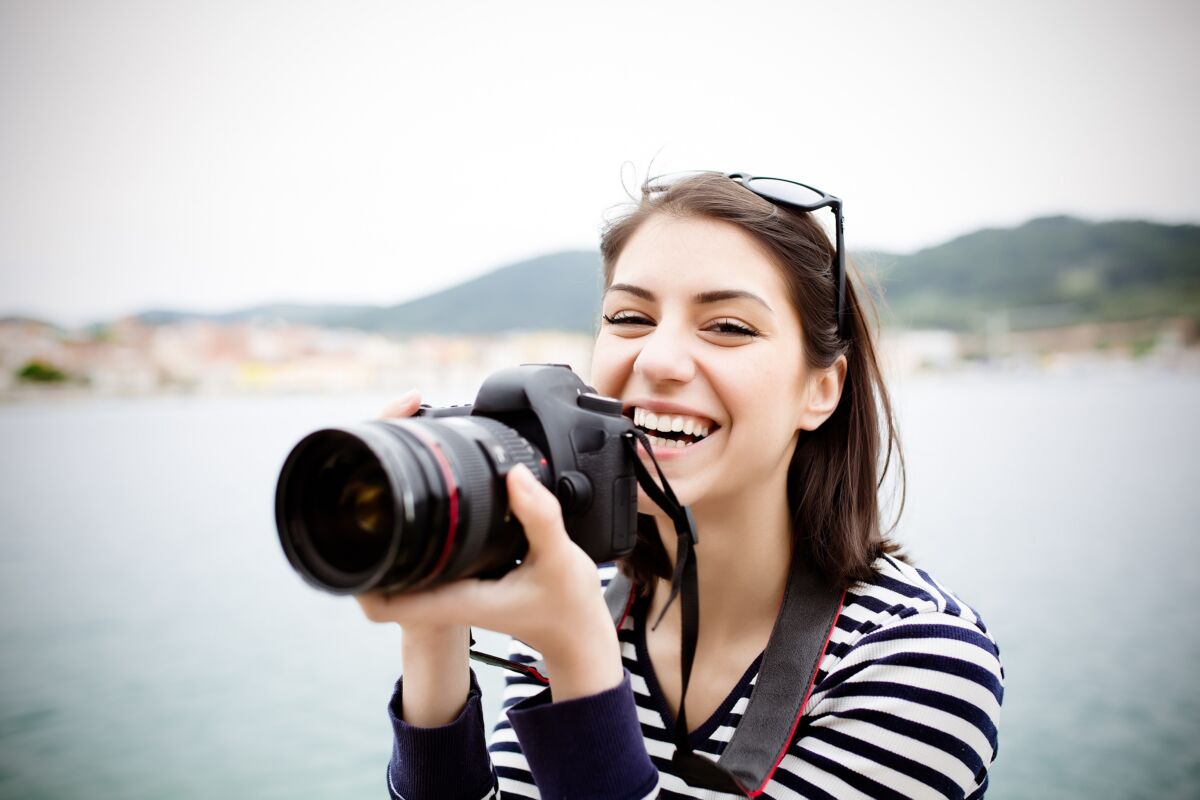 Research shows that taking photos of experiences generally translates to greater engagement in the experience itself, and in turn predicts greater enjoyment of that experience. In fact, those who take photos of their experiences seem to hold their enjoyment longer than those who don't take photos. So the next time you're headed out for a fun activity or experience, don't forget to bring your camera!
Film photography is also a great way to slow down and appreciate the moments you are capturing. Due to the nature of film photography, it requires the photographer to be more intentional with their photo-taking: you are limited by the number of exposures on your roll of film. This can be beneficial when it comes to capturing your experiences, as it becomes part of the experience itself! Not to mention, when you're done shooting, the act of picking up your developed photos from the Photolab is an exciting and special part of the film photography experience too. The anticipation and excitement of seeing your images developed for the first time is just part of the reason why so many love shooting on film.
What images bring you the most happiness?
Below, some local photographers are sharing their favourite photos that bring them (or someone they know) happiness! We hope they inspire you to find the photos that bring you the most happiness too.
"I have been a newborn photographer for over 10 years now and I also love to mix in my love of dogs. Last year a wonderful couple booked me for their newborn shoot and I knew their senior dog was terminal at the time. I insisted that he come to the session and I would include him when I felt he was ready. We did the new born portion and at the end I asked to try something. Baby was totally settled and Drake the dog was calm. With the help of the parents we set up this pose and it evolved into this image that will forever be one of my happy moments. We were all in tears. All they wanted was for their fur baby to meet their human baby. I doubt I would ever be able to recreate this, nor do I want to. This image is just for them. (Mom and Dad were hands on this whole pose for safety). – @sunnyshphoto
"The heart in between my couple as they share a Wedding Day kiss had me squealing while editing this photo afterwards and it brought a tear to my couples eyes when they saw it!!" – @esthermoermanphoto
"There are many ways a photograph brings me joy, this image in particular, I can remember how it was cooler out than I thought it would be and how happy I was to get back in my vehicle and warm up! I love the textures and patterns of growth criss-crossing the abandoned bridge. I remember the stories my friend and I shared and the laughs we had. I remember my drone stopped working but not letting that deter me from the views and sitting on the bridge watching the sunset. There's a lot of ways a photograph can bring you happiness, for me, it's the adventure, big or small and the views that I'll remember for a lifetime!" – @c_marsh15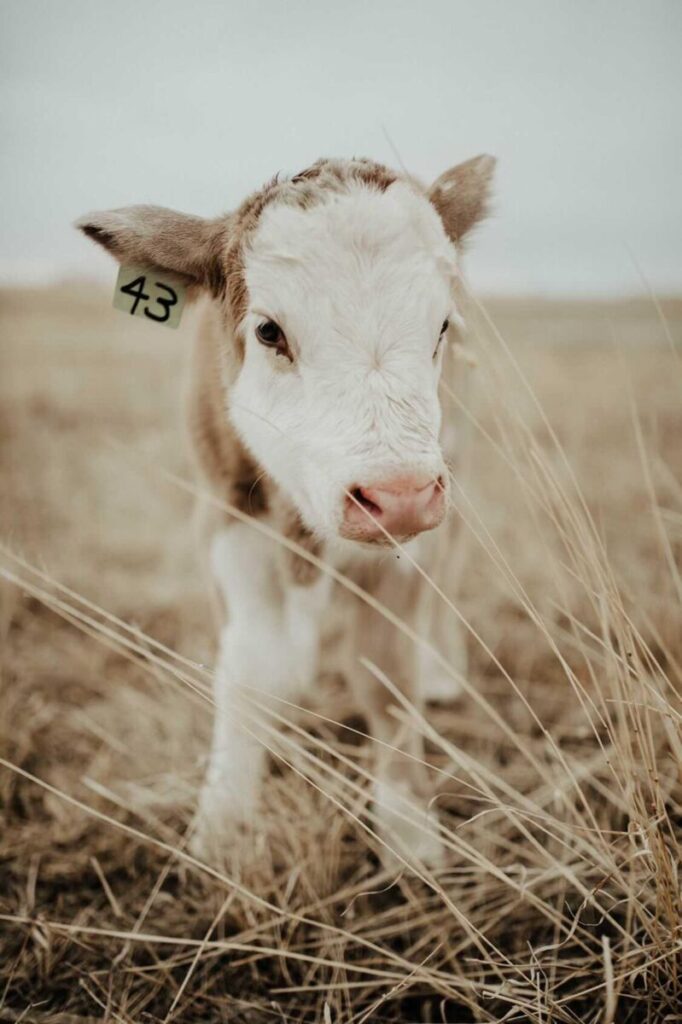 "Happy baby calves running around on fresh pastures in April bring me happiness" – @prairierosephoto
"That sweet smelling warmth of spring & summer, it can only be described as pure happiness. We wait for this all year, don't we? This image brings me joy because it embodies how I feel about this long-awaited time of year… golden hour, those beautiful moments before the sun turns in for the night.
I am reminded to pause, to breathe deep… embracing fresh oxygen from the top of my head and letting it run down to the tips of my toes… barefoot, grounded, part of something bigger than myself. Happiness is surrendering to ebbs & flows of the ocean tide —which could be heard in the distance while capturing this particular moment in time. Perfection." – @callypetersenphotography
Now it's your turn! What images bring you the most happiness? Surround yourself with those images by choosing physical prints to fill your space. To print your photos, just download our London Drugs Photolab App (available for iOS & Android) to order directly from your smartphone or order online or in-store at our kiosks. And if you're not sure what the best way to display your images is, our LD Experts are always happy to help!