If you have left a few holiday gifts until the last minute, and you have a green stocking to stuff, take heart. Here is a quick list of sustainable products that are quick to pick up at your local London Drugs.
For the Beauties
Eco-Tools Beauty Kits – With brush handles made from sustainable bamboo, packaging made from tree-free paper and a recyclable and reusable storage tin, the Warm Winter Glow Beauty Kit is a great gift for the sustainable fashionista.
Physicians Formula Non-Toxic Glamour Set  – Featuring Organic Wear® 100% Natural Origin Makeup, 80% Organic Tinted Moisturizer and 70% Organic Mascara that is 100% free of harsh chemicals, parabens, synthetic preservatives, GMOs and synthetic fragrances. It's also cruelty-free.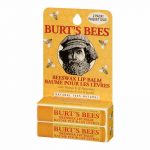 Burt's Bees – A great green company. Even though they are owned by Clorox, this brand continues to impress with innovative natural products, low-waste packaging (check out their lipstick!) and a zero waste manufacturing facility. Choose from lip balms, gift sets, and even pet products.
For the Hipsters
Marathon Mechanical Clock – The ultimate analog gift for your hipster friends. 100% human-powered (wind-up) and grid-failure resistant. And it's got a loud alarm. When it goes off, you WILL wake up. Comes in low-tech black or classic white.
Caprina Goat's Milk Soap – These soaps are made with traditional saponification to gently cleanse skin. Produced from the milk of eccentric goats from a Canadian family-owned company in Ville St-Laurent Quebec.
For the Green Thumbs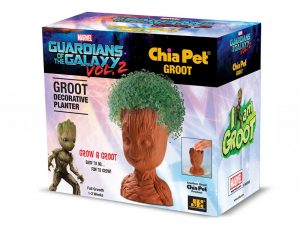 Guardians of the Galaxy Chia Pet – OK, any Chia Pet is green, but the one that looks like Groot is, well… GROOT! Cardboard box, pottery head, seeds, and fun. All sustainable, recyclable, and green. (There is one piece of plastic in the box, but you can Bring Back the Pack so that's recycled, too). Pick up in-store.
For the Chocolate Lovers
Green & Black's – A Green Deal holiday classic. Organic, fair trade, and available in a range of delicious varieties.
Pacari – This premium brand promises 'organic chocolate from tree to bar'. USDA Organic, Vegan, Beyond Fair Trade, and B-Corp Certified.
Zazubean – Certified Fair Trade, USDA Organic, not to mention vegan and Kosher. Also some of the best chocolate names in the business. (Nutbar, anyone?)
Theobroma – Certified organic, Fair Trade and Gluten-Free, by Quebec Chocolatier Vigneault. Nice stocking-stuffer stick size.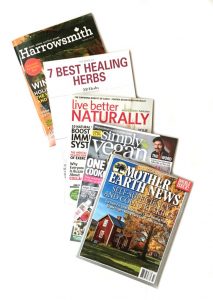 For the Magazine Lovers
The holidays are a great time to curl up with some sustainable reading, from healing herbs to vegan foods to solar heating plans.
And they're all recyclable (or burnable in a wood stove for heat).
Visit the magazine section at your local London Drugs and browse for your special green someone.
Fill out the subscription card for a gift that gives all year long. Pick up in-store.
For the Coffee and Tea Drinkers
Ethical Bean Coffee – Roasted in Vancouver; you can actually scan the code on each bag to see details on the origin and roast. Certified organic and fair trade.
Salt Spring Coffee – Organic and Fair Trade; they also support coffee farmers and communities with their Fair to Farmer Fund.
Commercial Drive Coffee – Here's a local roast with a genuine East Van Vibe for the true hipster on your list. Certified Carbon Friendly and USDA Organic.
Kicking Horse Coffee – Roasted in the Kootenays for extra mountain flavour, this organic & Fair Trade blend is also available in a decorator tin just in time for the holidays.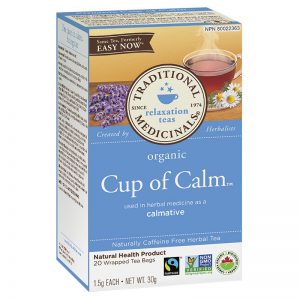 Traditional Medicinals Organic Teas – A great gift for the long, cold winter season. Certified Canada Organic and available in a variety of flavours.
For the Water Bottle Toters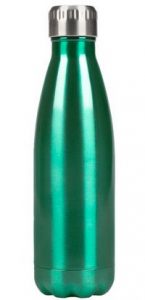 London Drugs Stainless Steel Double-Wall Water Bottle – Keeps drinks hot or cold for hours. Durable, stylish, and ultimately recyclable.
For the Yogis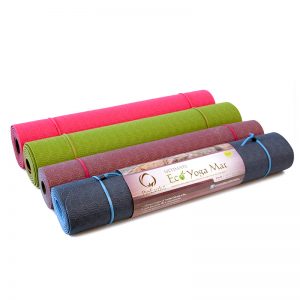 PurEarth Eco Yoga Mat – Non Toxic, Latex, PVC, and Chloride Free. Named one of Outside Magazine's 12 Best Yoga Mats.
For Everyone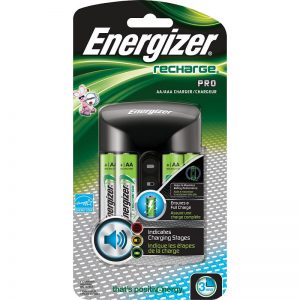 Energizer Rechargeable Batteries and Charger – This is a green gift we recommend every year, because it keeps on giving. In fact, not only can you save money in the long run, you'll also cut your battery waste by up to 75%
Wrap it All Up Sustainably
London Drugs Seagrass Basket – It's the gift box you can reuse all year long. Handmade from 100% natural materials. Comes in several sizes.
Adwood Pine Crate – Made from sustainably managed forests in BC, these crates look naturally good the way they are, and are also perfect for painting and decorating.
---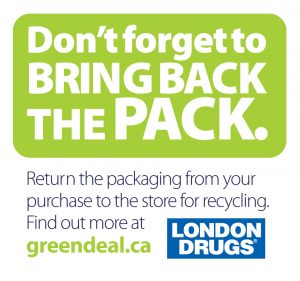 Be sure to let your giftees know that they can BRING BACK the PACK (including Styrofoam) from any London Drugs gifts, recycle old electronics and small appliances when they get new ones, and recycle beyond the Blue Box at their local store all year long.