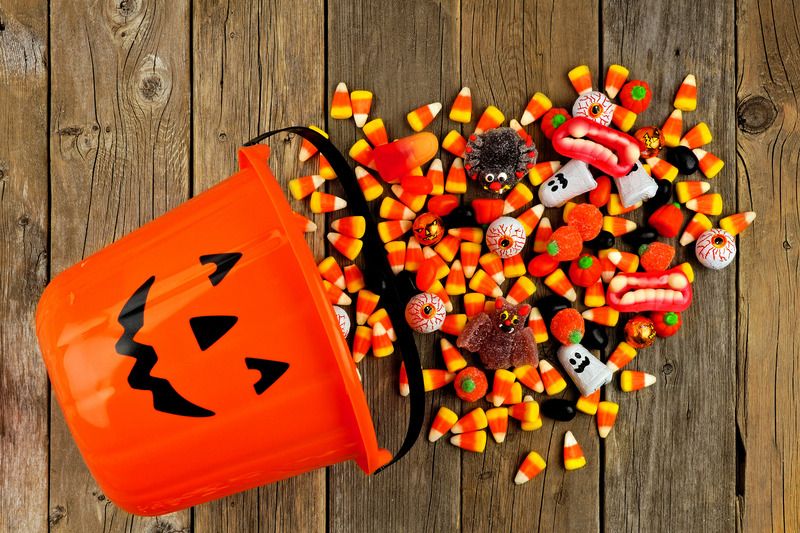 What was—or is—your all-time favourite Halloween treat?
You might be able to tell simply by paying attention to what you buy this year, since a good portion of adults actually choose the treats they hand out based on their personal favourites. (We don't, after all, want to be left eating treats we don't like, should the little ones not show up, right?)
Or check out our list below to jog your memory. And if we haven't included one of your all-time faves, just let us know!
1) Potato chips—This is the quintessential double-take for most kids. As soon as that baby was dropped in my pumpkin bucket, I looked in to make sure "Yes, I really DID just get chips!" This was quickly followed by "Darn, now I have less pumpkin bucket space for other stuff." No space in bucket = time to go home.
2) Mini Mars Bars—Man, Mars Bars were my ultimate ULTIMATE favourite choice of chocolate bar. My dream come true would be replacing the nougat with MORE caramel (I know there's a Mars Caramel, but it doesn't match my fantasy in terms of caramel quantity)
3) Little Chiclet Boxes—You only got two (I think) pieces of gum in a box, but since my mom never let me have Chiclets, these were gold. Well, only if they were Fruity flavour.
4) Candy Corn—You didn't necessarily find this until the end of the night, when you did the ritualistic "dump and admire" maneouvre on your bedroom floor. For me, these were the forgotten delight and pure magic when I saw them tumble out—usually loose, which I don't think you find today.
5) Rockets—This one caught me by surprise, because I would never think it was that great, but being a sugar junkie, I would tear into it anyway. And then forget about the wonder of those pressed powder candies exploding in flavour. Delicious!
Stats on Halloween Candy
Here are some interesting Halloween stats you might not know, based on a poll on www.YumSugar.com:
Halloween trick-or-treating originated in the US in the mid-40s, but apparently going door-to-door begging for treats on holidays goes back to the middle ages
62% of adults choose candy based on their personal favourites
When given the choice, 70% of parents will pick out mini chocolate bars from their child's candy
And, amazingly—26% of households pass out FULL-SIZE candy bars. They must be nuts!
Now it's your turn! What treats are you craving this Halloween?
Nala
London Drugs Fan
Nala Henkel, a former employee and contract proofreader for London Drugs, is a self-confessed fan of our store. We invited her to share her quirky perspective on all things London Drugs from a consumer's point of view.