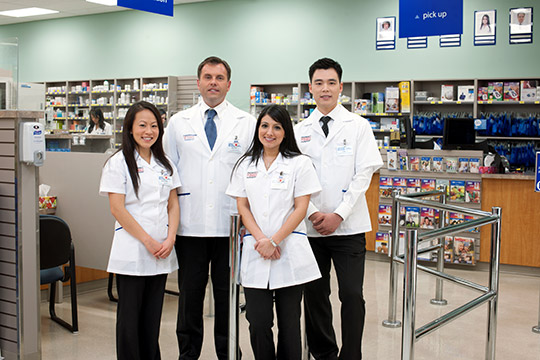 World Pharmacists Day is designed to raise awareness about the role of pharmacists in providing care to the public. This year's theme is "Pharmacists: Caring for you". The theme reflects the increasing role pharmacists play in the provision of health care services and the tangible benefits they bring as health care providers. Pharmacists are the most accessible health care providers for Canadians, yet many are still unaware of the range of health services they are able to provide.
For many years, pharmacists have been taking on expanded roles in the Canadian health care system. Today's pharmacist is highly respected as the medication management expert of the health care team. They collaborate with patients, their families and other health care providers to deliver a range of innovative services, including medication reviews, chronic disease management, immunization services and wellness programs.
London Drugs Pharmacists: Caring for you
World Pharmacist Day is an opportunity to remind Canadians about the health care services easily accessible through their pharmacists. At London Drugs, these services include:
Medication reviews to ensure drug therapy is appropriate and effective. Pharmacists are trained and knowledgeable about medication issues.
Administration of vaccines by Certified Injection Pharmacists, including the Zostavax vaccine for Shingles.
Individualized diabetes management programs withour Certified Diabetes Educators.
Chronic illness management.
Ability to prescribe for minor ailments/conditions (in select provinces).
Renew and/or extend prescriptions (some medication restrictions apply)
Assisting patients find solutions to everyday health issues around allergy, cough & cold, pain management, stomach health and eye care.
A variety of Health Clinics offered at select times throughout the year, including:
London Drugs pharmacists are committed to being an important part of our customers' health care team. To learn more, speak with a pharmacist at any location or visit our NEW pharmacy website.