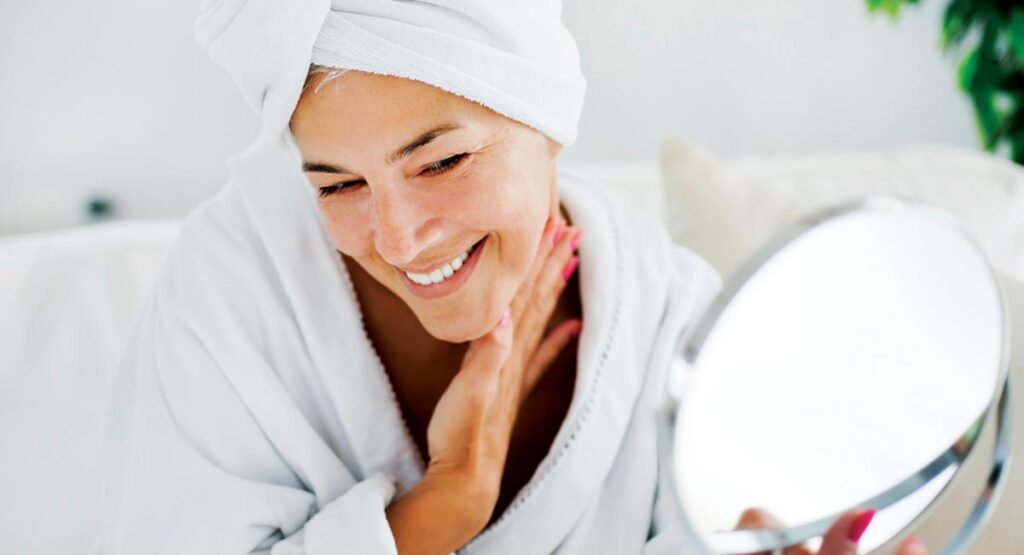 As winter approaches, it becomes especially important to pay attention to skin care. The combination of cold, dry weather outside and indoor air that is dry and heated can damage our skin's health. Winter weather dries out the skin and makes it less elastic and more fragile and prone to cracking. Skin that is dry wrinkles more easily, and dry skin is more likely to produce complications such as chronic eczema (red patches) or bleeding from cracks that may become infected. Fortunately, there are some things we can do to protect our skin and help keep the dewy, hydrated glow your skin had before the arrival of winter.
Hydration
The goal of your winter skin care program should be to keep as much moisture in your skin as possible. Start by limiting the number of long, hot showers and baths you take. Use warm rather than hot water, and don't spend longer than necessary in the water. It may seem odd, but water does not moisturize skin. In fact, water repels oil, and it causes our skin to lose its natural oils. Limit yourself to a single five- to ten-minute bath or shower a day.
Avoid using deodorant soaps, perfumed soaps, and products that contain alcohol, because they, too, can rob the skin of its natural oils. Wash with a light touch; don't use bath sponges or scrub brushes. If you use a wash cloth, use it gently.
Once you are out of the water, apply a moisturizer with skin-softening ingredients to your skin while it is still damp. This will help seal the moisturizer into your skin. To reduce any greasy feeling from thick creams, rub a small amount between your hands and then apply it to the rest of your body. Using a humidifier indoors can also help ensure that there is enough moisture in the air to keep skin hydrated.
Choosing Skin Care Products
The skin care products you use in the warmer weather may not be appropriate in the winter. The key is to select gentler products, such as a gentle cleanser that won't strip away moisture from your skin. Don't choose cleansers and soaps that contain harsh chemicals, alcohol, or fragrances. You should also
look for fragrance-free laundry detergents and avoid fabric softeners. Winter air also dries out the skin on your scalp, leading to itching and dandruff. You can treat this problem by selecting the right products. Look for a shampoo and conditioner that are soap-free and designed to remove dirt and build-up while hydrating your scalp and conditioning your hair. If you need more relief, you may want to apply a scalp relief serum as well. A good moisturizer is especially important in the winter, but the one you use in the summer may not provide enough protection for your skin once the air becomes colder and drier. If you are using a lotion and your skin still feels dry, consider switching to a cream.
Don't forget your hands and lips. Applying a hand cream after each washing can help keep the skin on your hands soft and help prevent dry, cracked skin, and a moisturizing balm applied to the lips can help keep them from chapping and cracking. If you need help selecting products that are right for your skin, your London Drugs beauty consultants will be happy to help you.
Don't Forget the Sunscreen
Think sunscreen is only for the summer? Wrong! It is extremely important to use a sunscreen all year long. Not only will it help keep your skin from looking prematurely old, it will also help prevent the damage that the sun's ultraviolet (UV) rays can cause. Snow reflects up to 80% of the sun's rays, so going outdoors in the winter could expose you to nearly a double dose of skin-damaging radiation. When choosing a sunscreen, look for a product with a minimum SPF (sun protection factor) of 30. A sunscreen that is labelled "broad spectrum" will protect against both UVB rays (the ones that cause sunburn) and UVA rays (which penetrated deeper into the skin and are responsible for premature aging and contribute to the development of skin cancer). Don't forget to protect your lips with a lip balm that has an SPF of 30, and reapply it every hour.
Dress for the Cold
Some fabrics used in cold weather clothing can be rough and scratchy. To prevent irritation, it is best to keep these fabrics away from direct contact with your skin. Instead, wear light layers of clothing made from soft materials against you skin and add layers of heavier materials on top. Protect your hands with gloves or mittens. Wearing wet clothes, socks, or shoes can irritate skin, so be sure to change out of wet clothing as soon as possible. If you still experience skin dryness and irritation after taking precautions, your London Drugs pharmacists can guide you in selecting an over-the-counter hydrocortisone cream that can help. If you don't see improvement after a few days, you may need a prescription-strength moisturizer. Our pharmacists will be happy to answer any questions you may have about these products.