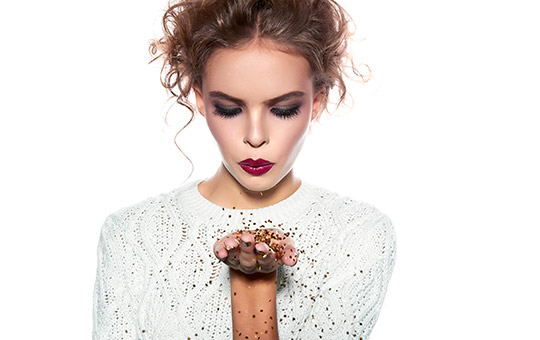 Join us as we celebrate Winter with glam makeovers, skincare consultations, manicures, prizes and more!* Plus, visit us in-store for an exclusive offer during our Winter Beauty Galas!
See your Beauty Advisor at your local London Drugs beauty department for more details, or view below for gala dates and times. We can't wait to see you!
*event activities vary by location.
BRITISH COLUMBIA
Westminster Centre
Santa's Little Helpers Makeover Event
Saturday, December 9, 1-6pm
604-524-2964
5000 Kingsway Plaza
Winter Glamour
Friday, November 24, 11am-4pm
604-435-8047
Kerrisdale
Holiday Glamour Gala
Saturday, December 16, 12-5pm
604-263-6591
Spall Plaza
Winter Skincare Event with Lise Watier
Friday, January 26, 11am-4pm
250-860-5311
Saanich Centre
Magic of the Holidays
Friday, December 1, 1-6pm
250-727-7494
Scott 72 Plaza
Winter Beauty Gala
Saturday, December 16, 12-5pm
604-591-6915
Trenant Park Mall
Winter Gala
Friday, December 1, 12:30-6pm
604-946-2963
Valley Fair Mall
Snowflake and Sparkle Beauty Event
Friday, December 15, 12-7:30pm
604-463-0394
Brentwood Town Centre
12 Days of Beauty
December 1-12
See in-store for full details!
604-570-0253
Broadway & Vine
Winter Beauty Event
Saturday, December 2, 1-5pm
604-742-6005
Olympic Village
Winter Wonderland at Olympic Village
Friday, December 8, 2-7pm
604-707-2036
High Street Mall
Ladies Night Out: Shop, Mingle and Be Merry
Thursday, December 7, 6-9pm
604-870-3796
ALBERTA
London Centre
Holiday Glamour Gala
Friday, December 1, 1-5pm
780-437-7594
West Edmonton Mall
Winter Gala
Saturday, December 16, 1-5pm
780-444-1880
London Town Square
Winter Gala
Friday, December 8, 12-4pm
403-291-0009
Gateway Power Centre
Holiday Beauty Gala
Friday, December 15, 12-5pm
780-539-6832
Centre Village Mall
Black Tie Beauty Event
Saturday, December 2, 12-5pm
403-320-7784
Beddington Towne Centre
Snowflake and Sparkle Beauty Event
Saturday, November 25, 11am-3pm
12 Days Of Christmas
December 13-24
See in-store for full details!
403-571-4940
St. Albert Centre
Holiday Gala
Saturday, December 9, 12-5pm
780-458-8002
South Edmonton Common
Holiday Beauty Gala
Saturday, December 2, 1-5pm
780-432-3589
Mount Royal Village
Sparkles and Snowflakes Holiday Gala
Friday, December 1, 11am-3pm
403-802-0934
First Calgary SE
Holiday Beauty Gala
Saturday, December 2, 12-4pm
403-257-6852
Windermere
Holiday Beauty Gala
Friday, December 1, 5-9pm
780-430-3985
Airdrie
Glitter in the Air Christmas Gala
Saturday, December 16, 12-4pm
587-775-0337
SASKATCHEWAN
Grasslands
Winter Wonderland Gala
Saturday, December 16, 1-4pm
306-566-4003
St. Vital Centre
Deck the Halls! Cosmetics and Fragrance Event
Saturday, December 2, 12-6pm
204-253-1949