I love to make smoothies but I've never had a blender that could properly mix them up without leaving me with lumps, or doing that thing where the blades are spinning but everything is sitting on top so nothing is getting mixed up. So frustrating!
I realized it was time to do something about this so I bought the Ninja Pro Touch Blender hoping that it might be the solution to our half-mixed smoothies. As soon as I saw the spiral blade that ran right up through the jar I couldn't wait to put it to the test. I packed it up with all of my favourite ingredients and watched it spin that smoothie into perfection. But my 21-year old son decided to put it to the real test. He and his friends (who are all track athletes for university) had come up with this protein rich concoction that they love but haven't been able to mix properly so we decided to give it a try in my new Ninja.
Tyler's Marathon Smoothie
1 banana
1 cup of fresh spinach
1 large scoop of vanilla protein powder
1 cup of natural peanut butter
1 – 2 cups of frozen blueberries
1 cup of yogurt
1 tablespoon of natural honey
ice cubes
apple juice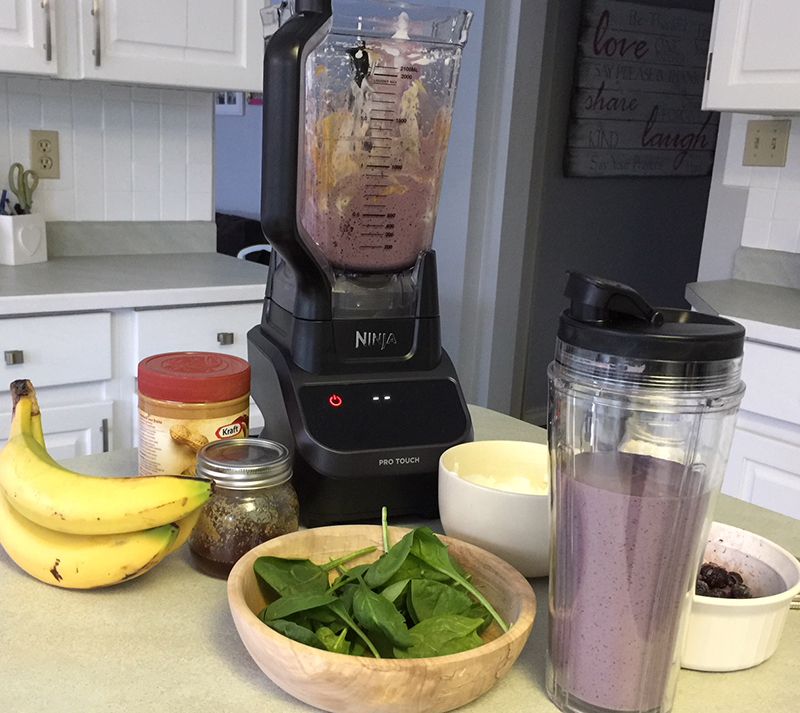 Now this recipe is pretty thick and it will burn out a blender pretty quickly but we threw all of the ingredients in and watched it mix up in one shot. No need to stop and push ingredients around. The Ninja mixed it up beautifully. While this mix of ingredients may sound less than mouth-watering, it actually tastes pretty good. And if you're planning to run 30 km a day like my son and his friends, then it's just what you need!
However, I don't run all day and I also really don't enjoy cooking that much so when I do cook I like to make large batches so it lasts awhile. Recently I switched to a plant-based diet (much to the dismay of my family of boys who are all hard-core meat-etarians) and I have been playing with some great soup recipes that fill me up while still feeling like comfort-food. One of my favourites is a cream of broccoli soup that uses cashews as the cream base. So I fired up my Ninja and decided to whip up a new batch of soup. One of the things I really love is that it has a much bigger jar than any of the previous blenders I've used. It has a 9-cup capacity so when it came time to put all of the ingredients into the blender and cream them up I could do it in larger and less batches.
All-in-all I would say that my new Ninja Pro-Touch Blender is a huge hit in our home. It's powerful, easy to use and the spiral blade makes mixing so much easier. Thumbs up!!
Cream of broccoli soup
1 cup raw cashews
2 tsp olive oil
2 onions chopped up
2 celery stalks chopped
2-3 carrots chopped
3-4 garlic cloves minced
7 cups of broccoli chopped
6 cups hot water
salt to taste
Soak cashews in 1 cup hot water for 15 minutes
In large pot saute onions in olive oil over medium heat
Add celery and carrots and stir for 5 minutes
Add garlic and broccoli and stir for another 5 minutes
Add 5 cups of boiling water. Bring to a boil
Reduce heat and simmer for 15 minutes, covered
put cashews and water into blender and blend until smooth.
Pour out into bowl and then add the rest of your soup to the blender in batches and puree until smooth. Mix with the cashew cream. Add salt to taste.
I like to add a few roasted cashews when I serve the soup for a little crunch.