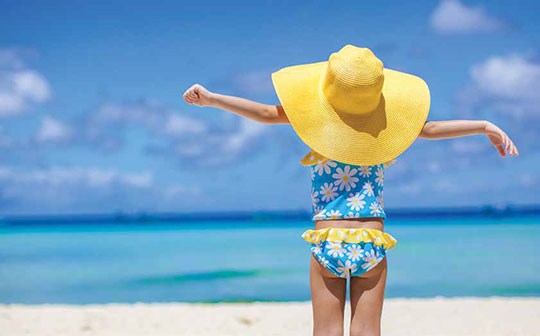 Did you know that the most harmful effects of sun exposure occur in early childhood? For this reason, and because up to 80 per cent of lifetime sun exposure takes place before age 18, it is very important to protect children from the sun's harmful rays.
Here are a few helpful pointers for preventing sunburn and making sure that the joy of sunshine during the day doesn't turn to the misery of sunburn later on.
Babies under a year old should be kept out of sunlight and protected by a sunshade and/or sun hat. If your baby is younger than six months old and still has small areas of skin, such as the face and ears, exposed, you can use a very small amount of sunscreen with a minimum SPF of 15 on those areas. Babies of six months and older should be protected with sunscreen specially formulated for a baby's delicate skin.
While you should always endeavour to keep your little one out of direct sunlight between the hours of 11 am and 4 pm, this isn't always practical. So make sure that he or she wears a T-shirt and sun hat and that all areas of skin are well covered with a broad spectrum sunscreen of SPF 30 or higher. (Thin summer clothing often doesn't screen out harmful UV rays, so play it safe and apply sunscreen underneath light shirts and pants.) The lighter the colour of clothing, the cooler and more reflective it will be. Since sunscreens lose their ability to block sunlight after a while, you should reapply sunscreen every two hours.
Before going out in the sun, wait 15 minutes for the sunscreen to fully permeate the upper layers of skin.
If your child is going to be swimming or playing in water, a waterproof sunscreen is a good idea, but remember to reapply it at regular intervals, and always after a dip.
Always apply an SPF 30 lip balm to your child's lips and reapply often.
Be careful not to apply sunscreen too close to your child's eyes as it may sting and burn.
Teach by example. Explain why you are applying sunscreen to yourself and how important it is for your child to also be protected.
Show your child how to seek shade—created by trees, buildings, porches, etc. and encourage her to seek it out. Explain that this is particularly important when her shadow is shorter than she is.
If your child has lighter colouring…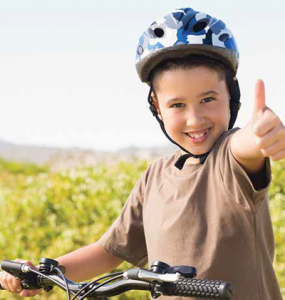 Children with red hair and freckles, who usually burn and do not easily tan when out in the sun, or those with blonde hair or several moles, are at greatest risk of sun damage and developing skin cancer later on in life.
It is therefore important to be especially vigilant if your child falls into any of these categories.
While it is relatively easy to make sure younger children are well protected with clothing and sunscreen, older children and teens are a different story. Despite all the warnings about tanning, these age groups tend to think they are invincible and many want to look tanned like their darker friends.
With older children and teens, education on the dangers of sunshine is key. Treatment for skin cancers can result in minor to significant scars, and both squamous cell carcinoma and malignant melanoma can be deadly. Show your older child images of these skin cancers and explain how she has a higher risk due to her paler skin and hair tone. You might also suggest that a self-tanner is in order.
People of all ages should check their skin from head-to-toe each month, paying careful attention to any suspicious growths and reporting these to a health professional.
Not just for the beach…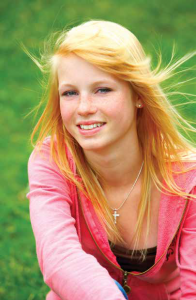 Most sun damage occurs as a result of incidental exposure during day-to-day activities, not from actually being at the beach or other place where you might expect your child to develop sunburn.
To avoid unexpected sunburns, explain to your child that the sun is sneaky! Over 80 per cent of UV rays are not filtered out by cloud cover, and some of the worst sunburns develop after an overcast day. This is particularly true for higher altitudes. Cycling or hiking in the hills for an afternoon can result in just as bad a burn as being exposed to a couple of hours' UV light on a clear, sunny day.
Also teach your child to watch out for light reflected from sand, snow and concrete as up to 85 per cent of the sun's burning UVB rays can bounce back at him.
Always wear sunglasses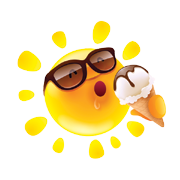 The Canadian Paediatric Society recommends that children wear sunglasses providing 100 per cent UV protection. Wraparound styles are best.
Corneal burns can develop in as little as one day spent in the sun without the protection of sunglasses. Remember that reflecting sun adds to UV exposure. Cumulative exposure to UV light can lead to cataracts later in life.
London Drugs carries a number of sunglasses for children.