Summertime and yes, the living is easy, but on that ever-present other hand, the living can also be hard, especially on your skin – something you all know, I'm sure – but here's the one you may not know, summertime is also very hard on your eyes.
Why is sunlight bad for your eyes?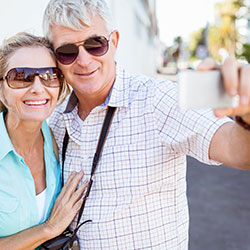 Because long-term excess sunlight exposure raises the risk of at least two very common eye disorders.
One is cataracts which are "hardenings" in the lens of the eye (usually in both lenses, of course) and which eventually very often result in the need to have surgery to remove one or both lens.
That risk has been known for a long time but the eye problem linked to sunlight that's been discovered more recently is macular degeneration (that's a more recent link), the most common cause of blindness in North American seniors.
So if you want to see well into your senior years, and trust me, you do, you really want to protect your eyes from too much sunlight.
To that end, buy a good pair of sunglasses, and try to wear those sunglasses as often as you can when outside (remember that you still get some UV exposure even on cloudy days), and remember, too, that some surfaces such as water magnify the effect of sunlight on your eyes.
But be especially careful to wear your sunglasses on sunny days even if you are planning on being outside just for a few minutes.