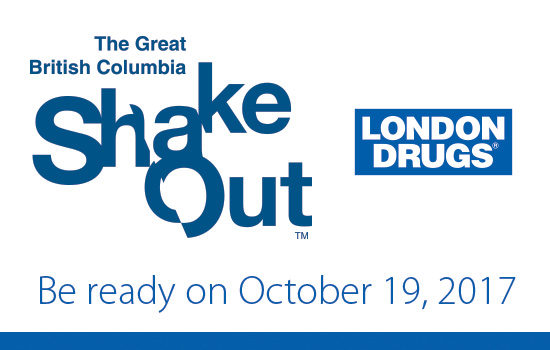 Richmond head office and all 51 stores in B.C. will participate in ShakeOutBC  October 19th.
If an earthquake were to happen while you were outside your home, shopping at a business or just out in your community, would you know what to do? In coastal British Columbia it is imperative we be prepared. This October 19th London Drugs will be activating emergency drills in 51 communities across the province for the annual ShakeOutBC event, and everyone is invited to participate.
London Drugs will be staging an emergency drill at its head office in Richmond as well as in it's 51 stores across B.C. Customers will be notified on Oct.19 at 10:19 am over the P.A. system that an emergency drill will commence. A pre-recorded rumbling-type sound followed by instructions to "Drop, Cover and Hold On" will be made by store management. Each store will have emergency preparedness ambassadors ready with materials and a sample emergency preparedness kit for discussion and engagement with customers in the stores.
"I'm really proud of London Drugs' business continuity team taking our emergency drill for ShakeOutBC to an accelerated level" says Clint Mahlman, Executive Vice President and Chief Operating Officer, London Drugs. "We have been doing this drill for years but practicing it on a grander scale at our head office and taking it to all 51 B.C. stores with broader communication and engagement with our customers is an important step in bringing this crucial awareness and education to a much wider audience."
These events correlate with the company's commitment to leadership in the safety and wellbeing of all of its staff and customers.
"The Great British Columbia ShakeOut is gaining more and more traction.  Having London Drugs take a lead role, showcasing their efforts to be prepared as a business, highlights the importance of businesses supporting their staff and community by having business continuity and preparedness plans," said Dave Cockle, President of the BC Earthquake Alliance. "I believe that working with London Drugs this year reflects an increased understanding that the earthquake risk in B.C. is a shared responsibility and the importance of businesses being involved in preparedness.  We're on our way to creating a culture of preparedness and making British Columbia a more resilient province."
Customers in all stores across British Columbia are encouraged to get involved during the demonstration and learn about the basics of earthquake survival and emergency preparedness.
All London Drugs stores have emergency kits and information highlighted in stores. Below are items necessary to survive for up to 72 hours without power or assistance. Emergency kits should be stored in a conveniently located and durable backpack.
Key things to have in your emergency kit are:
Water – estimate for four litres per person per day for drinking and sanitation.
Food – gather food that won't spoil like canned goods, protein energy bars, dried fruits and meal replacement beverages. Don't forget to pack the can opener. Include hard candies, chocolate and gum in your kit for a diversion for your senses.
Essentials – flashlights, extra batteries, candles, matches, garbage bags, a blanket, hand sanitizer, whistle and a small mirror.
First Aid – ensure your first aid kit is up to date and medications have not expired, include gauze, pads and tape along with an assortment of bandages. Include several pairs of disposable latex gloves, face masks, antibacterial handwash, and a small pair of scissors.
Battery powered or a wind up AM/FM radio to keep updated on current conditions.
Seasonal clothing and footware along with a dust mask in case of poor air quality.
Entertainment – cards or any other board games. Crossword puzzle or pocket book to keep you occupied while waiting for the power to return.
Additional non-essential but important items include duct tape, Swiss army knife, Kleenex, toilet paper, city map, and recent photographs of loved ones in case of separation.
London Drugs provides several sizes of emergency kits for individuals and families. It's also recommended to have a smaller emergency kit, including a solar blanket for added warmth, in your vehicle should you be in your car during a disaster.
Find more emergency supplies here.
To get involved and to find out more emergency tips visit www.shakeoutbc.ca.