When it comes to storing food, air is the enemy. FoodSaver® Vacuum Sealing Systems remove air and lock in freshness, keeping your foods fresh up to 5x longer*. Whether a week, a month or a year later, your food will taste as fresh as the day you sealed it.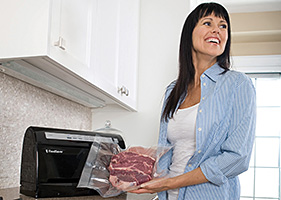 FoodSaver® V4420 Vacuum Sealer features exclusive technology that automatically senses the bag and food type to create a perfect air-tight seal, whether you are sealing meats, cheeses or delicate baked goods. Additional features include 2 vacuum speeds, 2 seal levels, convenient roll storage with built-in cutter and patented removable drip tray for easy clean-up.
Made from BPA free plastic and featuring the FoodSaver® brand's universal valve system, these airtight and long lasting containers can be used with all FoodSaver® Vacuum Sealers. Available in 3, 5, and 8 cup capacity, these stackable storage containers are made of Tritan™ which is stain and odour-resistant, microwave, refrigerator, dishwasher & freezer safe.
Save Time Using FoodSaver:
Fewer trips to the store. When your food stays fresh longer, you make fewer trips to the store. That means more time to do things that you really enjoy!
Cook ahead. Prepare meals for the week or month in advance, seal portions in FoodSaver® bags and freeze. When needed, drop the sealed bag into simmering water to reheat or open, microwave and enjoy!
Make entertaining a breeze. Prepare your signature dish or holiday treats in advance, and simply reheat while you spend quality time with your guests.
Save Money with FoodSaver:
Throwing away food is like throwing away money.
Using the FoodSaver® system to store and protect your food prevents waste caused by spoilage and freezer burn. Plus, you can save even more when buying in bulk and still maintain freshness during long-term storage.


Don't Discard Leftovers Home-cooked leftovers or that doggie bag from a restaurant splurge can be saved up to 5X longer and enjoyed again, even weeks after it's sealed.
Buy In Peak Season Make your purchases of foods when they are in season and cost less so you don't have to pay a premium when they are in demand. You can enjoy fresh berries and veggies in the winter without any budget worries.
FoodSaver Keeps Foods Fresh Longer than Ordinary Storage Solutions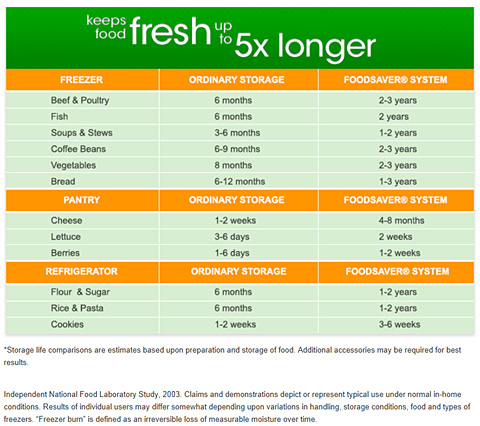 Increasing Cost of Foods – Resources
CBC article – http://www.cbc.ca/news/business/food-prices-inflation-1.3382872