If you're a photographer, whether professional or hobbyist, the holiday season has arrived.
Well, maybe not the holiday season, but definitely a holiday season—because May is Photography Month. Sadly though, there are still a great many people who believe that May is for flowers and Mother's Day and long weekends…who have absolutely no idea that it's also about celebrating what is arguably the most influential and transformative art form in human history. This could be because the word is not getting out; it's not like Photo Month is the lead story on The National or anything. Well, at least the Photolab is doing its part to share the celebration with as many London Drugs customers as possible. In fact, they'll be doing it in the most meaningful way possible; by becoming a platform for education, helping photographers of all levels improve their skills and understanding of the medium through their ongoing series of informative workshops.
In case you weren't aware, London Drugs regularly hosts a variety of free workshops for customers at each of their locations throughout Western Canada. These workshops are put on by each department, and the Cameras & Electronics department plus the Photolab will be hosting a number of them over the next few weeks as part of Photo Month. These workshops will include a variety of camera and photo printing subjects; many of them are hosted by subject matter experts in the local area, so the topics covered will vary by location. However, many will be hosted by local LD staff, and will feature topics like making a photo mug and using the child handprint station…in other words, things you'll definitely need to know with Mother's Day coming up!
And just to make sure you have no excuse to miss any of them, London Drugs has made it extremely easy to view upcoming workshops in your local area by creating this handy dedicated workshops page. Browse by department, by province, by city…finding the workshops that pique your interest couldn't be easier, including past ones in case you're curious. If you want to look up a particular topic, there's even a very impressive instant search.
Whether you're looking for creative Mother's Day gift inspiration, the latest and greatest new camera or smartphone technology, or you'd like to learn more about drone photography, you'll find workshops in your area that will inform and educate you. From technique to creative output, Photography Month at London Drugs is the best opportunity of the year to become better at what you love.
Happy Holidays!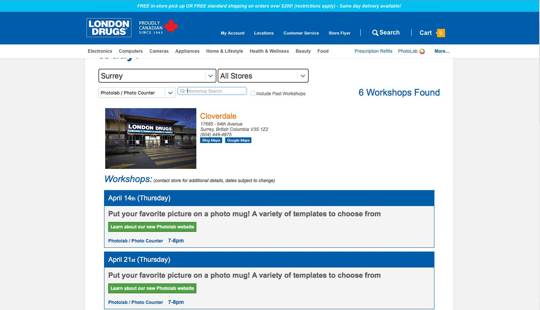 Celebrate Photography Month by attending workshops. They're free. They're plentiful. They're easy to find. Visit londondrugs.com/WorkshopList.html. And check out the ultra-fast search!