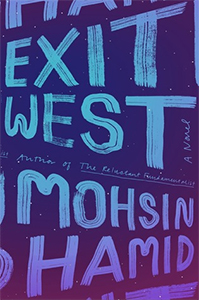 Exit West by Mohsin Hamid
In a country teetering on the brink of civil war, two young people meet – sensual, fiercely independent Nadia and gentle, restrained Saeed. They embark on a furtive love affair, and are soon cloistered in a premature intimacy by the unrest roiling their city. As familiar streets are turned into a patchwork of checkpoints and bomb blasts, the couple begins to hear whispers about doors – doors that can whisk people far away, if perilously and for a price. As the violence escalates, Nadia and Saeed decide that they no longer have a choice. Leaving their homeland and their old lives behind, they find a door and step through…
An epic compressed into a slender page-turner, Exit West is both of our time and for all time.
Reviews
Exit West by Mohsin Hamid is a timely story about immigration and refugees with a twist.  In light of current events I would say it's a must read to open your eyes to the plight of refugees in the world today.  It's a quick moving story that is beautifully written.  I found myself going back time and time again to re-read lines that were so well-written that they needed a second read.  I highly recommend this book. – Review by Carolynn
Exit West is interesting and riveting. It gives you an inside look at the effects of civil war, as seen through the eyes of two lovers living in this time and trying to make a life during a time of unrest and tragedy around them. There are lots of issues going on in the world today that help us relate to the issues they must cope with and the decisions they must make. It gives you a 'bigger picture' feeling with regards to how people deal with certain stresses and keeping a relationship going despite things going on around them. – Review by Angela
Book of the Month
Every month we will be featuring a new book to be showcased in our Book of the Month. Staff members and friends will be reading the book and posting their reviews. We'd love to hear what you thought of these books as well. Post your comments and let us know. Exit West is available at London Drugs along with many other great titles and is on sale for the month of May.