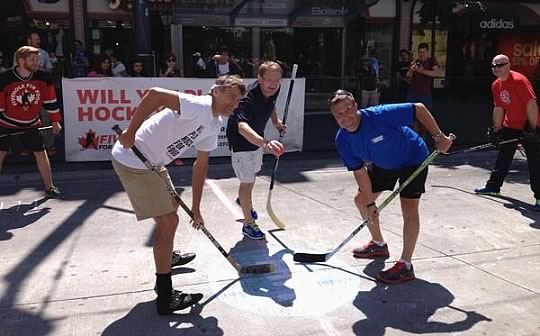 Five Hole for Food (FHFF) hits Edmonton today, one of three last legs on the popular cross-country road hockey tour with Victoria on Friday and Vancouver on Saturday, July 19th. London Drugs is proud to have already raised more than double the amount last year, approximately 59,000 lbs of food for food banks across Canada and worth about $30,000.
"It's hard to believe that Five Hole for Food is on its fifth road trip across Canada, but this wouldn't have been possible without London Drugs' support, who has been there since the beginning," said Richard Loat, CEO and founder of Five Hole for Food. "From food to staff to providing us a car that will get us from St. John's to Vancouver, London Drugs has gone above and beyond in their support every year. This is a true testament to their commitment to their local communities and you can see their values emanate from their teams across Western Canada. Five Hole for Food is a proud ambassador of London Drugs this year and every year."
London Drugs customers can participate and donate by purchasing specially marked FHFF items in select stores, placing food in the food bank bins. Currently, FHFF priced items include canned soup from Baxters for $1.49, London Plantation beans for $1.09, and London Plantation Organic Tomato Sauce for $0.99.
Look out for the FHFF and London Drugs co-wrapped tour car on the streets! Come out and support your local London Drugs at the three remaining games:
Edmonton – July 16 – Centennial Plaza
Victoria – July 18 – Saanich Plaza
Vancouver – July 19 – Granville Street
The list of food banks Five Hole for Food will be supporting can be found here: http://www.fiveholeforfood.com/food-banks/
Those who can't make it to the games can also make donations online: www.fiveholeforfood.com.
For more information about Five Hole for Food, follow on Twitter: @fiveholeforfood, or send e-mail to info@fiveholeforfood.com.