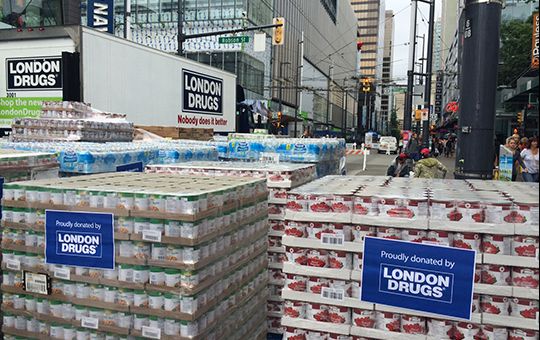 The fifth annual Five Hole For Food (FHFF) cross-country road hockey tour has come to a close and we would like to thank all those staff and customers who came out with loads of food and support all in fun for such an important cause. In the past month, stores have been collecting food donations and on tour stops in Winnipeg, Regina, Edmonton, Calgary, Victoria and Vancouver, a sea of LD blue-outfitted players played hockey for our local food banks with the amazing volunteer team from FHFF.
More than 60,000 lbs of food was raised by LD'ers this year, contributing towards the FHFF five-year grand total of 1 million lbs of food benefitting Canada's food banks.
FHFF's mission to be one of Canada's premier food fund raising movements by 2017 is surely possible given this group's passion and dedication to the cause, and London Drugs is proud to be part of it!
A big thank you to all of the volunteers who made this year's FHFF such a huge success and to all who contributed to Canada's food banks!
Play on!