Canadian artists Witek Radomski and Carrie Wong will visit a number of our stores during their Canadian book tour.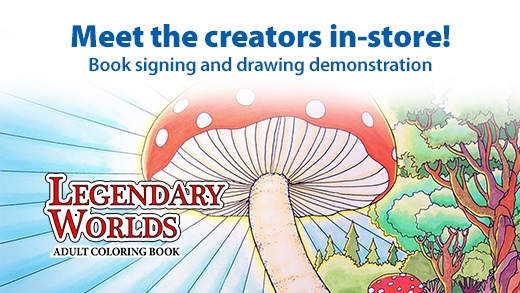 We are so excited to have Witek Radomski and Carrie Wong, the creators of both Legendary Landscapes & Legendary Worlds Adult Colouring Books, coming to our stores to meet with our customers.
Back when the pair's first book was released, they were
interviewed
about their inspiration for the landscape-focused adult colouring books.
"At some point I thought of the idea: why don't we make an adult colouring book that features the beautiful landscapes and cityscapes of Canada and have all sorts of imaginary landscapes," Wong said.

"Most of the other colouring books are more abstract, but there weren't really any colouring books that featured landscapes," Radomski added. "You never see Canada. We love hiking together, and we always see all these awesome landscapes. It was a really cool opportunity to make a book."
Wong & Radomski will be signing books and offering live drawing sessions at all locations listed below. Come on by and say hi!
April
April 16: 1-4pm
Coquitlam Centre – 2929 Barnet Hwy
April 17: 1-4pm
Langley – 20202 66th Ave
April 18: 1-4pm
Vancouver – Granville & Georgia, 710 Granville St
April 19: 1-4pm
Vancouver – 525 West Broadway
April 27: 3-6pm
Lethbridge – Lethbridge Town Square, 905 First Ave. South
April 28: 3-6pm
Medicine Hat – 3201 13th Ave SE
June
June 9: 3-6pm
Calgary – First Calgary SE
June 14: 3-6pm
Prince George – Parkwood Place, 1600 15th Ave.