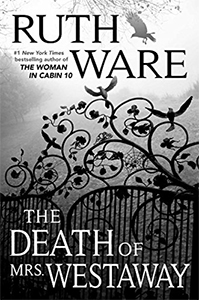 The Death of Mrs. Westaway by Ruth Ware
Harriet Westaway – better known as Hal – makes ends meet as a tarot reader, but she doesn't believe in the power of her trade. On a day that begins like any other, she receives a mysterious and unexpected letter bequeathing her a substantial inheritance. She realizes quickly that the letter was sent to the wrong person – but she also knows that she can use her cold-reading skills to potentially claim the money.
Hal attends the funeral of the deceased and meets the family…but it dawns on her that there is something very, very wrong about this strange situation and that the inheritance is at the centre of it.
Book of the Month
Every month we will be featuring a new book to be showcased in our Book of the Month. Staff members and friends will be reading the book and posting their reviews. We'd love to hear what you thought of these books as well. Post your comments and let us know. The Death of Mrs. Westaway is available at London Drugs along with many other great titles and is on sale for the month of June.