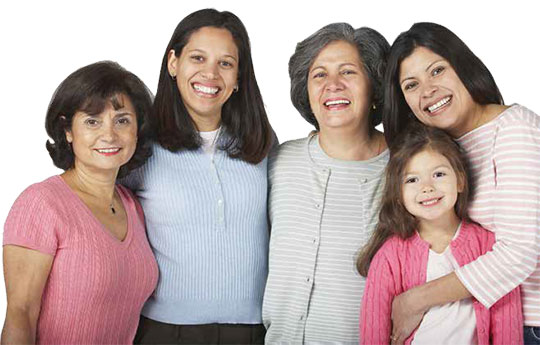 London Drugs is proud to introduce a new line of supplements for women. Throughout her life, a woman's nutritional requirements vary, depending on a number of factors including the status of her hormones. Women who are pregnant, or nursing, for example, have a need for specific nutrients that will nurture themselves as well as support the healthy growth of a baby.
Women who are approaching or passing through menopause have another set of supplemental needs to ease the path through this important change of life, while women of all ages would like a little help with their bone health, varicose veins, and appearance of their skin, hair and nails. London Drugs women's formulas fill a need for women of all ages and stages of life.
Premenstrual Syndrome
Evening primrose oil is one of the few oils naturally rich in gamma-linolenic acid (GLA). It is a precursor to important compounds known as prostaglandins, hormone-like substances that help regulate reproductive hormone production and maintain normal inflammation response.
London Naturals Evening Primrose Oil is a plant-based source of essential fatty acids that help maintain good health. Women find it especially helpful for promoting healthy skin and balancing fluctuating hormones that result in symptoms associated with premenstrual syndrome (PMS), such as breast tenderness.
Each softgel contains 500 mg of evening primrose oil standardized to 50 mg of GLA. The oil is naturally expeller pressed at low temperatures— without the use of hexane or other solvents. This preserves the integrity of the GLA.
Urinary Tract Health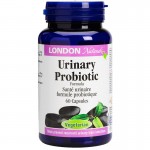 The delicate balance of a woman's vaginal or intestinal microflora can be upset by many factors including age, menstrual cycle, birth control, pregnancy, medications (especially antibiotics) and diet. These imbalances can lead to urinary tract or vaginal infections.
Each capsule of London Naturals Urinary Probiotic Formula contains 2.5 billion active bacterial cells of Bifidobacterium longum BB536®—a patented, widely studied probiotic species with excellent stability—plus 250 mg of a standardized 36:1 cranberry concentrate. The high proanthocyanidin content of cranberry extract helps prevent infectious bacteria from adhering to the lining of the bladder and urinary tract. This helps steer bacteria out of the body before they multiply and cause (or worsen) infection.
Also available is UltraCran® maximum strength cranberry concentrate— a high-potency extract for recurrent urinary tract infections that also boosts intake of antioxidants.
Balancing Hormones
Fluctuating hormones contribute to symptoms associated with PMS and menopause. Aches and pains, bloating, and breast tenderness paired with irritability and tension are the hallmarks of PMS, while women going through menopause may experience hot flashes, night sweats, trouble sleeping, and mood disturbances. By balancing hormones naturally, it is possible to alleviate the symptoms of PMS and menopause.
Numerous studies support the effectiveness and safety of black cohosh in the treatment of hormonal imbalance. Each London Naturals Black Cohosh softgel provides 40 mg of black cohosh standardized to 1 mg triterpenes— the active ingredient key to restoring hormone balance.
Menopause Management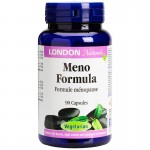 As menopause approaches, many women experience hot flashes, night sweats, an uneasy feeling, mood changes, fatigue, and other symptoms associated with this time of transition. The unpredictable and uncomfortable nature of these symptoms results from the temporary fluctuations of important hormones. The symptoms associated with perimenopause and menopause can range from mild to severe, and may continue for many years. London Naturals Meno Formula combines five herbs and plant nutrients that work together to help balance the hormones and support the health of the reproductive system.
Meno Formula contains standardized extracts of black cohosh and chasteberry to help maintain a desirable estrogen/progesterone balance and reduce symptoms such as hot flashes and night sweats. Each vegetarian capsule provides 100 mg of dong quai, which is used in traditional Chinese medicine to invigorate and tonify the blood and to support vitality. Gamma oryzanol from rice bran oil, and citrus hesperidin reduce hot flashes and provide antioxidant nutrients.
Black Cohosh is also available as a single formula that helps alleviate common symptoms of menopause.
Healthy Estrogen Metabolism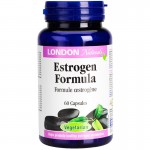 The delicate balance of a woman's hormones greatly depends on her body's ability to metabolize these hormones efficiently, especially in the case of estrogen. While some forms of estrogen are vital, others are harmful and a failure to properly metabolize them can result in PMS symptoms, irregular menstruation cycles, and other conditions associated with estrogen dominance.
London Naturals Estrogen Formula supports reproductive and breast health with a combination of herbs and nutrients that promote the healthy metabolism of estrogen.
Indole-3-Carbinol, a phytonutrient found in cruciferous vegetables, helps convert the harmful forms of estrogen in the body to a safer form. Green tea extract has a similar action. Diindolymethane (DIM), a highly absorbable phytonutrient also found in cruciferous vegetables, has the ability to act as an estrogen balancer. Calcium d-glucarate helps prevent the recycling of excess estrogen in the digestive tract back into the body, so that it can be more easily excreted.
London Naturals Estrogen Formula includes standardized whole plant extracts of protective phytonutrients such as turmeric (curcumin), milk thistle (silymarin), tomato (lycopene), and broccoli (sulforaphane). Rosemary extract has been added for antioxidant support.
Vein Support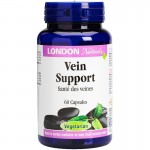 When growing older, many women develop a condition known as chronic venous insufficiency. This causes poor blood flow in the legs and can lead to varicose veins. Symptoms of chronic venous insufficiency include pain, itching, cramping and leg fatigue.
London Naturals Vein Support combines key nutrients that are used in herbal medicine to help treat varicose veins (including haemorrhoids, or varicose veins in the rectal area). These nutrients include diosmin and hesperidin—flavonoids from citrus peel that have antioxidant and anti-inflammatory effects.
Horse chestnut has a history of use for relieving excess fluid retention and supporting vein integrity, while butcher's broom is a natural diuretic that may improve circulation by helping to repair damaged blood vessels.
Each daily dose delivers 900 mg of diosmin in a micronized form for increased absorption.
Restful Sleep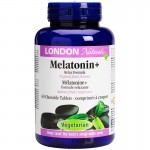 Is getting a good night's sleep challenging for you? Do you struggle to fall asleep, stay asleep, or to wake feeling rested? Perhaps you suffer from altered sleep schedule, either from shift work or jet lag. If so, these non habit-forming chewable tablets may just be the answer!
London Naturals Melatonin+ Relax Formula combines the sleep hormone—melatonin— with 5-HTP, and L-theanine for naturally improved sleep.
5-HTP is a plant-sourced amino acid that enhances sleep quality. L-theanine, found naturally in black and green tea, encourages relaxation and helps relieve stress. These three ingredients work in harmony to promote relaxation and regulate the body's sleep-wake cycle.
Prenatal Formulas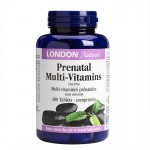 Pregnancy is a very special time in a woman's life, with equally special vitamin and mineral needs. These include sufficient folic acid, calcium, and iron. To assist normal fetal growth and development, doctors recommend taking a daily prenatal vitamin prior to becoming pregnant as well as during pregnancy.
London Naturals Prenatal Multi-Vitamins provides an ideal spectrum of vitamins and minerals to support both maternal health and that of a growing baby. Folic acid is essential to a healthy baby and, when taken daily before and during early pregnancy, can help reduce the risk of neural tube defects. Calcium and iron requirements also increase during pregnancy and are easiest to fulfill via supplementation. Since a developing baby has high calcium needs, enough must be taken, or it will be drawn from the mother's bones and teeth.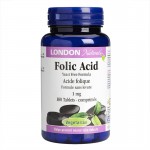 This custom blend of vitamins and minerals has been specifically formulated for pregnancy and lactation and provides a nutritional advantage to even the healthiest of eaters. Each daily dose consists of one convenient dye-free tablet that delivers 1 mg of folic acid, 250 mg of calcium, and 27 mg of iron. Also available is a formula containing ginger to help with morning sickness.
London Naturals Folic Acid formulations are also part of our pregnancy line, available as 1 mg yeast-free (vegetarian formula), and 1 mg with omega-3 and vitamin B12.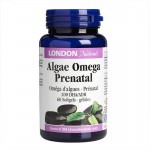 Omega-3 oils are very important for a growing baby's cognitive and visual development, but are often lacking in the diet, particularly if the mother does not consume fish. London Naturals Algae Omega-3 Prenatal formula provides 200 mg of high quality fish-free docosahexaenoic acid (DHA) derived from microalgae (Schizochytrium oil). Produced in a controlled environment, London Naturals Algae Omega-3 is guaranteed to be free from ocean contaminants, including heavy metals, pesticides, and other environmental pollutants.
Bone Support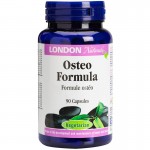 Vegetarian formula Preventing osteoporosis (brittle bones) is not just about calcium, and neither is our London Naturals Osteo Formula.
In addition to calcium, this superior formulation contains a balanced formula of the vitamins, minerals, and botanical extracts that are key to bone health, including magnesium, copper and vitamin D.
When taken in the optimal ratio, calcium, magnesium, and vitamin D work synergistically to fortify bone mineral density. These nutrients are needed throughout life, but are particularly important for women who are concerned about osteoporosis and bone fractures.
Turmeric, boswellia and quercetin are botanicals that have been added for their powerful anti-inflammatory properties that help keep joints healthy and relieve pain. Broccoli extract is rich in antioxidants that reduce oxidative stress and inhibit the enzymes responsible for destroying cartilage. This helps prevent/relieve osteo-arthritis.
Osteo Formula is most effective when taken as three low doses per day to ensure optimal absorption within the body.
Hair, Skin & Nail Support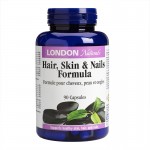 London Naturals Hair, Skin and Nails Formula provides complex nutrient support, in a simple capsule, for enhanced health and beauty from the inside out.
The advanced, highly effective formula contains brewer's yeast— an excellent source of amino acids, minerals and vitamins; important B vitamins, including biotin and pantothenic acid, and keratin, a building block of hair and nails, which also helps protect the skin from environmental damage.
The formula is further fortified by the addition of the amino acid L-cysteine, which stabilizes skin structures and promotes collagen formation, for firmer, younger looking skin.
Added antioxidants, including lycopene, lutein, vitamin E, beta carotene, and selenium protect cell membranes from free radical and UV damage.
Reducing Stress
Improved stress management is key to improved health, as stress is the root cause of a number of diseases.
Our London Naturals line features two exceptional stress management formulas targeted to a woman's needs.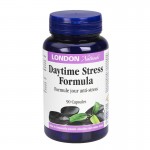 Daytime Stress Formula combines five ingredients that work synergistically to temporarily promote relaxation while supporting mental stamina. The non-drowsy formulation contains rhodiola—an effective herbal adaptogen that helps the body to better manage and recover from the negative effects of physical, environmental and emotional stress, while maintaining alertness.
Vitamins C and B5 have been added to Daytime Stress Formula to further support the body, and especially the adrenal glands, while the neurotransmitter gamma-aminobutyric acid (GABA) further encourages alert relaxation.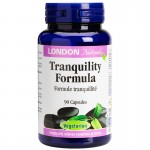 If stress in ongoing and you are constantly feeling "frazzled," London Naturals vegetarian Tranquility Formula is your stress formula of choice! This unique formulation offers gentle and effective support for women suffering from adrenal exhaustion and other effects of chronic stress.
Rosewood and Siberian ginseng improve both physical and mental strength during stressful situations, while ashwagandha and lavender support the immune and nervous systems while helping to reduce anxiety.
Omega-3 for Women
London Naturals Women's Omega-3 is a full-spectrum essential fatty acid supplement. Each easy-to-swallow softgel contains an optimal 2:1 ratio of EPA/DHA from high quality wild fish oil that is free from contaminants.
The formula also includes ALA from organic flaxseed oil, and the omega-6 fatty acid GLA from purified evening primrose oil. Women's Omega-3 is made from safe, high-quality oils with the perfect balance of essential fatty acids to support the needs of women, at all ages and all stages of life.