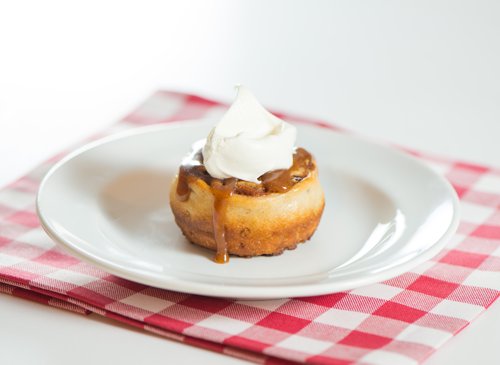 Prep Time: 15 minutes
Total Time: 30 minutes
Ingredients:
3 (45 g each) Mackintosh's Creamy Toffee Bars, chopped
1/3 cup whipping cream
2 tsp ground cinnamon
1 tube (391 g) refrigerated pizza crust
3/4 cup chopped pecans
Sweetened whipped cream
Directions:
Melt toffee with cream and cinnamon in a small saucepan set over medium heat.
Roll pizza crust to be 16×12-inches. Spread three-quarters of the toffee mixture over crust; sprinkle with pecans.
Roll into a log and cut into 12 rounds. Place each round in a greased muffin cup.
Bake, at 375°F, for 15 minutes or until golden.
Rewarm remaining toffee mixture and drizzle over warm buns. Garnish with whipped cream.
Makes 12 servings.