It's wedding season! This means priceless memories, tear-jerking moments, epic toasts, and—let's face it—awkward dance moves. It's an exciting time of year, but wedding season also comes with a lot of questions about what's expected of guests. To help you navigate the world of modern matrimony, here's our tips on how to be the perfect wedding guest.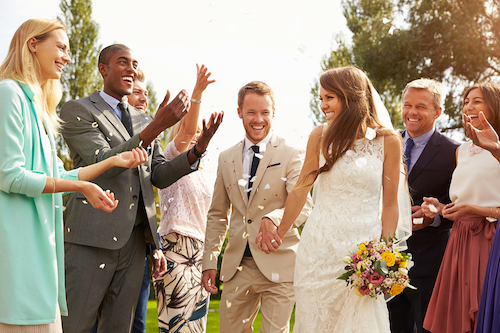 Gift-giving Basics
Deciding what to give the happy couple on their special day? The struggle is real.
The general rule of purchasing a wedding gift is that you want to cover the cost of your attendance (your meal, drinks, etc.). This can vary from wedding to wedding, so use your best judgment to decide an appropriate price point. Based on the average size and cost of a Canadian wedding, you'll likely find yourself spending anywhere from $75 to $150.
While your safest bet is to select an item from their registry, don't feel like it's your only option. If hitting your gift budget means doing some strange math with household items (two bath towels, four stemless wine glasses, and one fondue set makes for an awkward thank you card) it may just be better to send a cheque or gift card inside a thoughtful card with a personalized message encouraging the pair to use it for whatever they'd like most.
Is Your Presence Really Present Enough?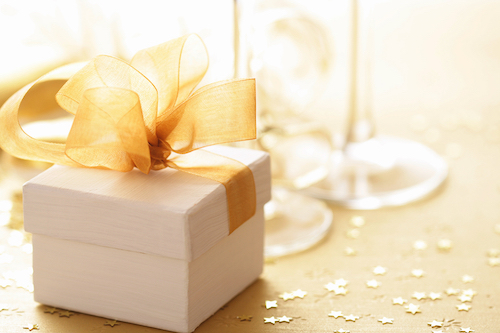 What happens if you receive an invite that says, "your presence is present enough." Is this really a get out of jail free card or are you still expected to purchase a gift? Unfortunately, it's not always clear.
Some couples use ambiguous language because they're uncomfortable blatantly asking their guests to shell out (even if they've secretly been hoping someone will buy them a Dyson upright vacuum—roller ball technology, hello?). Meanwhile, other couples are genuinely happy to forego presents altogether.
Often in the first scenario, couples will add a line saying something like, "but if you'd like to mark the occasion with a gift…" followed by registry or gift-preference details. If no additional information is provided, go with your gut and use what you know about the couple and the wedding. If it's a second marriage or the couple is a bit older, you're probably ok to skip the present, though a small monetary gift would likely still be appreciated. If they're a young pair who you know only own a spoon, one pot, and a coffee maker between them, maybe help your friends out. Also note, if you're flying in from out of town or it's a destination wedding, it's generally acceptable to count your attendance as your gift.
Black No Longer Reserved for Funerals
Over time, many "rules" about wedding attire have been tossed like the bouquet, particularly when it comes to colour. Gone are the days when black was reserved for funerals, so don't be afraid to sport your favourite little black dress. For a truly wedding-ready look, dress up a classic black frock with some statement jewelry, coloured shoes, or an eye-catching pashmina-turned-shawl.
The one colour you'll still want to avoid? White. While some brides may not mind sharing the same palette as their guests (so long as you don't show up in an ivory ball gown), it's better to err on the side of caution and steer clear.
Ladies, Keep Your Heels
Stop me when this sounds familiar: it's later in the evening, the band is in full swing and the dance floor is packed with ladies showing off their moves…barefoot. It's a law of the universe that the cuter the shoes, the most uncomfortable they are. While ditching your heels under a table can seem like the only option, it doesn't have to be!
Prep your shoes with the right products and you can dance the night away without chucking the heels. Gel insoles add cushion without bulk, while rub relief spots and heel liners protect from the blisters and chafing we all know and hate. So go on, put on those boogie shoes—we promise your toes will thank you when Uncle Ed busts out his rendition of Footloose.
An Adult Event or Family Affair?
Kids at weddings can be a touchy subject. For some couples, their wedding is a family affair to be celebrated with all their loved ones—no matter what age. But for others, they'd rather celebrate their love with an adult-only event.
Your invitation should have all the information you need. If your children aren't explicitly named on the invitation, it's likely a subtle and deliberate way for the bride and groom to say, "no kids allowed." As a parent, you may feel miffed to receive a wedding invite specifying an event sans children, but don't take offense. Your kids may be the most well-behaved angels to walk to face of the earth, but it's up to the happy couple to decide what their special day looks like.
As a guest you should help them make their vision a reality—even if that means grabbing a sitter for the night. Look at it as an opportunity for you to have some adult-only time too (hello open bar!).
—
So there you have it! Crack open the champagne, you can now officially become the best wedding guest ever. Remember to snap lots of photos and enjoy the moments you share with your friends and family celebrating the happy couple. A toast to wedding season!
Getting married? We sell marriage licenses! (Yes, it's true.) Get more information.