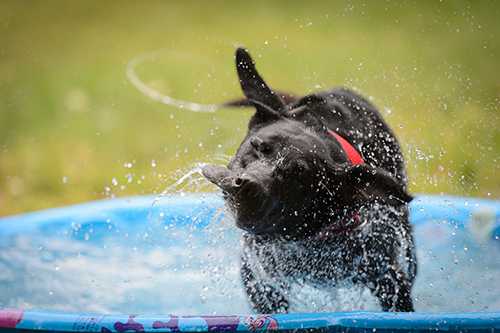 As summer heats up, we know to keep ourselves cool, hydrated, and lathered up with sunscreen but what about our pets? They're wearing fur coats in this weather! They rely on us to keep them safe and cool on hot days, so here are a few tips from the BC SPCA on how to keep our pets cool as the temperature rises.
Never, ever leave your animal alone inside a vehicle for any length of time. We can't say this enough! Cracking a window and parking under shade do not cool down a car enough. In as little as 10 minutes, your vehicle can heat up enough to become dangerous to the health and well-being of your pet.
Ensure your pet has access to cool, fresh water at all times. If you'll be outside for a while, bring along water and a portable dish, and a towel or blanket for them to lay on if you'll be on hot surfaces (i.e. asphalt or sand).
Exercise your pet in the mornings and evenings when the weather is cooler.
If you're ever worried about your pet's condition in hot weather, it's always best to contact your veterinarian or an emergency clinic. Heatstroke symptoms include exaggerated panting, becoming anxious, rapid or erratic pulse, drooling, unsteadiness, and collapse.
Animals in BC SPCA shelters across the province are hoping to spend the rest of their summer with a new family. In August, all London Drugs stores within BC are collecting donations at the till to support the BC SPCA and the animals in the society's care. All donations support your local BC SPCA shelter, allowing them to help your community's most vulnerable animals, giving them safe shelter, and providing much needed emergency medical treatment.
Looking to help animals in need even more? In September and October, the BC SPCA will be bringing animal lovers together in 30 communities across BC to fight animal cruelty at the Scotiabank & BC SPCA Paws for a Cause walk. Register to join your local walk at spca.bc.ca/walk, and find out that helping animals really is as easy as taking a walk in the park!