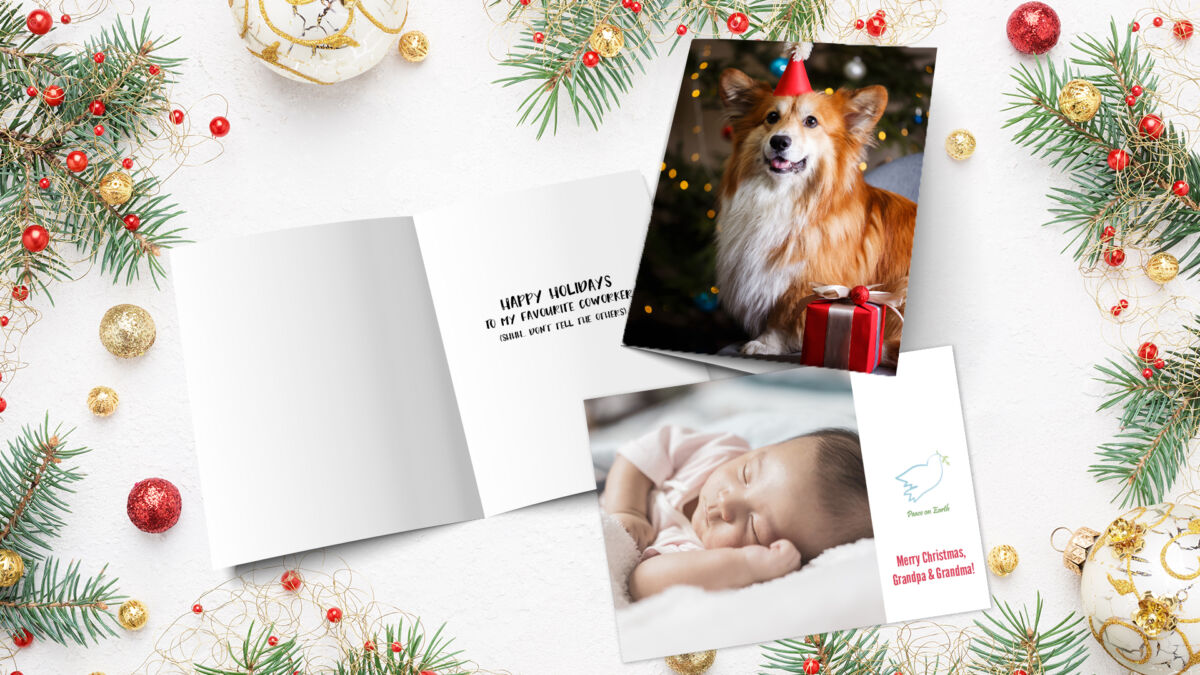 Over the holidays, there is one item that can help us celebrate those connections and close the distance: holiday greeting cards. They are a simple gesture that feels like a warm hug, spreading holiday cheer and showing the recipient you are thinking of them- even if you can't be there in person. Here, we're sharing some creative ways to connect over the holidays with the help of our personalized greeting cards.
1. Annual Family Greeting Cards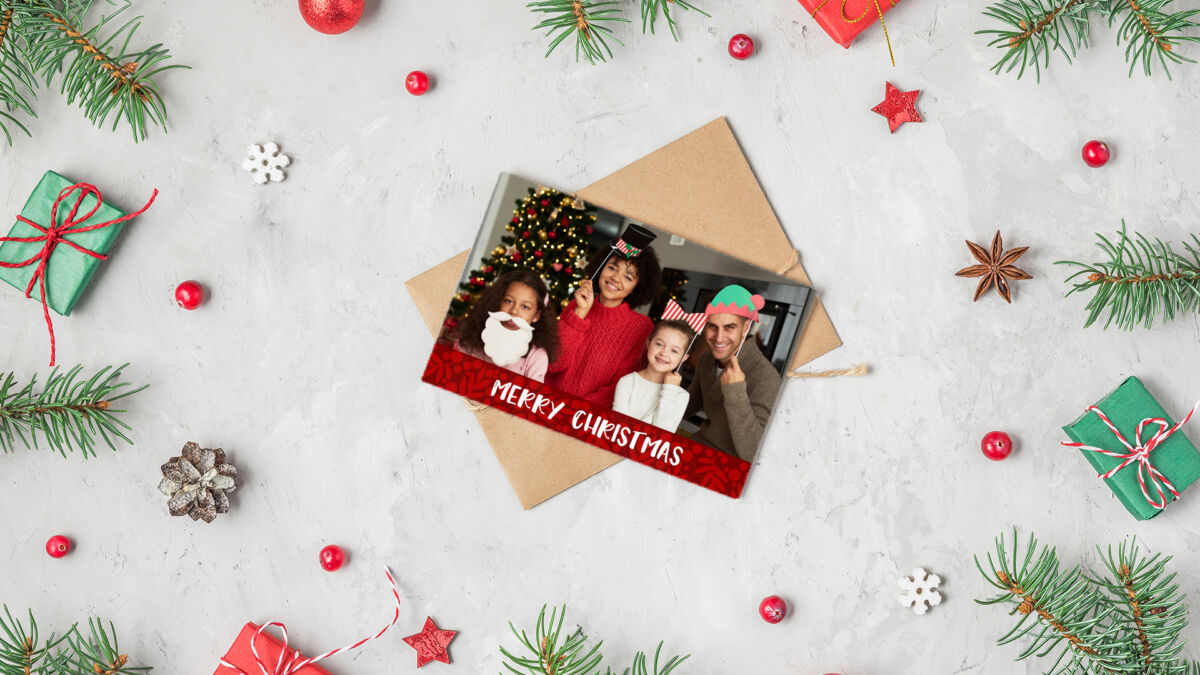 Many families have a tradition of sending annual greeting cards over the holidays. Inside the greeting cards, they share a year-end recap to show family and friends what they've been up to over the past year, how much their kids have grown, and more. With so many unable to visit and be with their families in person this year, this annual tradition is undoubtedly more significant than ever. Customizing your holiday greeting cards is a thoughtful way to make that personal connection with family and friends from afar, updating them on life during these unfamiliar times and wishing them health and happiness over the holiday season.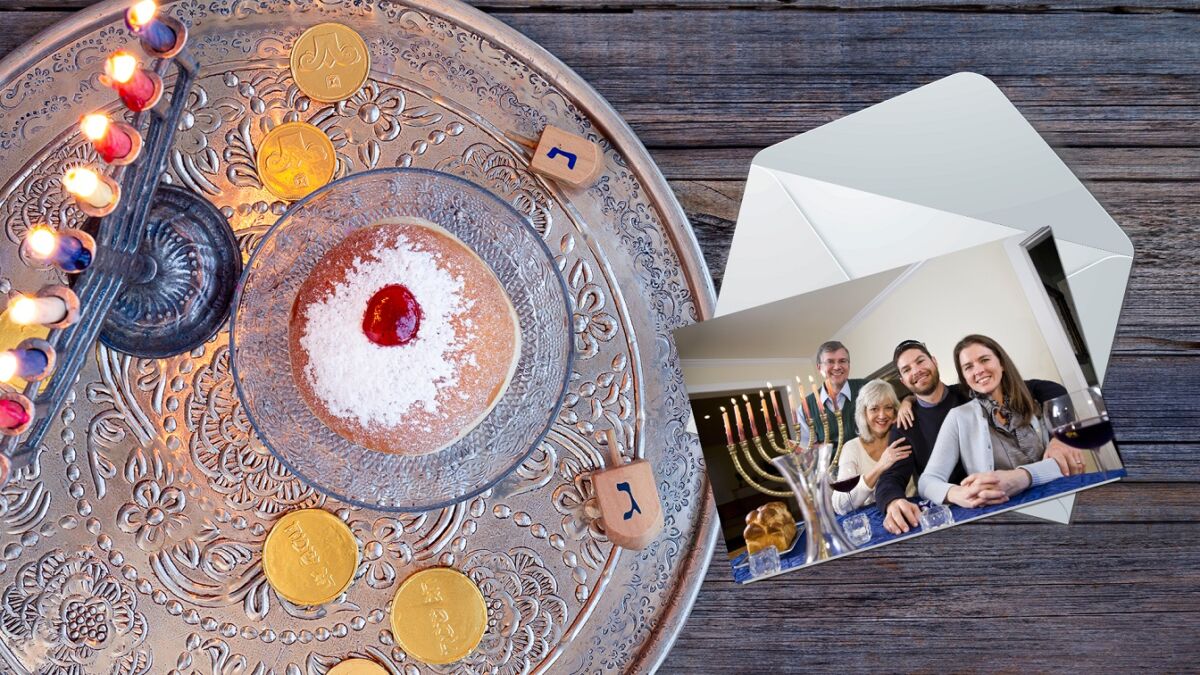 Our Photolab offers a wide variety of customization tools to personalize your own family holiday greeting cards, from allowing you to add family photos to the inside and outside of the card to providing professionally designed templates in Christmas, Hanukkah and winter themes. Choose a family photo you already have or take some time to shoot a new holiday-themed photo (check out this blog for holiday photo tips). You can also add your year-end recap directly to the inside of the card using our text customization feature. Our collection of folded cards offer lots of space to fill in all of your year's most note-worthy memories and moments. We also suggest ordering a few individual print photos that you can include inside the card. That way, the recipient can take out the photos and frame them or put them into a photo album!
2. Co-Worker & Client Greeting Cards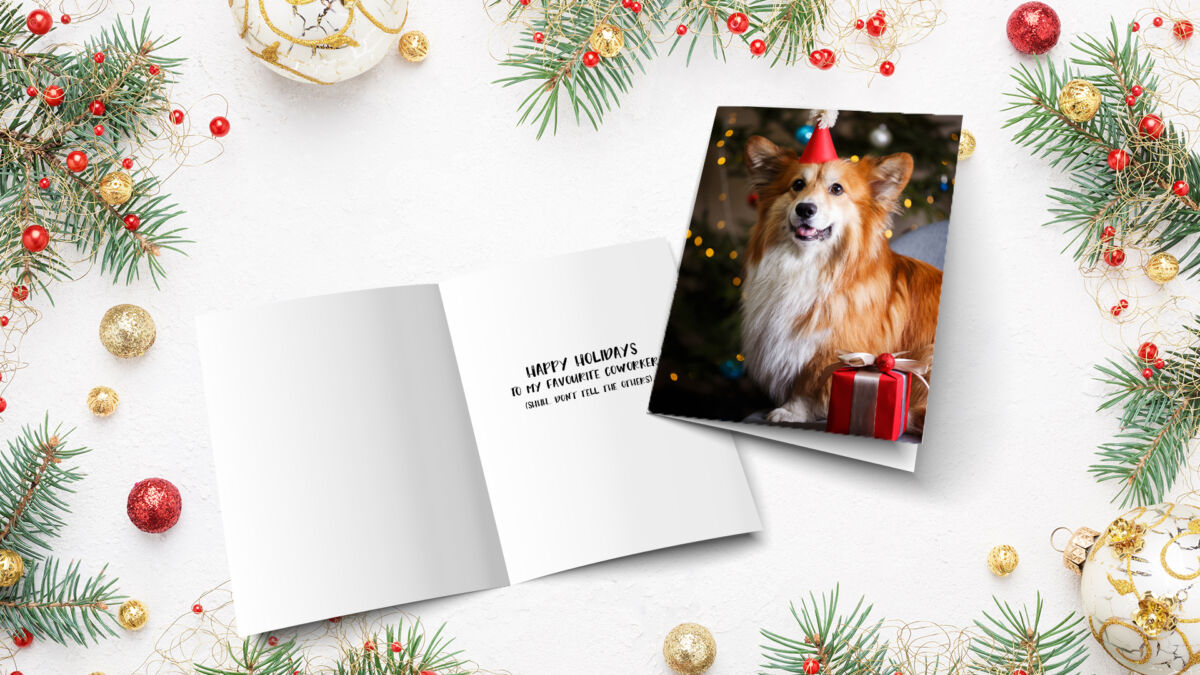 For many working from home this year, connecting with co-workers has only happened at a distance and over video calls. If you're missing your daily coffee breaks with your co-workers, sending them a personalized holiday card is a thoughtful way to stay connected over the holidays. Dig through your hard drive for a photo of you and your co-workers, or snap a festive picture of your family, pet or Christmas tree. Use that photo on the front of your card, and then type a personal message inside. Once you receive your printed cards, consider including a gift card to a local coffee shop inside as a nice surprise! For those of you who are artistically inclined, skip the photo and scan a drawing you've done that can be featured on your holiday cards.
A personalized card can also be a thoughtful gesture to your clients to help bolster your relationship and thank them for their business over the past year – particularly in these uncertain times. Add an image that represents your business, and include a custom message wishing them well over the holidays. If you have a number of clients or co-workers to send to, order as a 25-pack and sign them individually for a special touch!
3. Keepsake Greeting Cards
The holidays are often a milestone for many different reasons, making this a particularly special time to connect with loved ones. Our greeting cards are fully customizable, so you can highlight your special holiday milestones with photos and text and send off to your loved ones right here in town or around the world. These kinds of milestone greeting cards make especially great gifts for parents and grandparents, who love a keepsake they can showcase proudly on their mantle or fridge.
Here are a few milestones you might want to share in your holiday greeting cards:
Baby's First Christmas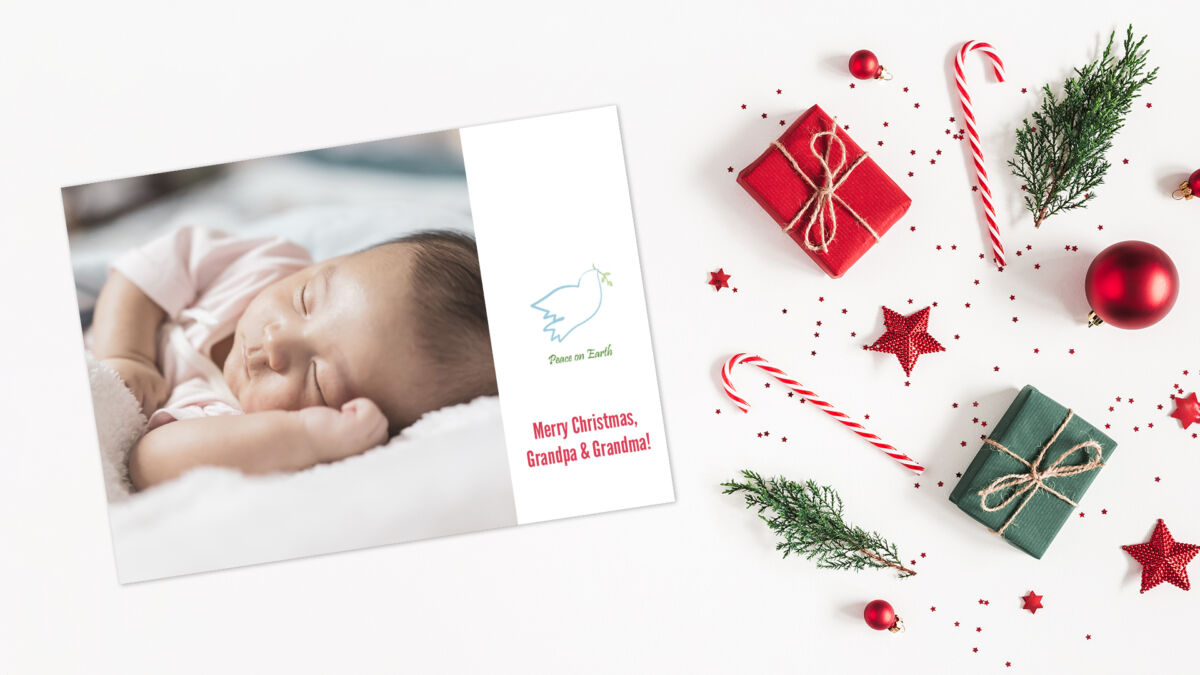 A photo of your sweet little new addition to the family is the perfect way to customize your holiday cards this year! If you fancy yourself a photographer, grab your camera and stage a fun, festive photoshoot of your baby so you have the perfect shot to feature on your greeting card. Or match a photo to one of our card templates, like our 'Peace on Earth' design with a photo of your peaceful sleeping baby.
First Christmas Married
Many weddings turned into elopements this year or were pared down to only a handful of guests. Share some of your wedding memories with family by creating a special holiday card that doubles as a keepsake for those who were unable to attend your wedding.
First Christmas in our New Home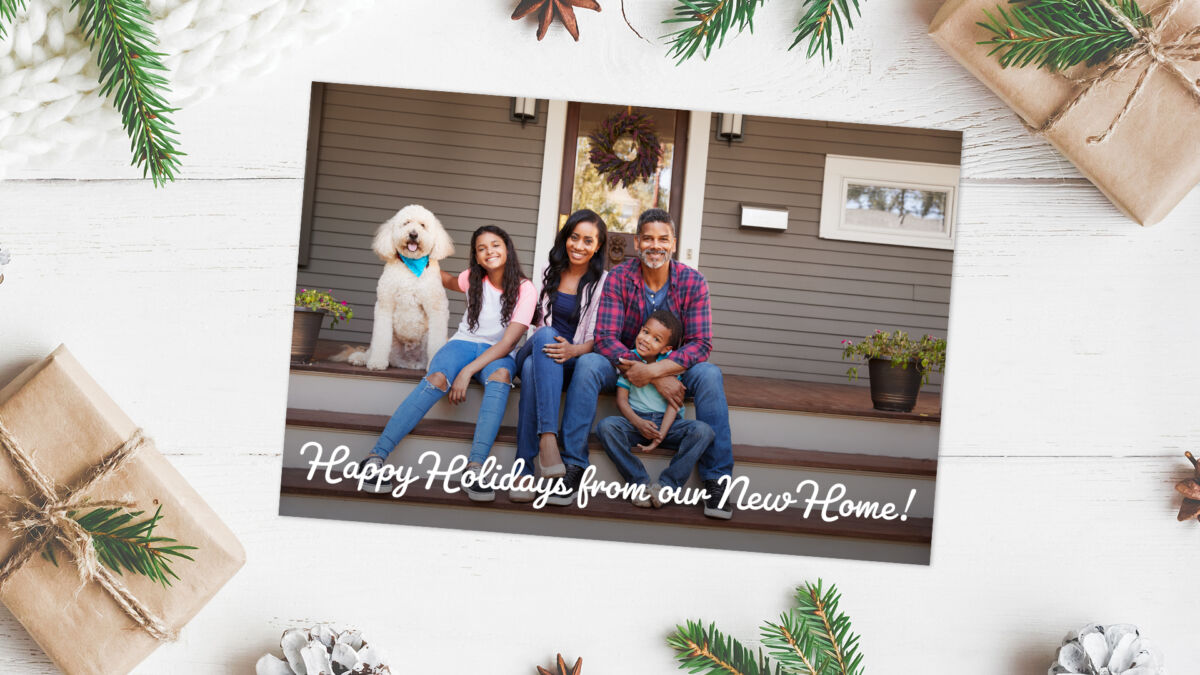 Moving into a new home is a special milestone and celebrating the holidays there for the first time is often extra special, as it signals the start of new traditions. Snap a photo outside your new home that you can showcase on the front of your holiday card. Or employ the help of a local photographer who is offering porch portraits – a great way to support local while preserving this milestone in your life!
Our Photolab is here to help make the process of creating your personalized greeting cards as quick and seamless as possible, while also offering specialty customizations to make your cards 100% unique and memorable.
Luxe Customizations
To give your greeting cards an elevated and memorable look, try one of our luxe specialty papers, which can be used to customize our double-sided cards, folded cards and postcards. Choose from linen natural white, linen white, matte soft white, matte white, shimmer silver, shimmer soft gold, woodgrain, stipple and techwave: the perfect touch for your one-of-a-kind cards.
Fast Turnaround Time
Our greeting cards are customizable and quick. Single-sided photo cards and our folded cards on premium photographic paper are ready in 24 hours. All other card options are ready in just 5-7 days.
Easy Ordering
Start personalizing your holiday greeting cards by visiting our Photolab online, or download our London Drugs Photolab App on Google Play or the App Store to order conveniently from your smartphone or tablet. Our easy-to-use platform will help you customize every aspect of your cards, from style, theme and photo placement to what is written inside and out. You never even have to leave the house – your order can be shipped directly to you. If you need them quicker, you can also opt for in-store pick-up at your nearest London Drugs.
Keep in mind, if you're planning to send your greeting cards by mail this year, it's better to get them ordered and sent off sooner rather than later to avoid delays during the hustle and bustle of the holiday season!