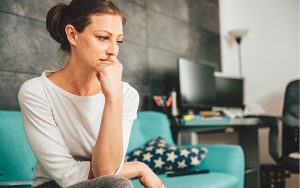 Everyone has bouts of low mood and excessive worrying. Thankfully, these are often temporary. For some, however, the feelings don't go away on their own and more structured help is needed.
One very effective treatment is cognitive-behavioural therapy (CBT). CBT is a form of psychotherapy that helps treat problems by modifying our unhealthy thoughts, emotions and behaviors and has been shown to be as effective as medication in the treatment of anxiety and depression in some people.
Whether it's a job interview, a date or just walking into a meeting, many of us carry our own negative inner voice amplifying small feelings of self-doubt into full on landslides.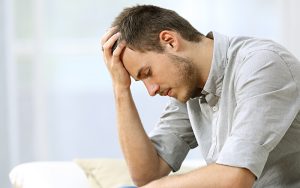 Here are a couple of accessible CBT tips which you can employ the next time you are feeling stressed or anxious:
Focus on how these feelings will pass
It can be very calming to remember that feelings, and fears, are fluid and transitory. So when you feel yourself starting to feel overwhelmed by news or an event, try focusing on how you will feel once this initial sense of panic passes.
Write down those expected changes in a few words. For example, if you are a nervous wreck about an impending job interview or an exam, think about how calm and relieved and accomplished you will feel when you walk out the door afterwards! How you will have the rest of your day ahead of you and the anxiety will have dissipated.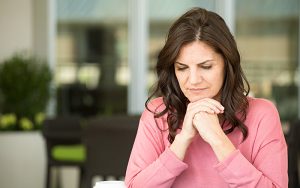 Trick anxiety by "acting normal"
Anxiety is a survival response which kicks in when you sense a perceived threat. The key word here is "perceived", because anxiety can be a little over-protective and tends to over-react! Let's think of it like a protective lioness – determined to protect her cubs at any cost.
One way to train anxiety to be selective and not pounce into action at the slightest sound or movement is to calmly give it feedback to let it know that its help isn't currently required and that "you got this".
If you try and act calmly and without responding physically, anxiety will not be further roused and will follow your example and begin to fade. Talk to yourself softly and calmly, salivate, breathe deeply and try to smile (not always easy, we know!).
By behaving this way we alter the feedback to our fear response system. We are sending our anxiety a message that things aren't as bad or as scary as they seem so they can "stand down" and this helps dial back the feeling of stress.
The Canadian Mental Health Association's Bounce Back® program is founded on CBT principles provides and teaches effective skills to help individuals (aged 15+) overcome symptoms of mild to moderate depression or anxiety, and improve their mental health. Participants can learn skills to help combat unhelpful thinking, manage worry and anxiety, and become more active and assertive.
Available for free across BC, Bounce Back® has been shown to help reduce symptoms of depression and anxiety by half, and over 90% say they would recommend it to a friend or family member. Bounce Back® is also available in regions of Ontario and Manitoba.
For more information on Bounce Back®: https://cmha.bc.ca/programs-services/bounce-back/