Summer is here and that means we are in the midst of living in 25°C weather and above. With the prediction that we are approaching one of the hottest summers yet, it might be time to start thinking about the best ways to beat the summer heat. For those that love to keep their living spaces cool in the summer, consider an air conditioner or fan to keep the summer heat out and the cool temperatures in.
How to pick an air conditioner: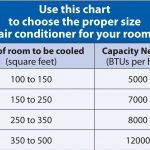 When picking the proper air conditioner for your living space, there are a few things to keep in mind. If the room is heavily shaded, it may be best to choose a unit with less capacity than recommended on the chart. However, if the room has a vast majority of sunlight, a unit with more capacity is best. For rooms that have two of more that regularly occupy it, more capacity is required. In addition, air conditioners that will be installed near the corner of a room will need a unit that can send airflow in the right direction.
DeLonghi Portable Air Conditioner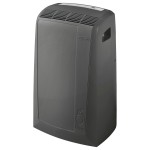 For those that like all in one features, the DeLonghi Portable Air Conditioner has a 4-in-1 combination of an air conditioner, fan, dehumidifier, and 1300W heater, which is ideal for year round use. The 3-speed fan plus a "whisper quiet mode" give a 50% noise reduction – perfect for quiet spaces such as the office, classroom, or even home. Cool the room down in record time with the easy to use control panel and LCD remote display. The DeLonghi Portable Air Conditioner also uses environmentally friendly R410A refrigerant with zero ozone depletion. Not to mention, the "no-drip" technology means you'll never have to empty a bucket again.
Choosing the right fan:
Using a fan to cool your home is an energy efficient solution. To enhance the circulation of cold air, the use of active fans is ideal. Depending on what space you would like to cool down, you may want to consider a floor fan or a table fan:
Honeywell Turboforce Floor Fan – HF-910C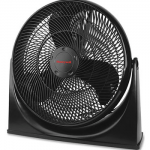 The Honeywell HF-910 Turbo Force Floor fan comes with 3 speed settings and a 90-degree pivot head. The turbo force power of this fan allows for cooling or whole room air circulation. With 18-inch blades and an extra powerful three speed motor, you can feel the power from up to 40 feet away. The HF-910 is effective in larger rooms like the family or living room. You can also collect year-round energy savings with increased air flow that allows the air conditioning and heating systems to be used at a lower setting.
Honeywell 8inch Super Tech Force High Performance Fan

The Honeywell Performance Fan can be used as either an air circulator or for forced cooling. The versatile aerodynamic wind tunnel design is based off of a powerful 3-speed motor – high, medium, and low. With a variable tilt fan head, the Honeywell Performance Fan is able to pivot 90 degrees for efficient air circulation. The recessed carrying handle makes this fan easily portable and the convenient size is ideal for use anywhere. An extra feature that comes with the Honeywell Performance Fan is the ability to easily mount to walls to maximize surface space.
For those that like a wide-area oscillation, why not consider the Sunbeam table fan? The 90-degree tilt is perfect for reaching even the farthest areas of a room while also creating a whole room circulation. With 5 paddle blades as opposed to the regular 3, the Sunbeam table fan can give you 5 different speeds and 20-percent more power. Not to mention, it is also lightweight and easily portable.
For more information on air conditioners or fans, search the London Drugs website at www.londondrugs.com or your local London Drugs location.