With summer just around the corner, barbeque invitations are already trickling into our inboxes. As the rain subsides and the evenings become brighter and warmer, it won't be long until the potluck season ignites, and the search for delicious recipes begins. When cooking for a crowd, keep in mind any food restrictions your audience may have. If your friends are lactose intolerant, have nut allergies, follow a vegetarian or paleo lifestyle, or simply avoid refined sugars and processed food, it doesn't hurt to be prepared. This summer, we've got you covered – with these tasty and healthy recipes in your back pocket, you're guaranteed to please everyone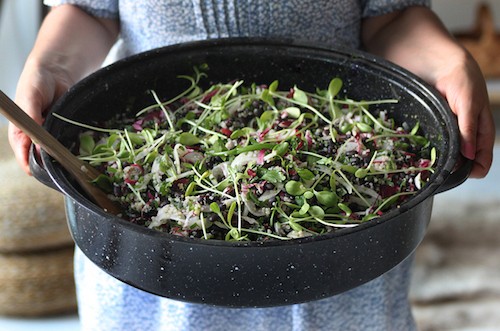 While some guests may bleat at bringing salad to a potluck, let's face it – salads are a tasty and fresh way to brighten up any party. For those who don't eat meat and/or are unable to consume dairy products, salads are often their only option. And while a strictly plant-based dish is a simple concept, it makes a rare appearance on the average picnic table. To avoid any infighting between the vegans at your next shindig, check out this Minty Black Bean Salad recipe. A refreshing mix of black beans, quinoa, veggies, mint, and maple syrup, this salad will definitely feed a crowd and please the palate.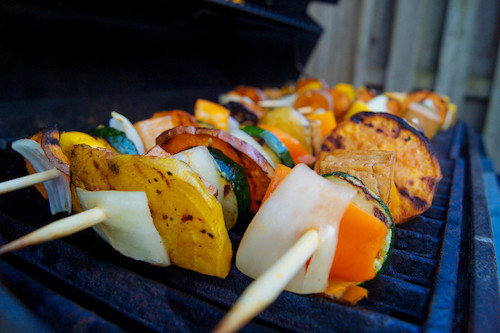 Embracing a meatless lifestyle doesn't mean giving up the good ol' barbeque. While the old school meat lovers sizzle up their sirloin and smokies, vegetarians shouldn't feel threatened when approaching the grill. In fact, nothing quite beats a hamburger than does a crispy kebab. Don't be surprised when after sharing your Grilled Veggie and Tofu Kebabs with Mango Sorrel Salad, you see Grandpa sneaking off with a second helping. If you prefer to avoid soy products, keep it simple and stick with veggies. Whatever you do – don't skimp on the delicious tahini dipping sauce.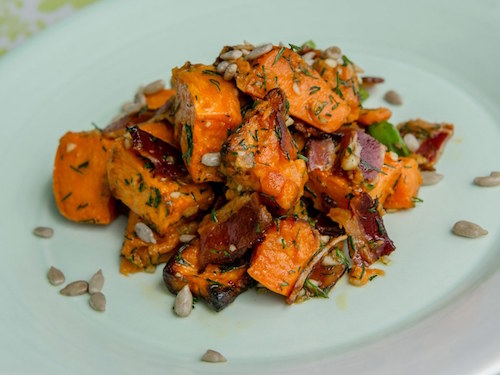 For all you meat eaters out there who want to reduce your intake of carbohydrates and refined sugars – not to worry! The paleo or "cave man" diet incorporates the vegan standard of using dairy-free products, along with eliminating wheat and processed ingredients. So, although those guilty pleasure foods like bread and cream are no longer a staple in a paleo kitchen, bacon is a welcome sight. A bowl of Bacon 'N Dill Sweet Potato Salad is a contemporary spin on a potato potluck classic. Your guests will go ape for this sweet mix of fresh dill, tangy balsamic dressing, and crunchy pumpkin seeds.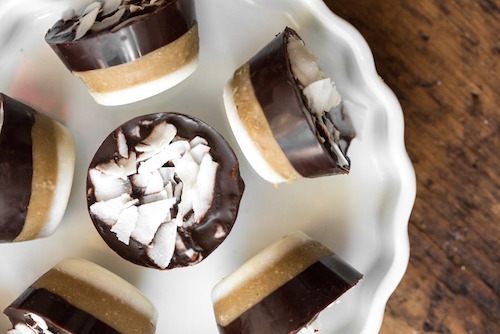 It can be difficult to navigate the dessert table when a nutty dish is off the table for folks with nut allergies. While chewy homemade peanut butter cookies and almond bars are enticing, anyone with a serious food allergy knows to steer clear. Not all desserts include chocolate or ingredients produced in nut-free facilities. Further, if they also happen to follow a vegan or gluten-free diet, options are slim for nut-free party goers. Thankfully, these 3-Layer Nut-Free Dream Cups with cocoa, sunflower seed butter, and coconut oil satisfy not only your sweet tooth, but make a convincing nut-free substitute for a certain popular peanut butter cup treat.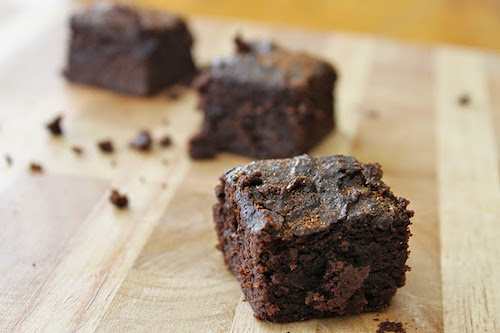 Finally, a moist and decadent dessert that can be enjoyed by everyone at the party! Bite into a gluten-free, dairy-free, refined sugar-free Avocado Chipotle Brownie, and while you'll feel no guilt, you may struggle with sharing these with the rest of your friends and family. Using ripe avocados and almond milk for creaminess, flax for added nutrients, and a touch of cayenne pepper for a finishing smokiness, these chocolatey delights will linger on the tongue long after everyone has gone home for the night.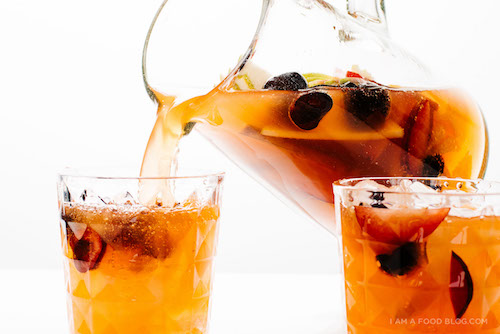 If we can all agree on one thing, it's that no potluck party is complete without some punch. Take a look at this Easy Sparkling Sangria for a fool-proof thirst quencher. The upside of this recipe is that it can be tweaked for any discerning taste buds or food restrictions. In lieu of granulated sugar, coconut sugar or organic sugar is easily substituted. You can even go sugar-free and omit it completely – guests can always add honey or a sweetener of their choice. For a non-alcoholic drink, use sparkling juice. After all, nothing beats a hot summer day like sipping on a fresh and fruity cocktail customized to your needs.