Yes, we know it's not technically spring yet, but we think it's never too early to get a jump on spring cleaning. We're kicking off our 2018 Spring Cleaning blog series with some beautiful and practical solutions for many people's organizational nightmare–the bedroom closet.
1. Create Closet Zones
Most closets have one long rod that goes straight across from one side to the other. That might have been easy for whoever built the closet, but it's a terrible use of space. The best way to maximize your closet space and keep things organized is to divide it into zones. Find a simple closet system that fits your space using three short rods rather than a single long one. Hang long dresses, robes, and coats from one high rod; hang blouses, jackets and short items from another high rod; and skirts and folded slacks from a low rod below.
2. Make Use of Vertical Space
Space still tight? Use the vertical space both above and below the closet rods to store even more: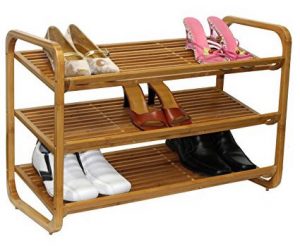 – A shoe shelf is a must-have to increase your closet storage capacity. This bamboo shoe rack will not only look beautiful, but it will make all of your shoes easy to find, and will help stop you from letting that messy pile  accumulate on the floor of your closet.
– Store your most-used items at eye level, less-used items below, and least-used items up high. If you are storing a lot of things up top, keep a space-saving step stool close by for easy access.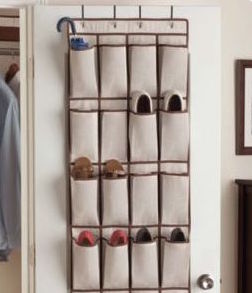 – Don't waste that door space! The door on your closet or bedroom can come in very handy for storage with the help of a NeatFreak Closet Organizer. It's got 20 roomy pockets for things like socks, scarves, ties or even 10 pairs of shoes.
– If you don't have the time or the space to install anything in your closet, these stackable Sterilite drawers are an easy and inexpensive way to keep things tidy. You can stash shoes, sweaters, t-shirts, undies, or anything else that doesn't need to be hung. The best part is you can move them around to suit any space or mood.
3. Make Your Closet Beautiful with Matching Hangers and a Coat of Paint
One of the easiest ways to improve the look of your closet is to upgrade your hangers. Investing in a new set of matching hangers will quickly take your closet from bargain rack to Beverly Hills. For the most luxurious look, wood hangers are your best bet, but they take up quite a bit of space and aren't the most affordable option. Plastic hangers do the job nicely, too – the key is to make sure they all match and are strong enough to hold heavier items like coats and long dresses. Flocked hangers give a refined look while keeping the price point low, and slippery items won't be on the floor all the time. Don't forget to pick up a few pants/skirt hangers – essential for keeping work wear organized and wrinkle-free.
On first thought, painting the inside of a closet seems like a waste of time, considering the doors are almost always closed, and when they are open, the walls are blocked by clothes and shelves. But, a burst of cheerful colour can be just the ticket to refreshing the look of your closet. It might even take the dread out of figuring out what to wear every morning!
4. Maintain Your Closet Organization All Year Long
Once your closet is organized and looking great, maintaining it is a lot less intimidating. One way to keep things tidy is to store out-of-season items. Why have those bulky sweaters taking up valuable space in July? Only keep the items in your closet that are suitable for the weather, are appropriate for your current lifestyle, and that fit you today. Trust us, you will feel better if you donate the "I'll wear this after I lose weight" items–they take up space and make you feel bad every time you look in the closet. Store or donate anything else you don't currently wear. Many closet organization specialists suggest doing this at the beginning of every season, but we all know how unpredictable the weather is here in Canada, so we recommend doing it twice a year for Spring/Summer and Fall/Winter.
If you are going to store items, especially if they're going into a musty old basement or storage space, you'll need to protect them. Of course, Rubbermaid bins are everyone's go-to storage solution, but not everyone has the space for those. Underbed boxes are a lifesaver for maximizing every inch of space in your bedroom, and Ziploc Space Bags will be your best friend if you have little to no space to spare. If you're storing delicate or vintage items, you'll want to keep them hung up, but be sure to stay away from plastic garment bags – the plastic can yellow lighter colours, and they will trap moisture that leads to mold. Instead, go for a fabric garment bag that will take gentle care of your most precious items.
Another great tip for keeping track of the space in your closet is to turn all of your hangers backwards. As soon as you wear the item, turn the hanger around the right way. Then, if you haven't worn it in 12 months, donate it. Face it – if you were going to ever wear it, you would have worn it by then.
If you want to get serious about simplifying your closet, consider putting together a capsule wardrobe. What's a capsule wardrobe, you ask? It's a limited collection of a few classic, high-quality items that don't go out of fashion (such as skirts, trousers, and coats) which can then be  updated occasionally with seasonal pieces. It takes some discipline, but in the end it will save you closet space, time in the mornings, and best of all, it will save you money in the long run! Sound good? Here's more information on getting started with your own capsule wardrobe:
Do you have some great tips for keeping your closet organized that we missed here? Share them with us in the comments!