Chef Sharon Bond of Kelowna's Kekuli Cafe ​packs us an amazing picnic inspired by traditional First-Nations fare
When the sun's out, so are the picnic blankets — it's time to head out and enjoy some rays and some delicious picnic classics. We've asked Chef/Owner Sharon to inspire us with some traditional on-the-go fare with a few modern twists.
If you haven't already, check out her video, then take these recipes for a spin. Remember, most of what you see in the video is available right now at your favourite London Drugs!
Classic Bannock
First, some classic Bannock dough. For this recipe we're treating bannock as a bread loaf, but it also works well as a flatbread or even fried for dessert. (Bonus, it's vegan!)
Bannock
3 cups flour
2 tbsp baking powder
½ tsp salt
1 tsp yeast
¼ tbsp sugar
2 cups warm water
• Preheat the oven to 375˚, lightly grease a bread pan.
• Stir and blend together the flour, baking powder, salt and yeast.
• Gradually stir in water, mix until slightly sticky. Let dough rise for about 15 minutes. Turn onto a lightly floured surface.
• Take about half of the dough and place in a bread pan, bake for approximately 25 minutes or until golden brown. Let cool.
• Slice and use for bannock sandwiches.
PS. The extra dough leftover you can cut into bite-size pieces and fry in hot oil on the stove to make little Saskatoon Bannock bites for a dessert! (see below)
Sandwich It Up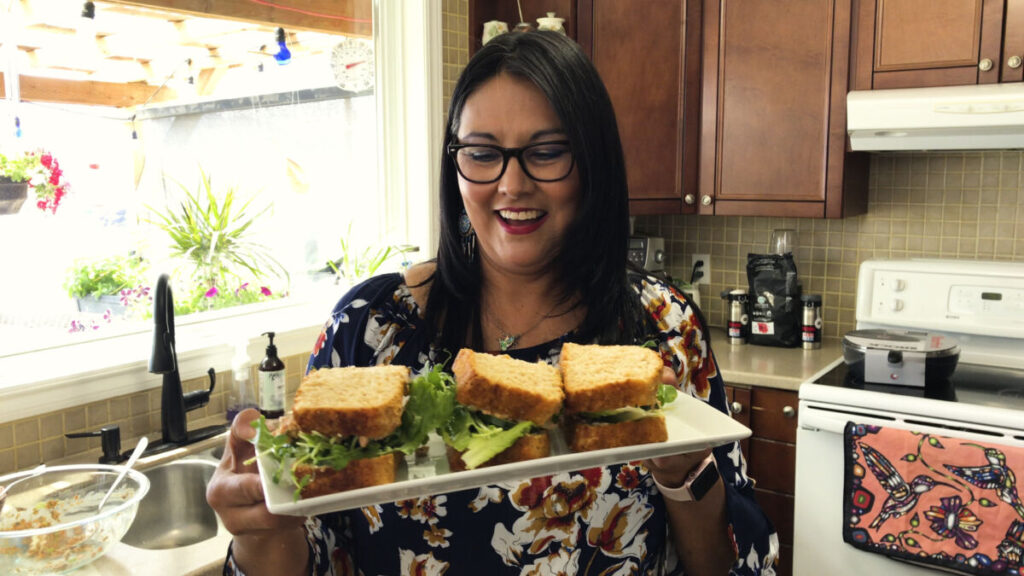 And now for the awesome salmon sandwich filling:
Sockeye Salmon Sandwiches
2 cans wild Sockeye Salmon [drained and pulled apart]
1 tbsp EVOO
1 tbsp lemon juice
1/3 cup mayo
2 tsp maple mustard (usually available in the London Drugs Local Love aisle!)
1/3 cup of finely chopped celery
1/3 cup of finely chopped onion
1/4 chopped fresh dill
Pinch of salt and ground pepper
8 slices of fresh Bannock Lettuce leaf
• Drain salmon — discard any skin and bones if you wish, or keep them in for the vitamins and minerals!
• In a medium bowl combine remaining salad ingredients combine well
• Lay out bannock slices and divide the salad between the four slices of bread. Spread butter on both slices of bannock, and spread one side lightly with maple mustard.
• Top each bread with lettuce, spoon mixture onto lettuce.
• Add remaining slices of bread on top and cut each sandwich in half, crosswise.
Three Sisters Salad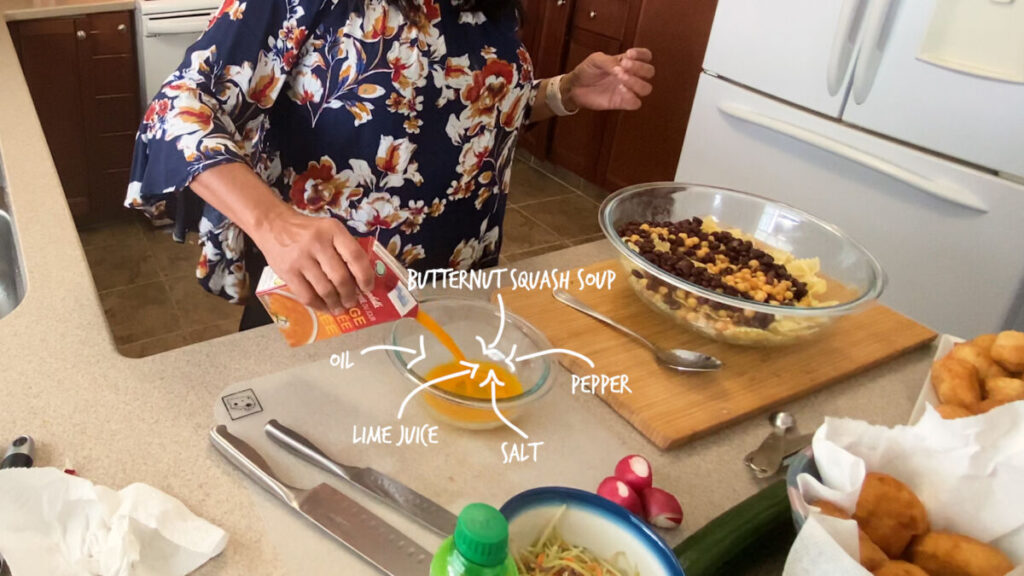 Corn, beans, and squash. These are the famous "three sisters" planted by First Nations to ensure a healthy, sustainable harvest — each type of plant helps the other thrive. Sharon uses these traditional balanced ingredient to make a memorable picnic salad:
Cook and chill your favourite pasta Combine drained cans of chickpeas and corn with a ½ cup of Butternut Squash soup. Add in some lemon and olive oil, salt and pepper to taste, and you're ready to picnic.
A little something sweet perhaps?
We didn't have time to fit a full demo in the video, but Sharon loves to make Bannock Bites with her leftover dough. Here's how:
Saskatoon Berry bannock bites:
Heat oil in the rock frying pan. Heat to 350 and gently lay the Bannock bites into the oil, flip when ready — aim for an even golden brown all around. Sprinkle with cinnamon sugar and dip into some (locally sourced!) Saskatoon syrup.
Can't forget the coffee…
To cap off a delicious picnic, cool off with this icy blend coffee, oat milk and maple:
Fill two thermos' with ice, two shots of espresso, 2oz of maple syrup. Fill to the top with oat milk. Yummmmm.
Thanks for reading — we hope this inspires you to try a little picnic adventure of your own! Here are a few links to the equipment and ingredients Sharon used to create these amazing dishes:
Pyrex Bowl
Picnic Cooler
Coffee Thermos
Maple Mustard
Saskatoon Berry Sauce
Kortari Knives