Dear dads,
Guess what? Mother's Day will be upon us very soon. I'm sure your kids are well aware of this and may have alerted you already, but in case they haven't you can thank me later; not just for the heads-up, but also for the gift solutions that this post will provide. Gift solutions that are convenient, unique, and require zero popsicle sticks, rubber bands, glue, cotton swabs or dreaded glitter (it's ok to admit this…all parents dread glitter to some degree. At least when it's used by children in the home).
As this post aims to demonstrate, personalized photo gifts are tailor-made for Mother's Day. They require thoughtfulness and creativity, yet they are so simple to create using the Photolab website or in-store kiosks that even pre-school and kindie-age kids can put them together with minimal adult assistance. In fact, my own six-year old daughter has agreed to help me create a personalized photo mug. She's quite computer savvy for her age (and all kids her age seem to be computer savvy) but it was her first time using the Photolab site, and she was able to do most of it by herself — especially when it came time to create and customize the design.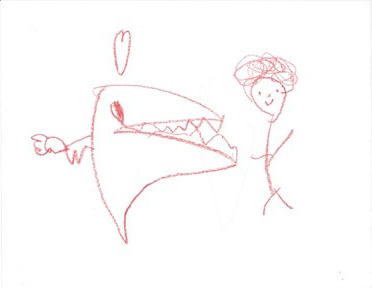 One reason Photolab gifts work so well for Mother's Day is because you can make them into a modern-day variation of the handcrafted gift simply by using an uploaded child's illustration instead of a photograph. Here I've scanned a picture my daughter drew for her mom.
In case it's unclear, what you are looking at is a dragon showing love to its human 'mommy' (I do NOT let my kids watch Game of Thrones, I swear). Although she knew it was for a Mother's Day gift, I'm not sure why she opted not to colour this one or choose another of her myriad full-colour drawings. But hey, it is not the place of mortals to question the artist's muse. Anyway, after she drew it I scanned it and uploaded it to my Photolab account.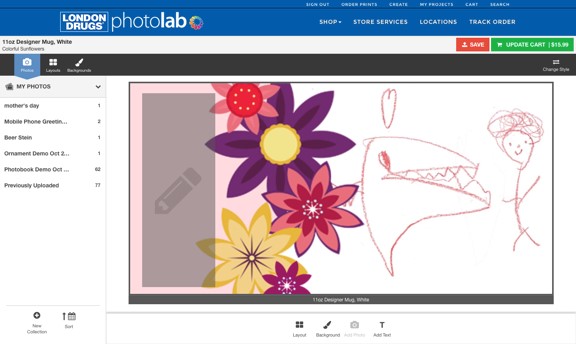 She chose the template and dragged-and-dropped her image into it — all I had to do was help her type the words (I suggested she use her impressive printing skills to print them herself on paper and upload the scan, but she insisted on using the keyboard — just like a big girl).
The video picks things up from the Occasions > Select a Product page. As you can see, while she needed a bit of instruction and assistance, she was able to use the site to bring her artistic vision to life.
I stopped it there so that you wouldn't have to sit there and wait for her to slowly type out her greeting. The next video (below) picks things up again after she finished typing her message.
Yes indeed — she wanted to keep shopping! If I had allowed her to continue, every living family member probably would have received a personalized Mother's Day photo gift. As with most kids, she is a quick study when it comes to technology, and I have no doubt that she will need little or no help the next time she is inspired to create a photo gift for someone.
So Dads, if you're looking for an original Mother's Day gift, think of how surprised Mom will be when she opens a photo gift that's been personalized just for her with her children's artwork or pictures they took themselves. It could be a mug, a collage, a shirt or blanket, or a simple greeting card. Or take the kids to a Photolab location and let them choose the gift themselves. Hey, as long as it's made with love, that's all Mom cares about…right?