Since it's technically still winter, we may be jumping the gun here in Canada, but the the thought of Spring is too exciting not to talk about. There aren't many other things that thrill Canadians more than seeing the first few signs of warmer weather: the old, grey piles of snow in Calgary transforming into ankle-deep puddles, the first sights of the new potholes blooming in Saskatoon, any temperature that doesn't have a minus in front of it in Winnipeg, or one day, just one day, that it doesn't rain in Vancouver are all welcome signs that spring is near, and we can put another Canadian winter under our belts. Here are 7 Signs that spring is juuuuuust around the corner.
Buds
These little friends are usually the first signs of spring Canadians will see. Of course, the second thing they'll see is fellow Canadians running around exclaiming, "BUDS ON THE TREES! BUDS ON THE TREES!"
Robins
Robins know when things are starting to thaw out, so when they show up in your backyard, it's a good sign that your extremities are about to get warmer.
Sun
It's a unique experience to play a bit of pond hockey with the warm sun on your face. In the above photo, the Banff Women's Hockey team are here taking full advantage at the Fairmont Banff Springs hotel.
Blooms
Crocuses are usually the first buds to poke their little heads out of the cold, Canadian ground, and we've made early Crocus spotting a competitive spring sport.
Geese
The comforting honk of these feathered friends making their way back to our lakes and ponds are a welcome sound in the ears of chilly, damp Canadians.
Patios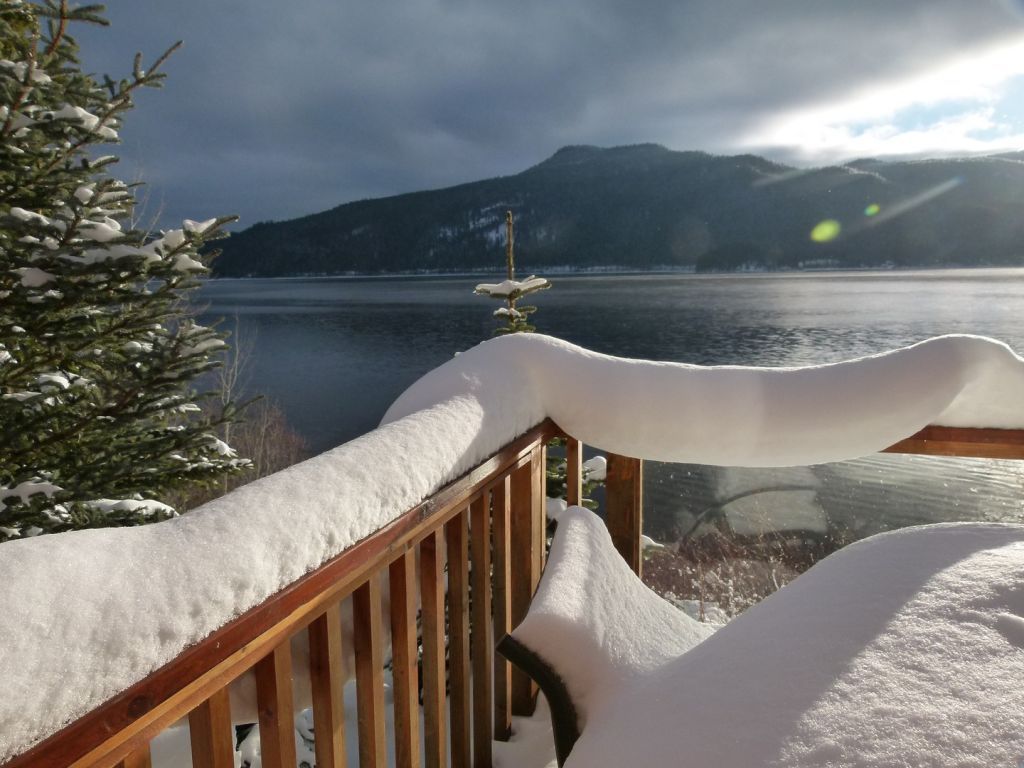 This patio at Canim Lake, BC isn't quite ready for lounging on yet, but you know as soon as the temperature gets anywhere around 5 degrees, it will get dusted off and put to good use.
Spring Skiing
Is there any better feeling than skiing with no jacket? No. No there is not. Check out this daring canuck flipping for spring in Whistler, BC.
How excited are you about spring? Tell us, or even better yet show us, in the comments!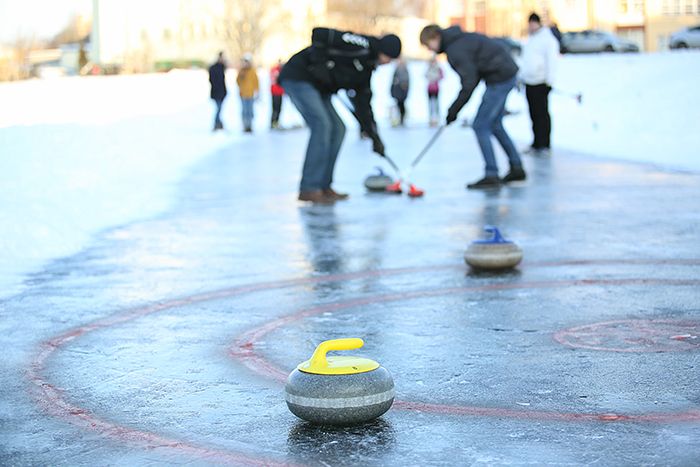 Haaaaaaaaaaaaard! If the games in PyeongChang have re-awakened your interest in curling, you aren't alone. Curling clubs see membership increase every four years, as wider audiences are exposed to the drama and fun of this very Canadian sport.
Curling was invented in Scotland, but long, cold Canadian winters have driven generations of Canadians into curling clubs where community is built with every end played. Here are 7 reasons curling is awesome, and so, so Canadian!
1. Anyone Can Curl
Certainly at the elite level, curlers are in top shape. The fields at the Scotties Tournament of Hearts (Women's Canadian Championship) and the Brier (Men's Canadian Championship) train like crazy and are incredibly fit and strong athletes, but this may not always be the case down at your local club. Wonderfully, curling is a sport that players of all ages and fitness levels can succeed at. This inclusivity is a Canadian ideal, and we're incredibly proud of it.
2. Curlers are Mild-Mannered
Canadians don't love the stereotype that we're all too polite (sorry!), but in curling, it's kind of true. The way curlers talk about the game with each other, even at the highest level, in the most intense situations, is as if they're two buddies deciding whether or not to go for Italian or Vietnamese food tonight. One curler will mildly express an opinion on the type of shot to take: "Let's do an in-turn tap to the four foot." The other curler's response? "I don't mind that." You must understand that "I don't mind that" is curler-speak for: "This is the best idea I have ever heard and if you do it we're going to win the Canadian championship." It's utterly refreshing to watch nice people play sports with respect for each other. And it's so Canadian.
3. Curling is Chess on Ice
The strategy involved in a curling game is fascinating. Shots that are made at the beginning of a 16-rock end often come into play in the very last shot, and the great curlers are the ones who manage the house and their rocks throughout. What makes it fun for the viewer is that we get to hear everything the teams are discussing as they weigh their options. The commentators play a huge role in translating the curling jargon for the home viewer, and as you learn the basics, you will start to see the different strategies paying off for the teams. The mental focus and planning that great skips need to bring their teams to victory is something to behold.
4. Curlers Make Crazy Shots
Along with the thoughtful strategy in a curling game, you'll also get to see some big weight shots that get 3, 4, or more rocks scattering around the house. Check out Glenn Howard's shot for 3 at the 2009 Brier. Or this one from Jennifer Jones, simply called "The Shot," to win it all the 2005 Scotties Tournament of Hearts. Or here is a compilation of 10 great shots from the Canadian Curling Trials in 2010. Totally crazy shot-making from the best in the world, who just happen to be Canadian.
5. Curling Creates Community
Life in Canada can be tough in the winter months. It's no wonder that people in towns across the country take to their community curling clubs for some shelter from the elements and good times with friends and neighbours. Camaraderie is baked into the sport, with players wishing each other good luck or "good curling" before the game and usually sharing a table up in the clubhouse after the game as well. These clubhouses also capture the spirit and history of the curlers and community members that have come before, through memorabilia, photographs, and stories. Drop into a curling club for a glimpse at the people who have made their Canadian community what it is today.
We know: finding a lipstick that doesn't leave that telltale mark on a coffee cup (or a special someone) is a serious struggle. Not to fear lipstick lovers, the quest is over! Just in time for Valentine's Day, our Beauty Advisor Amanda is testing the best kiss-proof lipsticks available at your local London Drugs. Watch the video to see her top 6, plus her go-to lip primer and lipstick remover, for a flawless pout that won't budge 'til the end of the night.
Products Featured:
Subscribe to London Drugs on YouTube, and stay tuned for more beauty videos!