London Drugs and Certified Data want you to Bring Back The Pack! As part of our What's the Green Deal program you can already bring back the packaging from almost anything you purchase from London Drugs. Computers, Televisions, Appliances, Printers, you name it. Bring it back to your local London Drugs and we'll make sure that it gets handled responsibly, and that includes Styrofoam!
Certified Data has a special offer for everyone buying our desktop computers.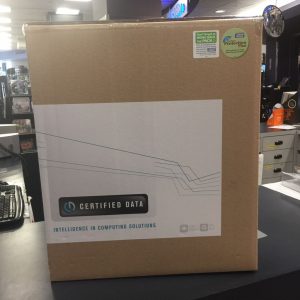 If you bring back the pack from a Certified Data desktop computer in reusable condition we will give you a $10 gift card! The packaging must be in clean, reusable condition. That means no damage and no writing or any other defacements on the box, but as long as it meets that criteria a $10 gift card is yours!
Not only do you get a $10 gift card, you get the satisfaction of knowing that the box you returned will be re-used to protect another Certified Data computer!
This promotion is on now so if you have a Certified Data box in good condition, bring it back to your local London Drugs and be a part of the Green Deal!
Learn more about our Bring Back the Pack! Program and Certified Data towers from these two youtube videos:
Bring Back the Pack

Certified Data Desktops