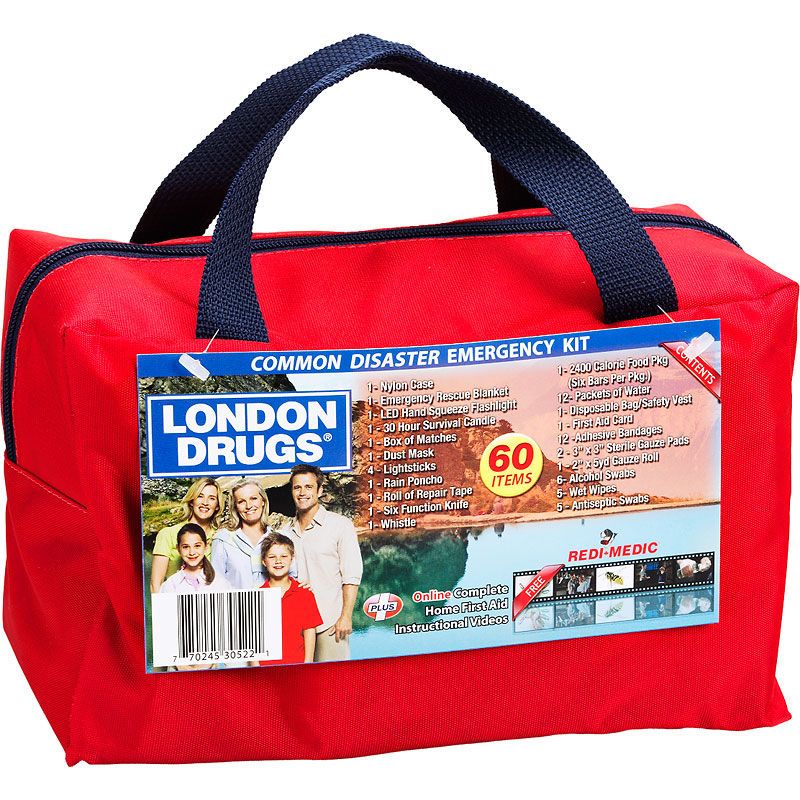 In the event of an emergency situation whether it is from flooding, natural disaster or earthquake, residents of the Lower Mainland should be prepared to survive on their own for 72 hours with the possibility of having no water or power. To get through that three day period organizations like St. John Ambulance, SOS Emergency Response Technologies and London Drugs offer emergency kits and tools in preparation for an emergency.

While you are waiting at home or elsewhere there are groups who are responding to these emergencies and creating a safety plan for residents. One of these organizations is the 15th Field Artillery Regiment that provides support to civilian authorities dealing with disaster. In the event of a catastrophe the regiment could assist in establishing a command and logistic structure capable of responding promptly to save lives.
As emergency preparedness is always a good reminder, London Drugs stores in the Lower Mainland have highlighted key components of an emergency kit throughout the stores. Prepared emergency kits are available from London Drugs, SOS Emergency Response Technologies and St. John Ambulance but you can pack your bag to suit your family's needs. All of these items should be ideally stored in a conveniently located and durable backpack.
Key things to have in your emergency kit are:
Water – estimate for two litres per person per day.
Food – gather food that won't spoil like canned goods, protein energy bars, dried fruits and meal replacement beverages. Don't forget to pack the can opener. Include hard candies, chocolate and gum in your kit for a diversion for your senses.
Essentials – flashlights, extra batteries, candles, matches, warm clothing, a blanket, hand sanitizer, and a small mirror.
First Aid – ensure your first aid kit is up to date and medications have not expired, include gauze, pads and tape along with an assortment of bandages. Include several pairs of disposable non-latex gloves, face masks, antibacterial handwash, and a small pair of scissors.
Entertainment – cards or any other board games. Crossword puzzle or pocket book to keep you occupied while waiting for the power to return.
Car – it's recommended to keep a smaller bag in your car should you be travelling in the event of an emergency. Include a solar blanket in this kit for added warmth.
Additional non-essential but important items include duct tape, Swiss army knife, Kleenex, toilet paper, city map, recent photographs of loved ones and a wind up AM/FM radio to keep informed of events.
Support for the 15th Field Artillery Regiment
To assist with fundraising initiatives for this organization, on Wednesday, January 29th, the Honorary Colonel Grant Smith, from the 15th Field Regiment Artillery, will host "The Big Shake", a Robbie Burns Supper, at the London Aviation Centre in Richmond. In traditional Scottish fashion, guests will enjoy a traditional Robbie Burns meal as the Band of the Fifteenth Field Artillery Regiment and RCMP E. Division Pipes and Drums will provide musical entertainment. Guests will experience what it is like to come through a triage station following an emergency and will have an opportunity to learn about emergency preparedness from community partners on hand this evening. Proceeds from the evening will benefit the 15th Field Regimental Society. Tickets are available for a $100 per person and can be booked through email roy.grantsmith@gmail.com or call 604-377-9624.