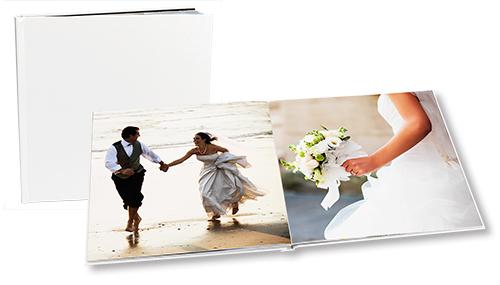 This summer drop by the London Drugs traveling trailers to see the selection of London Drugs Photobooks. Our photo experts are doing demonstrations and will take you through the ease of creating a personalized photobook.
If you're looking for a way to tell an emotional story using quality photobooks – we make it easy.
Photobooks tell stories
From engagement to honeymoon, you can capture each moment in a gorgeous photobook. London Drugs offers several styles, sizes and looks to customize your look. You can match the sweetness of the wedding proposal and engagement, the sassy bachelor and bachelorette celebrations, the touching wedding ceremony and the romantic honeymoon afterwards.
One idea that made a splash was a photobook used in place of a guest book. A bride gathered images of family, friends and themselves—the bridal couple—and created a book to use as a guest registry. It encouraged guests to find images that meant something to them and leave a personal message on it, much like a high school yearbook. This created an incredible warm keepsake for the bride and groom instead of a book with only signatures.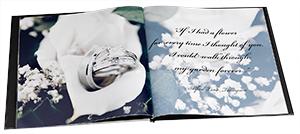 Gorgeous wedding photobooks
Wedding albums are no longer about storing your photos in page after page of plastic sleeves. Today, wedding photobooks are emotional storytellers, preserving the story of your special day—for family, friends and your own children. It's not just a visual history of your wedding ceremony, it's telling the emotional story of two people who fell in love and started their life's journeys together.
Elegant, amazing quality
Every image in a London Drugs photobook is colour-corrected before printing to ensure each photo pops with radiance and vibrancy. If you're handling your own colour correcting, you can receive 10 photos printed by the London Drugs Photo Lab so you can calibrate your home computer monitor accordingly for the best results.
Combine fantastic colour print quality on gorgeous matte or gloss stock, bound elegantly in one of several choices of covers, and you have a heart-felt, elegant memento of your special day to share with your family for a life-time.
Watch this short video to see how easy it is to create your own photobook:
Easy and fast
Download the simple-to-use software and start laying out your book right on your home computer. You can choose an easy set-up wizard to automatically create your book, or add each image and caption yourself to create a truly unique photobook.
To simplify the process start with all your photos in one central folder on your desktop until you finish building your book.
You can get a taste of creating your own wedding photobook by taking a free photobook seminar at a London Drugs store near you.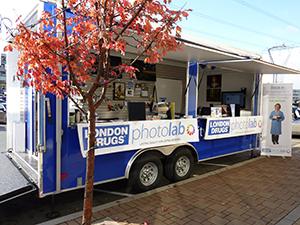 Watch for the London Drugs event trailer at your favourite London Drugs location
June 28 – Lawson Heights Mall, Saskatoon
June 29 – 8th Street East, Saskatoon
July 1 – Prince of Wales Drive, Regina
July 3 – 13th Avenue SE, Medicine Hat
July 4 – Lethbridge Town Square, Lethbridge
July 6 – London Place West, Calgary
July 7 – Brentwood Village, Calgary
July 8 – 130th Avenue SE, Calgary
July 9 – Heritage Plaza, Calgary
July 10 – London Town Square, Calgary
July 11 – Royal Oak Centre, Calgary
July 12 – 14 – Airdrie Airshow
July 16, 17 and 18 – Boyce St & 50th Ave, Red Deer
July 19 – Village Market, Sherwood Park
July 20 – North Town Mall, Edmonton
July 21 – Jasper Gates Square, Edmonton
July 23 – London Centre, Edmonton
July 24 – Oliver Square West, Edmonton
July 25 – Inglewood Centre Mall, St Albert
July 26 – West Edmonton Mall, Edmonton
July 27 – South Edmonton Common, Edmonton
August 1 – Spall Plaza, Kelowna
August 6 – Lansdowne Village Mall, Kamloops
August 8 – Vernon Square, Vernon
August 9 – Westbank, Kelowna
August 10 – Cherry Lane Shopping Centre, Penticton
August 13 – Saanich Centre, Victoria
August 14 – Harris Green Village, Victoria
August 15 – Tillicum Centre, Victoria
August 16 – Colwood Corners, Victoria
August 17 – Duncan Village, Duncan
August 18 – North Town Centre, Nanaimo
August 19 – Port Place Shopping Centre, Nanaimo
August 23 – Driftwood Mall, Courtney
August 24 – Mariner Square, Campbell River