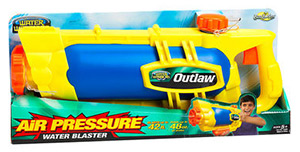 The arrival of summer brings us many wonderful things. Fresh fruit right from the orchard, days on the golf course with friends, days at the beach and BBQ's with family. All of these are great and enjoyed by all but there is one thing, one incredibly fun event that anyone can enjoy. I am talking about the Water Fight! Nothing is more fun than ambushing your sibling or parent and soaking them. Below are some simple tips and rules for a Water Fight to ensure fun is had and everyone plays safe.
Step 1)
Always make sure you start with the most basic part of a water fight and that is a good water gun. You want to make sure it has a good sized water reservoir. This cuts down on filling time and more fun can be had soaking your enemies! The Python 2 from Water Warriors holds an amazing 52oz of water. Available at London Drugs of course and on sale until August 13th!
Step 2)
Ensure the play area is safe but has good hiding places for the players. Trees and bushes make for good hiding spots. If you have a wide open yard then placing some larger items in the yard such as an old table or other obstacle works well too.
Step 3)
This is where the adults need to step in. Some rules should be in place so the combatants play safe and they still have fun. There aren't too many rules, just enough to keep everyone playing safe.
Divide the players into teams. Usually two but this is flexible.
If possible have two separate fill stations, one for each team.
Whenever you are filling your gun you are "safe". This means no one can shoot you.
Timeouts are to be used only if needed and the adults can call them whenever they feel they are needed.
If a combatant breaks the filling safe rule they are to sit in a designated area and can be soaked by anyone, including the adults.
There is to be no water fighting in the house.
Step 4)
This is the not so fun part, cleaning up. Make sure all the players have a towel and dry clothes. Have the players help by putting the hose away and drying off their water guns.
We have a wide assortment of Water toys here at London Drugs with all of them on sale right through until August 13th. Stop by your local London Drugs to pick up a couple and let the fun begin!
Josh Halliday
Assistant Store Manager – St Vital