For most of us, falling asleep is never as simple as putting head to pillow and shutting our eyes. If you're in need of a few proven tricks for courting slumber, deep and restful, you've come to the right place. Read on!

* * *
Dr. Weil's 4-7-8 Technique
Weil's technique is simple, takes hardly any time, and can be done anywhere in five steps. Although you can do the exercise in any position, it's recommended to sit with your back straight while learning the exercise. Weil also recommends you place the tip of your tongue against the roof of your mouth, just behind your front teeth, and keeping it there through the entire exercise. Here we go!
Exhale completely through your mouth, making a whoosh sound.
Close your mouth and inhale quietly through your nose to a mental count of four.
Hold your breath for a count of seven.
Exhale completely through your mouth, making a whoosh sound to a count of eight.
This is one breath. Now inhale again and repeat the cycle three more times for a total of four breaths.
The most important part of this process is holding your breath for seven seconds. This is because keeping the breath in will allow oxygen to fill your lungs and then circulate throughout the body. It is this that produces a relaxing effect in the body.
[More at Dr. Weil.com]
* * *
Trick Yourself
Research conducted on two groups of insomniacs at the University of Glasgow found that reverse psychology can genuinely help people fall asleep.
While one group was left to their own devices, the other was told to stay awake for as long as possible but banned from moving around or watching TV.
Guess who went to sleep fastest?
[More at YouTube]
* * *
Hit the Bottle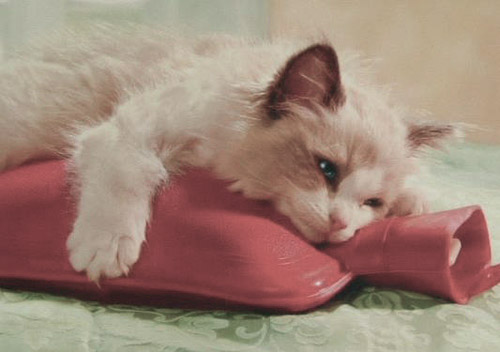 No, not the booze bottle. (Drinking alcohol may help you get to sleep, but it's a central nervous system depressant. When it wears off, you become more alert.) Instead, make sure your bedroom is cool, and then hit that hot water bottle.
Every night, as the body falls asleep and its systems switch to standby, its core temperature drops. Think of it as akin to a car that's parked on a driveway after long, hot drive. By preparing a cool sleep environment—between 60 and 68 degrees Fahrenheit, 16 and 20 degrees Celsius—you'll help your body's core temperature reduce quickly and naturally, which creates the feeling of drowsiness.
The trick to avoiding a frigid sleep is the water bottle. Placed by your feet, the heat dilates blood vessels in your lower limbs, shifting body heat from the core (where it is while you're awake) to the extremities (where it is when you're snoozing happily). Enjoy!
[More at BBC]
* * *
Check Your Alignment
This guy may be goofy, but he makes a strong argument for one of our favourite sleeping positions—on our side, hugging a pillow, a slender bolster between the legs. It's partly a matter of personal preference, partly a matter of science. The basic idea is, regardless of your sleeping position, you should attempt to keep your ears, shoulders, and hips aligned:
If you sleep on your back, a small pillow under the back of your knees will reduce stress on your spine and support the natural curve in your lower back. The pillow for your head should support your head, the natural curve of your neck, and your shoulders.
Sleeping on your stomach can create stress on the back because the spine can be put out of position. Placing a flat pillow under the stomach and pelvis area can help to keep the spine in better alignment. If you sleep on your stomach, a pillow for your head should be flat, or sleep without a pillow.
If you sleep on your side, a firm pillow between your knees will prevent your upper leg from pulling your spine out of alignment and reduce stress on your hips and lower back. Pull your knees up slightly toward your chest. The pillow for your head should keep your spine straight. A rolled towel or small pillow under your waist may also help support your spine.
Insert pillows into gaps between your body and the mattress.
When turning in bed, remember not to twist or bend at the waist but to move your entire body as one unit. Keep your belly pulled in and tightened, and bend your knees toward the chest when you roll.
Keep your ears, shoulders, and hips aligned when turning as well as when sleeping.
[More at U of U Health]
* * *
Snack Smart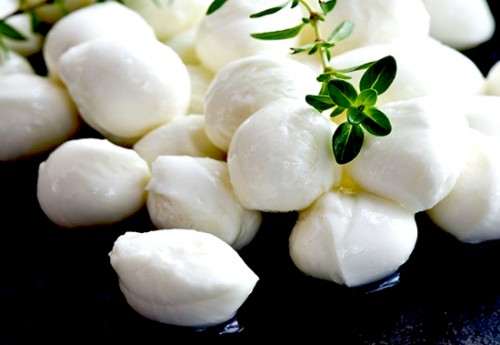 You know how sleepy you feel after Thanksgiving dinner, when your belly's full of turkey? That's the tryptophan talking—turkey's rich in it. These six sleep superfoods have way more tryptophan than does turkey. More importantly, they're easy to consume before bedtime. Who needs Ambien when Mother Nature's on your side?
Toasted sesame seed bread: Why bother with the toast when you could simply throw back a handful of sesame seeds, you ask? Bread's carbohydrates increase your blood sugar, causing your body to produce insulin and, afterwards, the calming chemicals serotonin and melatonin—the ultimate drowsy combination.
Raw nuts: Almonds, pistachios, and cashews are very high in tryptophan—their butters are also excellent, just steer away from the heavily salted or sugared. Bonus: Nuts also contain magnesium, a mineral that calms muscles and nerves.
Fresh fish: Fish are dense in tryptophan, in addition to being the best natural source of Omega-3s. Salmon is the champion.
Cherries: Where most soporific foods induce the body to produce melatonin by first introducing tryptophan, cherries leapfrog the first step and give you a straight shot of melatonin. This is rare.
Cow's milk:  In addition to tryptophan, milk is also high in calcium and magnesium, both known to have a relaxing effect. Milk alone will do the trick, but you'll boost its effectiveness by taking it with a carb-rich oatmeal, granola, or toast.
Mozzarella cheese: Cheese is generally a bad idea before bedtime—it'll give you bad dreams. With twice as much tryptophan as turkey, mozzarella is the exception. May we suggest a piece of Silver Hill's Squirrelly Bread with a single slice of tomato, laid over with fresh buffalo mozza or bocconcini, drizzled with balsamic vinegar and a few drops of olive oil, topped with freshly ground black pepper?
[More at London Drugs]
* * *
Power Down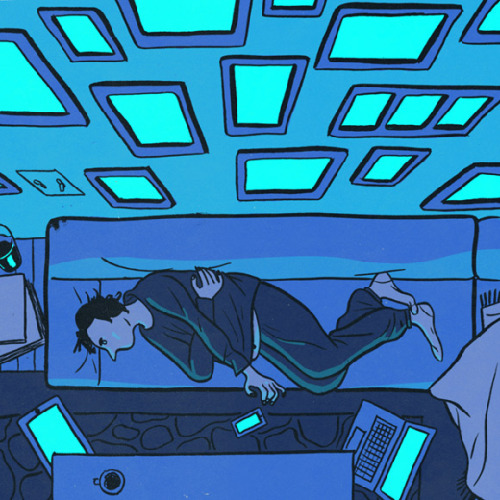 Sixty minutes before going to bed, turn your back on all electronic screens, media, and work. The time for screens and work is over. Computer screens actually trigger your brain to stay awake; the blue light they emit mimics sunlight (which arouses the brain, instead of relaxing it). Here are a few more tips:
Once work is over, there is nothing you're going to fix or make better by continuing to think about it. If you're really struggling to turn off work mode, try writing your thoughts or plans by hand in a journal.
Reading, talking to a partner, and preparing lunch, clothes, etc. for the next day are great ways to get off the screens and start the process of relaxing.
Sleep is not a switch you just turn on. The earlier you start relaxing, the easier it will be to sleep.
[More at Sleep.org]
* * *