Here's a question: What's the size of a credit card, as thick as an iPhone, and has two wheels? Or how about this: What is round and black with one continuous groove on it? Or finally: What is round, is as shiny as a mirror, and has a hole in the middle that lets you spin it on your finger? The answer to all questions is music (tape cassette, vinyl record, CD.)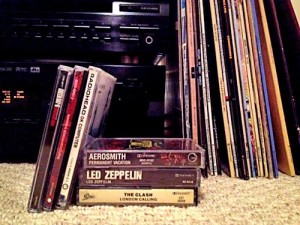 Compared to past generations, music has attained a superpower: invisibility. Remember how heavy and cumbersome it was to move your record/cassette/CD collection to a new living space? Now 10 times the size of your old music collection floats over your head in "the cloud," somehow following you wherever you are. I barely understand how this works—magic?—and you can bet I can't even try to explain this to my mom, who's still suspicious of fax machines.
Old technology can be strangely satisfying
I'll confess I've been a cherry-picker when it comes to music. If I hear a song I like, wherever I am I'll immediately buy it online. Then I'll listen to it as many times as it takes to learn the lyrics. Technology lets me have immediate gratification, but I don't know if it's fostering true appreciation, which makes me sad because I truly love music.
Recently a good friend gifted me with a great find—a Sony turntable from a yard sale (and a couple decades ago.) I dug out some of my old vinyl and started listening again, and it was wonderful to hear the songs in the order the artist intended them to be listened to. Instead of being cumbersome, there's a strange contentment to pulling the sleeve out of the record cover, placing the record on the turntable, and gently letting the needle drop. A large part of my knowledge and appreciation of music came from just listening and reading the liner notes.
Technology doesn't always mean better
I like that London Drugs recognizes that just because technology changes, it doesn't necessarily mean it's better. Sure, the latest and greatest can bring a difference to your life (like efficiency,) but I love that London Drugs doesn't abandon some of these products because they may be perceived as "old school" or not cool. In fact, as my turntable-gifting friend pointed out, a retailer like London Drugs is the perfect place to pick up old vinyl favourites that you can't find in good condition at small stores or garage sales. And these re-pressings are exceptional in listening quality. Chris Gibson, an electronics buyer with London Drugs agrees. He told me "We've seen a resurgence in vinyl LP sales, and we're hearing from our customers that it's because the experience is altogether different than today's digitally downloaded music."