Stylish small appliances are a new trend in home decor, and make great gifts for the chef with style in your life. London Drugs has a superior selection of stylish small appliances that are both functional and decorative in the kitchen.

"We are finding that more and more, our clients are getting into cooking at home and want to invest in the best appliances for their kitchen renovations, this also goes for table top appliances," said Alykhan Velji, Principal and Senior Designer of Alykhan Velji Designs. "Everything from mixers to juicers are now coming in great colours and designs and we are finding that these are becoming showcase pieces in kitchens just as much as the built-in appliances."
FIVE GREAT GIFTS FOR THE CHEF WITH STYLE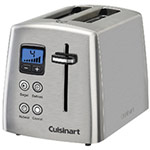 Cuisinart 2-Slice Countdown Stainless Toaster
The toaster has been a staple item on kitchen counters for generations. Style can also be affordable with this stainless steel 2-Slice Countdown Metal Toaster by Cuisinart. Separate controls defrost waffles before toasting, reheat toast without more browning, and reduce heat on uncut side of bagels to make the perfect holiday breakfast.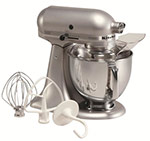 KitchenAid Artisan Series 5 Quart Stand Mixer
With 20 colours to choose from, you can customize the stylish and functional KitchenAid® Artisan® Series Tilt-Head Stand Mixer to perfectly match your kitchen design or personality. The stand mixer is a designer's dream and often used as a stunning showpiece sure to turn heads even when not in use.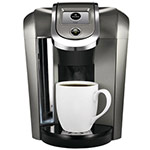 Keurig 2.0 Brewing System
One of the most displayed items on a kitchen counter is a coffee brew system, and this year Keurig is offering several stylish new brew systems that look good and make a good cup o' joe! New for the Keurig 2.0 is the ability to make a single cup or a carafe. The K500 brewer allows you to brew a 4-cup carafe with the same ease and convenience of brewing a single-serve cup — all at the touch of a button.
The Keurig 2.0 K500 Brewing System includes a Keurig™ Carafe, a 2.0 Water Filter Starter Kit with one filter, and K-Cup® and K-Carafe™ packs to get you started.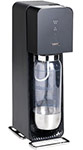 SodaStream Source Save the environment and cut down on sugar all while featuring the sleek and stylish SodaStream Source the award-winning soda maker that makes water exciting. A great gift idea for the person who is looking for an at-home soda solution. At only pennies a glass, the SodaStream also makes a great addition to any home for holiday entertaining.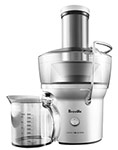 Breville Juice Fountain – Compact
Juicing continues as one of the biggest health trends as people continue to look for quick and easy access to the nutrients found in fruits and vegetables. Breville's Nutri Disc and patented juicing system extracts more nutrients than other juicers and transfers less than 1.8°F of heat to protect enzymes and maximize nutrient absorption. This Breville Juice Fountain has all the power of its larger counterparts contained in an attractive, compact design. You'll be proud to keep this on your kitchen counter between your juicing sessions.
Summer is finally upon us…. the season of healthy smoothies and (not quite so healthy but oh-so-enjoyable) frozen concoctions. Whether you prefer your fragrant summer strawberries early in the morning in your smoothie or late in the evening in your daiquiri, the KitchenAid® 5-Speed Diamond Blender is just the right tool to whip up beverages quickly and easily, as well as salad dressings, sauces, soups (gazpacho, anyone?), and so on. Have a look at the demo video when you get to the end of this post.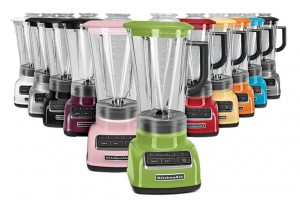 True to the KitchenAid® tradition of combining high performance with good looks, the Diamond Blender is a sleek machine that comes in a wide range of colors. The robust motor, unique one-piece, BPA-free pitcher, high-quality stainless steel blades and electronic controls combine to create a powerful vortex from which nothing escapes: all ingredients blend together quickly and efficiently, whether stirred, chopped, mixed, pureed or liquified. And the crush ice feature makes short work of your ice cubes for those frozen concoctions. READ MORE
Bear with me while I get a little poetic about a kitchen appliance.
I'm not really a Martha Stewart fan, but a few years ago I watched just enough of one show to hatch a new obsession. Right there, in between the intricate planting pattern she created for her Texas Tea Rose garden, and the 18th century ceramic repair guy fixing her teapot handle…there, so perfectly placed in the middle of those two segments was the enameled beauty of my kitchen dreams—the KitchenAid Stand Mixer.
I don't think it's unhealthy to obsess about a mixer. It makes healthy things, right? And my obsession centres on simple things, like making sure whenever I'm in the store I cruise by the display. Sometimes I just walk by, only showing my admiration of it via my stealth peripheral vision skills. Sometimes I'll stop and look at it, as if I'm seriously contemplating buying it. Other times, I'll run my fingertips over the bright, red enamel, or lovingly fan the colour swatches…
Okay, maybe that last part isn't too healthy. But look at this thing! It's gorgeous.
See how none of my fingerprints show up on the finish!
Much as I want one, there are some solid reasons why I can't get one quite yet:
I have absolutely no counter space
I'm in love with red—which only maybe matches my current decor
I don't think I'm good enough at baking to deserve one
It's WELL outside of my budget
So for now my KitchenAid mixer is a dream…maybe one day. Do you have a "healthy" obsession?
Nala
London Drugs Fan
Nala Henkel, a former employee and current contract proofreader for London Drugs, is a self-confessed fan of our store. We've invited her to share her quirky perspective on all things London Drugs from a consumer's point of view.