Lindt's Swiss Classic 300g Gold Bar will be part of the Foods of Europe promotion at London Drugs from October 10-22, 2014, so we thought it would be nice to include recipes that use this delectable chocolate.
All these recipes have been created in the Lindt kitchen and introduce a new spin on an old favourite.
Peanut Butter Chocolate Chunk Cookies
For everyone who loves chocolate in their peanut butter and vice versa.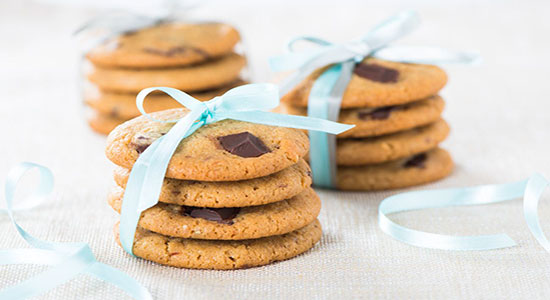 Ingredients:
1/2 cup (114g) butter, softened
1/2 cup (130g) chunky peanut butter
1/2 cup (100g) sugar
1/2 cup (90g) light brown sugar, firmly packed
1 egg, slightly beaten
1 tsp vanilla extract
1 1/4 cup (150g) flour
1/2 tsp baking powder
1/2 tsp baking soda
1/4 tsp salt
200g Lindt Swiss Classic Surfin, chopped into chunks
Method:
Preheat oven to 350°F (180°C).
Line cookie sheets with parchment paper.
Combine the butter, peanut butter, sugars and cream together.
Add the egg and vanilla extract.
Combine the dry ingredients and add to the butter mixture.
Stir in the chopped chocolate.
Drop cookies by the teaspoonful onto the prepared cookie sheets.
Bake 10–12 minutes. Cool on a wire rack and store in an airtight container.
Yield:Approx. 3 dozen cookies
Recipe by Master Chocolatier Ann Czaja