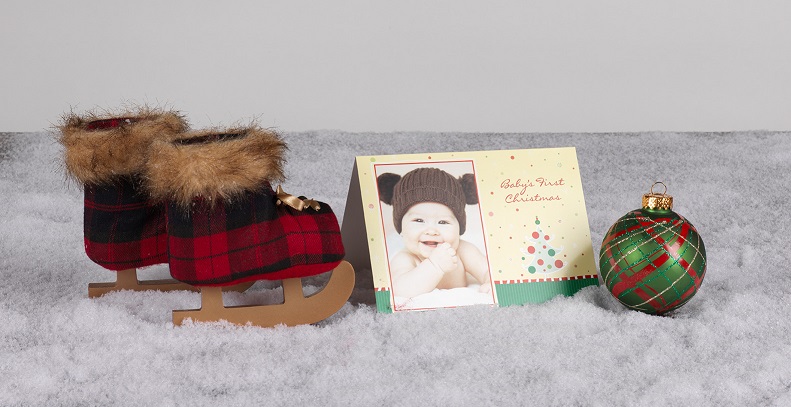 The Holidays may seem like a ways away still, but every year the same thing happens: you blink, November is almost over, and you're suddenly scrambling to get all your holiday to-do's done. Why not make this the year you get a jumpstart, and save yourself the stress in December?
If there's one item you may want to get working on sooner rather than later, it's holiday greeting cards – especially if you're planning to send them off by mail to friends and family. Rather than picking out a generic set of cards to share, our Photolab can help you create unique holiday cards that are completely personalized.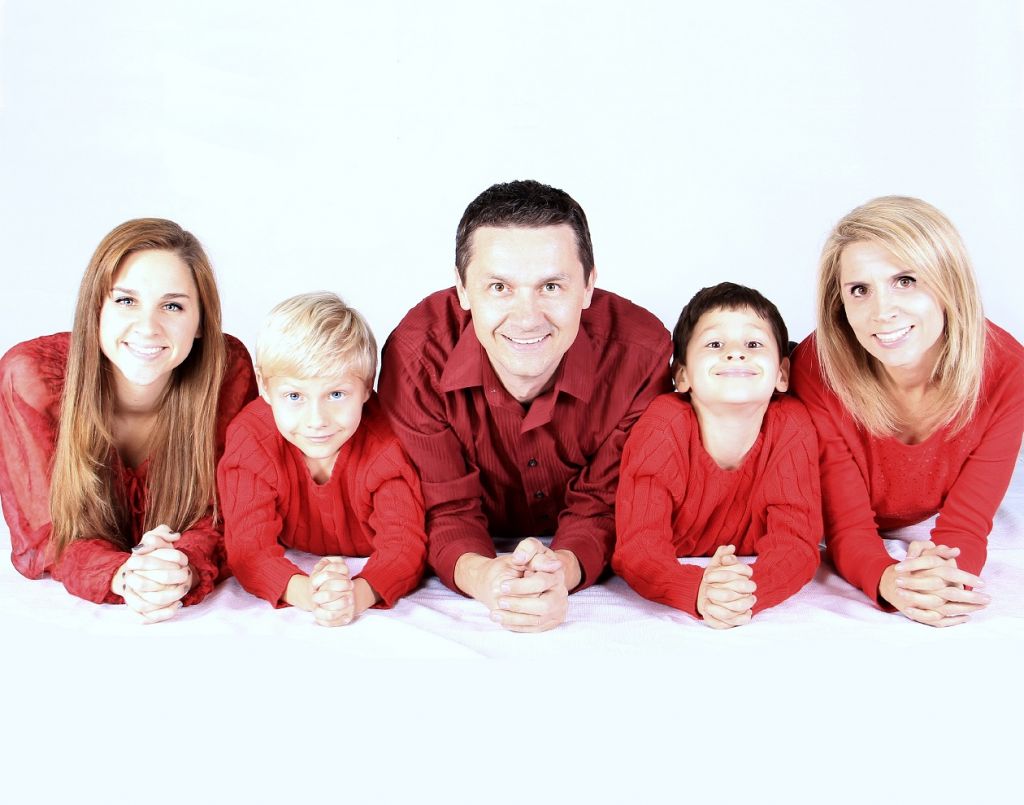 Finding the Right Photo
Lots of people share a photo or two of their family when they send out their annual holiday cards. It's a chance to show your loved ones how your family has grown over the past year. You can choose a favourite photo you have from this year, or plan a fun photo shoot with your family to snap a special 'holiday card' photo. Get creative and have a theme, like everyone wearing red, or have some fun holiday props on-hand, like pre-wrapped gifts. If you get an early snowfall this year, why not take advantage and run outside for a wintery group photo?
You can also turn your old Christmas photographs into digital copies that can be featured on your greeting cards. We can digitize those photos for you with our Photo Scanning Box service. Just pick up a box from your local London Drugs Photolab, fill it with all your print photos, and bring it back the Photolab where our technicians will digitize the photos at high resolution. Your print photos will then be returned to you, along with a USB flash drive storing all your special photos. Then you can simply upload them to our Photolab website or one of our in-store Photolab kiosks to get started with customizing your holiday greeting cards.
Pick a Card Style
Our Photolab's user-friendly website and in-store kiosks give you every opportunity to customize, which means you have lots of options when it comes to the style of your cards. First, choose between either flat or folded cards. Flat cards have an extensive list of options, including single-sided, double-sided, and postcards. You can even pick a postcard template that is ready to stamp and drop in the mail. If you'd prefer a traditional folded card, we have both regular and premium folded cards in both 5×7 and 7×5.

We are the only local Photolab to use premium card stocks, so your greeting cards are guaranteed to be entirely unique. To make your holiday greeting cards truly stand out, our Photolab also offers 6 specialty papers in addition to our card stock: linen natural white, linen white, matte soft white, matte white, shimmer silver, and shimmer soft gold.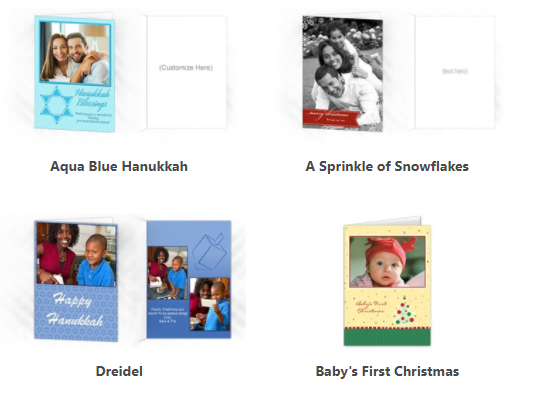 Once you've picked your greeting card style, you'll then be able to choose a template. We have a wide variety of themes available, including Christmas card templates and Hanukkah card templates. Or if you're feeling extra creative, feel free to go complete-DIY with a blank card.
Write a Personalized Message
To make your cards as personal as possible, add text to any of our greeting cards. You can choose your preferred font and colour, and customize where it will appear. Type a simple season's greetings that you can easily send out to all of your family and friends, or customize each card with a unique and personal message. Our LDExperts recommend signing the cards by hand after it's printed, for an extra special touch.
Ready to get a jumpstart on your holiday greeting cards? You can save 10% on your order of greeting cards, calendars and photo books if you order between October 27th and November 1st, 2017. Click here to get started!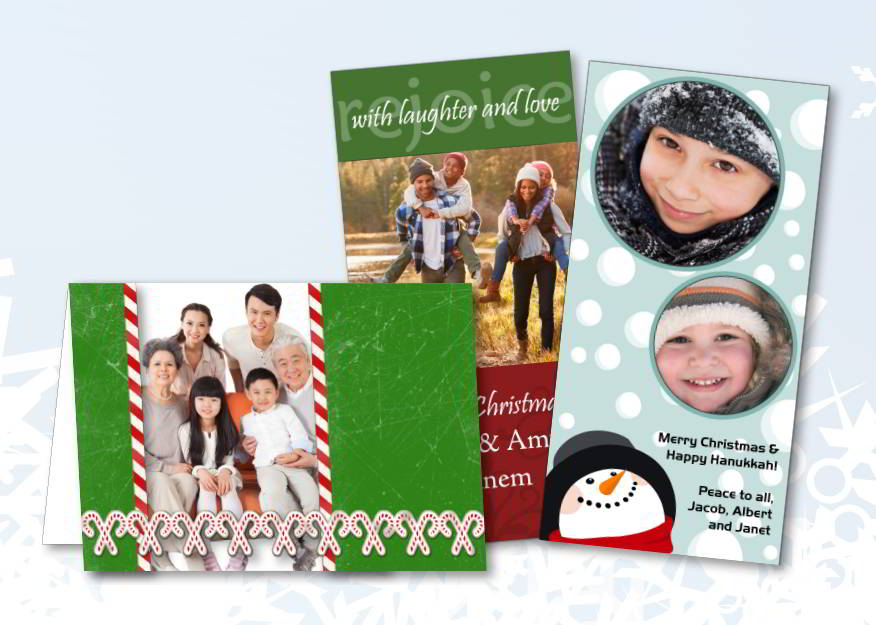 If you need some help creating your holiday greeting cards, our Photolab Experts can answer any questions you may have, and walk you through the ordering process. Just visit us at any London Drugs location, in the Photolab department.
Valentines Day 2016 will soon be upon us, and once again the Photolab is here to bail you out—only this time, like never before! If you've previously visited this space you are no doubt well aware that personalized greeting cards, created with actual photos that have true meaning to the recipient, are absolutely perfect for hitting it out of the park on occasions such as this. Now, thanks to the Photolab's new in-store kiosks and website, these Valentine's Day life-savers are more customizable than ever. Allow me to demonstrate the ease of making a personalized greeting card using the brand-spanking-new in-store kiosks available at all London Drugs locations: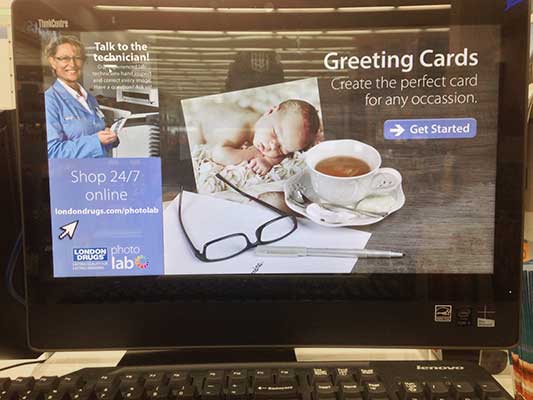 Since these fancy kiosks are so new, I thought I would demonstrate how to use them to make a greeting card. So let's do as the button says and get started!
With the final days of school coming to an end for the summer, it may be time to start thinking about how you would like to document your school memories. For parents or students who are looking to thank their teachers or coaches with a year-end gift, photo gifts are a great way to document those memories. The London Drugs photolab has come up with some ideas to capture end of the school year moments for teacher mementos, sports teams, or even school fundraisers.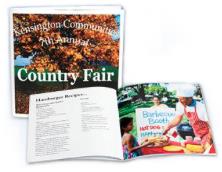 For those students who learned to cook and create their own recipes in home economics class, a class cookbook is a creative way to document your favourite class dishes. A year-end cookbook can be designed from a compilation of each student's favourite recipe. Gift your teacher with a custom made cookbook, or create one for each student to take home. Don't forget to create a customized place mat to go along with your favourite cookbook recipes!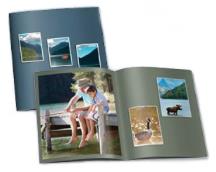 For students who may be transitioning from elementary school to high school or from high school to post secondary, memories of your past schooling can easily be documented in a scrapbook. These mini albums are perfect for sharing and will keep your memories safe for years to come.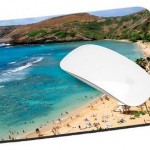 Mouse pads are the perfect gift for teachers or coaches that love all things tech. Whether they are enjoying some down time on the computer, or researching the next topic to speak about in class, your teachers and coaches will be reminded of the great school memories through a personalized photograph printed on their office mouse pad.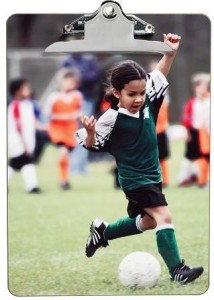 Personalized clipboards are the perfect gift for active coaches, teachers, instructors, and group leaders. Print a photo on one side and add a personal message near the top or bottom of the board. Or, add a diagram of a soccer pitch, football field, baseball diamond, or hockey rink, which is perfect for coaches who illustrate plays and strategies with dry-erase markers.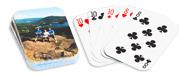 Do you have team spirit? Show off your team's skills by creating personalized trading cards for your teammates. Construct a 16 pack of trading cards to document your teammates stats, or create a 52 set of playing cards dedicated to each member of the team.
Wrap up the end of the school season with a personalized bookmark to capture your favourite memories. Collages of photos are a creative way to document the best moments from that year. For book club lovers, create a personalized bookmark for your favourite book buddy. Or, for an easier way to keep tabs on material in textbooks, think about gifting your teacher with a bookmark.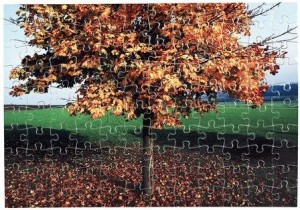 Photo puzzles are fun gifts ideas that are perfect for a variety of occasions. Give your teacher or coach something entertaining to do this summer by gifting them with a customized puzzle. Constructing the puzzle pieces will keep them occupied on summer vacations or rainy days at the cabin while also reminiscing over the memories of the school year.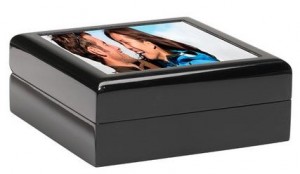 For students that loved their ceramics class, why not give your teacher a personalized jewellery box to store all of their ceramics treasures? The interior of the jewellery box is lined with soft, white, felt and is perfect for safely storing rings, necklaces, and other treasured items. Choose a photograph to mount on top of the jewellery case – perhaps a picture of you and your teacher.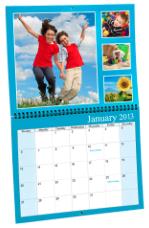 If keeping on track is a challenge for you, a calendar to keep tabs of school classes or school events might be a necessity. The photolab has a variety of calendar designs and sizes so you can easily fit your agenda in your purse or bag while on the go. You can even customize each month of the calendar with class photos and give it as a gift to your teacher at year end!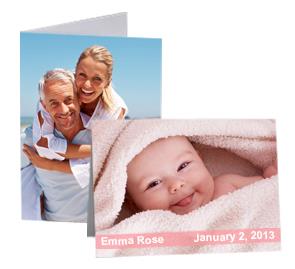 For those teachers or coaches that have made a lasting impression, send them a thank you for all their hard work. Make sure to document some of your best moments through a personalized photo on a custom-made greeting card, postcard or magnet.
To add to the Thank you card and a gift that takes no time but can be personalized as your teacher or coach wishes, consider a London Drugs gift card as thanks for all of their hard work over the year. The gift card can be used for polish and pampering in cosmetics, travel readiness in cameras and photography or work essentials in computers.
For more great gift ideas from photolab, make sure to visit the London Drugs photolab at your local London Drugs location, or online at photolab.londondrugs.com.