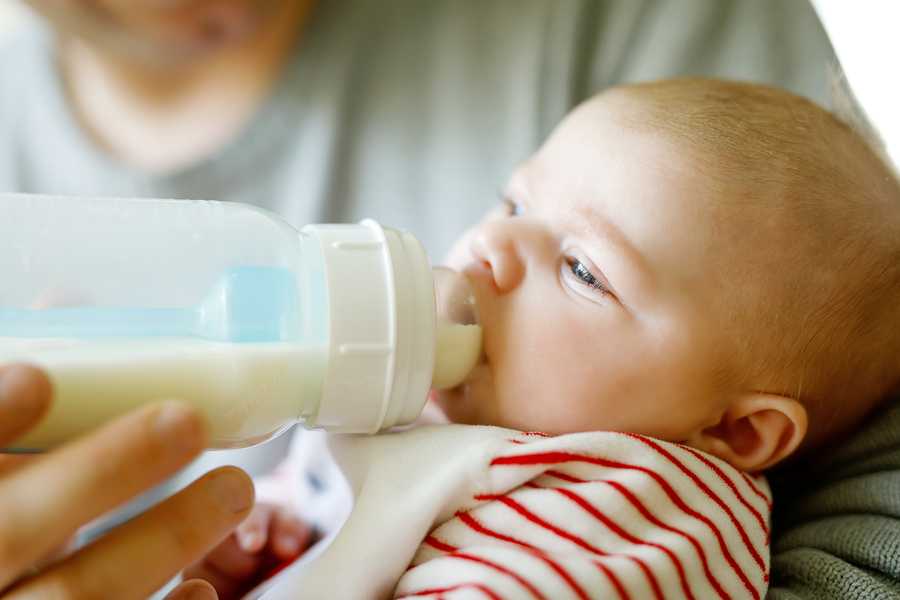 Among other concerns, new parents often wonder exactly how—or whether—breastfeeding will work for them. These questions can become more complex when breastfeeding moms get busy with life and/or a return to work.
A potential solution is a breast pump from Medela Canada, including the mobile Freestyle system, Easy Expression bustier, Calma feeding system, and much more. They're all available at London Drugs. You can even rent a complete Medela kit at LD, if you prefer.
Of course, knowing where to access breast pumping products isn't enough.
Other questions include: 
When to start pumping.
How long breast milk will keep and how to store it.
When to change bottles and parts.
Whether breast pumping costs are often covered by medical plans.
And more…
Luckily, London Drugs buyer Laurie Leeder and Medela expert Karli Kirkpatrick, along with LD pharmacist, Marmar Rabiei, joined forces recently on Facebook Live to answer these and other questions.
Find their two-part discussion in the video section of the London Drugs Facebook page. Or simply click below to watch now. (You'll also find answers to some frequently asked questions in this post, below the videos.)
Breast Pumping Discussion from Medela & London Drugs
Part 1:
Part 2: 
Frequently Asked Questions
Q: How long will breast milk last?
A: The answer depends on a couple variables. First, whether the breast milk is fresh, refrigerated, frozen or thawed. And second, whether it is intended for a healthy term infant or one that is currently in a neonatal intensive care unit. Of course, the majority of cases fall within the first category. See the chart below for complete details: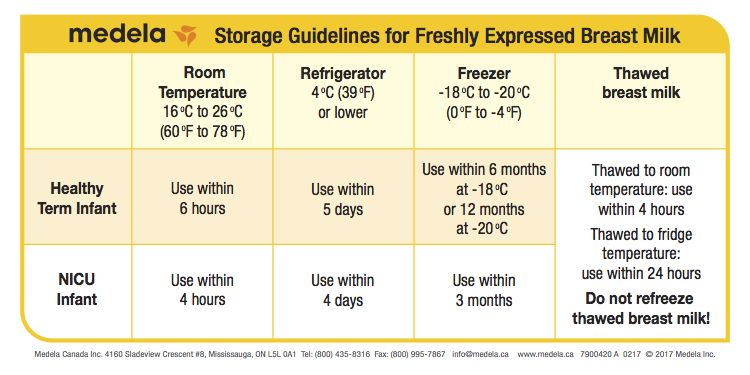 Q: Which breast pump option best suits my needs?
A: The short answer is it varies based on your lifestyle and breast milk feeding goals! But there are two main options.
Double Pump: If you would like to provide breast milk to your baby full-time, share feedings, or return to work or school and continue providing breast milk, you will likely need a double pump. Double pumps are ideal for frequent, daily use and can be used full time, or to complement a full-time breastfeeding relationship. You can use them to pump one breast at a time (sequential) or both at once (simultaneous, which comes with some amazing benefits!).
Single Pump: These pumps are ideal to occasionally supplement full-time breastfeeding. They should only be used to fill roughly 1-3 bottles a week. This is because baby is responsible for maintaining your milk supply. So you should only be occasionally supplementing your breastfeeding with single pumping sessions.
Still Unsure? Click HERE for a great breakdown of all Medela pumps and how they should be used!
Additional Information
About Medela Canada: Many recognize Medela as the leading brand of breast pumps and accessories worldwide.  What you may not know, however, is that Medela is the world's largest supporter of scientific research surrounding breastfeeding, breast milk, and everything to do with lactation. We support Ph.D. research, nurses & doctors at universities and hospitals worldwide to conduct rigorous research. Then, we design, manufacture and bring to market products which incorporate their findings. 
Our goal is always helping moms provide their babies with breast milk for as long as they choose. Breast milk provides three key benefits to babies: perfect nutrition, immunological protection and enhanced developmental growth.  Moms benefit too, by lowering their incidence of certain illnesses and conditions, including breast cancer, diabetes, depression and more.
About the video: This Q&A was the first London Drugs Facebook Live broadcast. It was filmed in our Learning Lab studio, located this time at the Park Royal location in West Vancouver. We plan to create more helpful Facebook Live events, featuring various LD Experts. So we would would love to hear what topics or products you think we should cover next.
Let us know in the comments below or wherever you find us on social media.
Until next time, thanks for watching!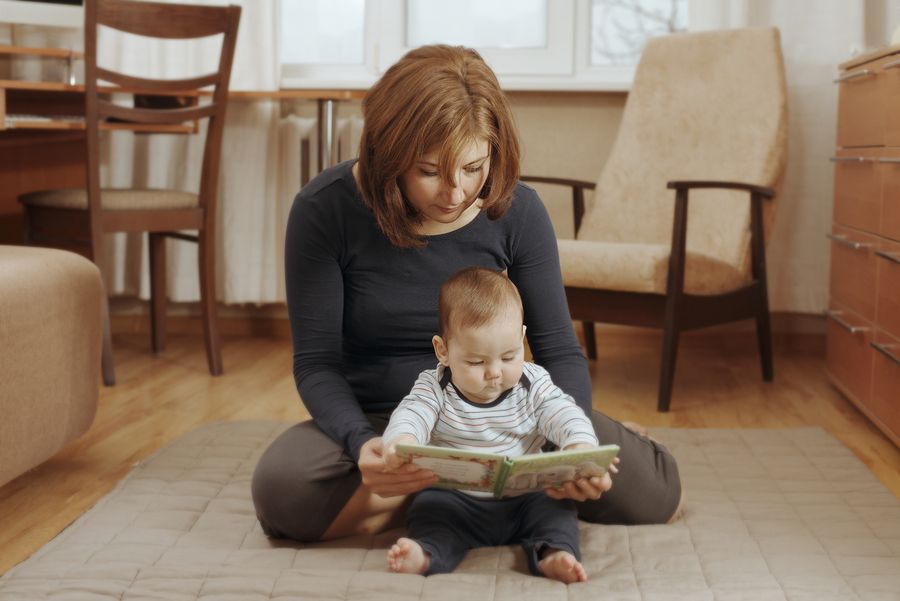 This year, London Drugs hopes to help our young (and young at heart) readers in their quest to "adult." We know, the struggle is real.  A big part of adulting for many is welcoming their first child into the world–and, more practically, into their home. 
The truth is, there are many dangers to consider: everything from stairs and electrical outlets to household chemicals and even certain family pets.
But, did you know that your furniture and appliances represent some of the biggest threats to children's safety in your home? The problems with furniture and appliances arise mainly if they're tippy or pointy, or if dangerous objects are accessible inside or on top.
In early 2017, a video of a Utah family went viral after the family's twin toddlers tipped over a large dresser, and were caught on a home security camera. One brother was trapped beneath it while the other worked valiantly (and successfully) to free him. Thank goodness!
Still, we can all agree it would have been much better if the dresser had not fallen to begin with. Hence, prevention. And luckily, child-proofing your furniture doesn't have to be a monumental task. If done right, you can also design a home that's both kid-friendly and stylish. Let's get started.
Step 1: Re-Design From The Ground Up
Reorganization is the first step to baby-proofing your furniture. Consider the needs of your adorable new roommate–from his or her perspective. Start by getting on your hands and knees and actually crawling around to see your living room through new eyes.
One of the first things you may notice is how cold and uncomfortable it is to crawl on hard surfaces. For this, consider getting a large rug or carpet, especially for the living room. [SPOILER ALERT: This suggestion won't just benefit the baby. You'll also be doing a lot more crawling around.]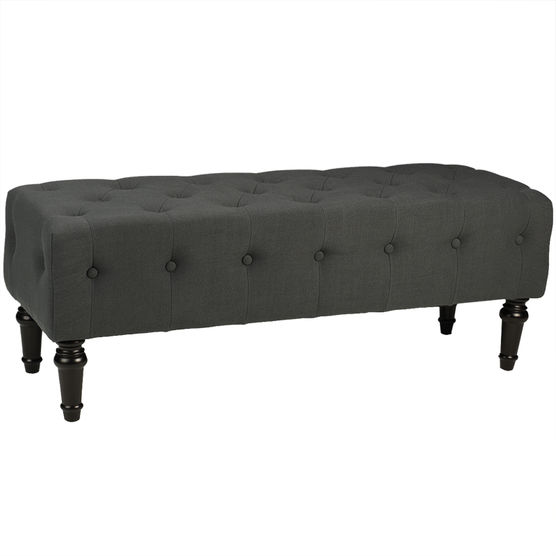 Next, look for any sharp furniture edges you could bump your head on. Whenever you find one, often on a coffee table or side table, ask yourself if you can live without that object. After all, the best way to invalidate a threat is to physically remove it. If you can't or don't want to do without it, consider where in the room that object poses the least risk. Perhaps on the far side of a couch or in a low traffic area?
Think, too, of course about how you can make it safer. One clear option is covering sharp corners with protective foam or made-for-kids corner guards. In general, in the future, look for furniture with soft, rounded edges, such as a padded ottoman instead of a traditional coffee table.
The last thing to do from floor level is to test which furniture surfaces little arms might reach. Consider the consequences of grabbing or pulling on what is in reach–think: heavy statues, glass vases–and find a new (preferably higher and harder to reach) home for those objects. It will take some time for your little one to understand that not everything is a toy.
On the subject of toys, do also prepare an easy-to-access shelf, case, or chest where all your child's toys will belong. This simple timeworn trick will help keep your house tidy, and will give them access to safe entertainment–with luck, minimizing their desire to seek out more dangerous entertainment, like climbing on your furniture.
Step 2: Anchor & Secure All Heavy Furniture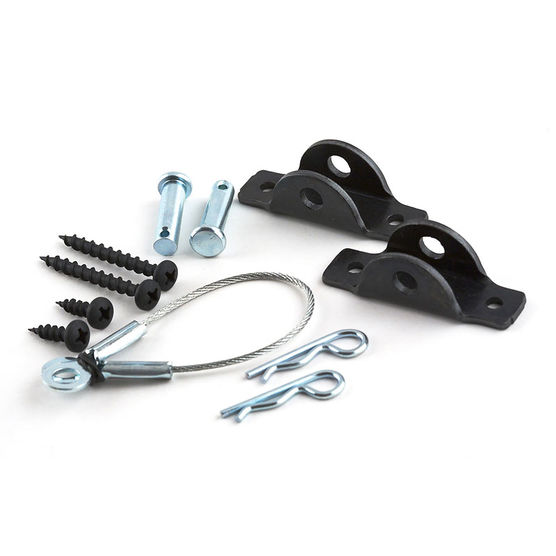 Now that your furniture is safely positioned and cleared of potentially dangerous items, you can secure it in place.
Any large piece of furniture that could potentially be tipped over should be anchored or tethered to the wall. You can accomplish this using clips designed just for this purpose, or with standard items purchased from any hardware store. Whatever you do, make sure it's done right.
Of course, tipping isn't the only hazard. Drawers can often fall out if pulled past their limit and swinging cabinet doors have their own risks, like pinched fingers. To make your furniture baby-proof, consider latching each drawer and door.
Step 3: Don't Forget the TV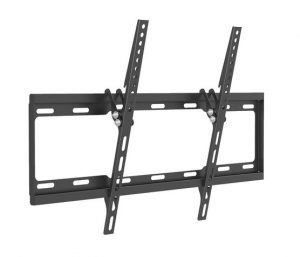 This may seem obvious, but a free-standing, flat screen television can be the cause of a home injury to toddlers. In fact, 70% of all TV tipping incidents in Canada involve a child under four years old.
To protect your child, place your set high enough off the ground so that it's out of reach, anchor the television to the wall, or purchase and install a wall mounted bracket system.
Taking these steps should give you a good start to child-proofing your home. Ask an LD Expert for help in choosing the right options for you, and to discuss any home and life insurance updates.
Talk to one of our insurance experts any time in-store or visit them online today. Best to your family!

The addition of a baby to the family allows parents to enjoy the wonder of life in new ways, but it is so easy for new parents to get swept up in buying all the right equipment, reading all the right books, going to the right classes, and having a perfectly clean house. But no matter how much you prepare, there will be times when you feel like you just don't have a clue about what's going on with your baby. Don't worry; that's normal. Take reasonable precautions, follow your doctor's advice, love your baby, and you'll do just fine.