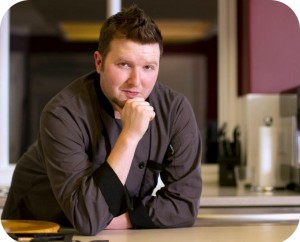 Chef Andrew Parker has a message for post secondary students as they're getting settled into their back to school routine.
"Ditch the instant noodles and get cooking!"
Chef Parker has come up with a variety of fast and easy recipes perfect for any student's busy study schedule.
Using space-saving and budget-friendly small appliances like the Big Boss Grill Set and Crock Pot 4.5 Quart Slow Cooker, students can make a variety of fast, healthy and affordable meals.
Cooking is also great stress relief for students needing a brain break.
Here are two great dishes from Chef Parker that are perfect for a study session!
Crock Pot Pulled Pork
1 Medium Sized Pork Shoulder (Rubbed in Seasoning Salt or BBQ Rub)
1 Carrot
2 Celery Stalk
1 White Onion
4 Garlic Cloves
Parsley Stems
2 Bay Leaves
BBQ Sauce (Store bought or use Chef Parker's recipe below)
Instructions
Rub down the pork with a rub or seasoning salt.
Clean the vegetables and chop them into larger pieces (the vegetables and all the other ingredients give the pork an earthy flavour when it's slow roasted).
Put two cups of water in the slow cooker.
Add the vegetables to the slow cooker.
Put the pork on top of the vegetables in the slow cooker.
Set it and forget it. Cook on low for 6-7 hours.
When done, remove vegetables and compost them.
Tear the pork apart with a fork (it will fall apart easily), and put into a container.
Add BBQ sauce and stir together.
Place a generous helping of the pork on a whole-wheat bun and serve with a side of coleslaw or fresh salad.
Chef Parker's BBQ Sauce
1 tbsp. Olive or Vegetable Oil
Half White Onion (Fine Diced)
3 Garlic Cloves (Fine Diced)
Half Orange (Peeled and Segmented)
3 Rosemary Springs (Leaves off, Fine Diced)
1/2 Cup Water
2 Cups Ketchup
1/3 Cup Apple Cider Vinegar
1/3 Cup Brown Sugar
2 tbsp. Dijon Mustard
1 tsp. Worcestershire Sauce
1/2 tsp. Cayenne Pepper
3 tbsp. Molasses
Instructions
Heat a small pot over medium heat
Add oil to sauté the onions
Let the onions cook, then add your garlic
After browning, add the liquids and let boil
Add ketchup with brown sugar and other spices
Mix well
Easy Waffles with Whip Cream and Candied Bacon
½ Pound Bacon (Cut into thin strips)
½ Cup Brown Sugar
¼ Cup Butter, Melted
Can of Aerosol Whipped Cream, or Cool Whip
2 Cups All-purpose flour
1 tsp. Salt
4 tsp. Baking Powder
2 tbsp. White Sugar
2 Eggs
1 ½ Cups Warm Milk
1/3 Cups Butter, Melted
1 tsp. Vanilla Extract
Step by Step
Mix brown sugar with ¼ cup butter – this is a glaze for the bacon. Cook your bacon in this mixture. Let it cool off, you have candied bacon!
Heat your Big Boss Grill using the waffle plates.
With the rest of the ingredients, mix together thoroughly until smooth and there are no lumps. Leave out at room temperature before using.
Add a generous ladle of the waffle mixture to the grill set. Careful not to fill it too much, or it will overflow.
Close the lid and let the batter cook for between 6-8 minutes. Do not open the grill during cooking.
Plate the waffles, add a dollop of whipped cream and add your candied bacon. No need for syrup – the whipped cream and candied bacon will make this a sweet treat.